By Ken Silva pastor-teacher on Jan 29, 2010 in Current Issues, Features, Homosexuality/"Christian"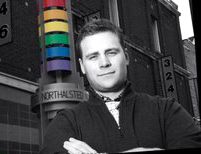 Apprising Ministries has talked a little about Andrew Marin e.g. in Andrew Marin And Tony Jones, which gives you a peek at the current drift left by Marin, further indicated by his blogroll where we see both Emerging Church guru Brian McLaren and his good friend Tony Jones.
If you don't know, Marin is "the President and Founder of The Marin Foundation" and author of the book Love Is An Orientation; in fact, McLaren does the foreword to Marin's book. And despite these mixed signals, to my knowledge Marin does not claim to be aligned with the sinfully ecumenical Emergent Church, which morphed into Emergence Christianity (EC).
Though using many of the EC buzzwords Marin, at this time anyway, still has the reputation of taking a conservative evangelical view concerning the deviant and sinful lifestyle of having sexual relations with another of the same sex i.e homosexuality. Today he tweets:
British Anglican haters had a conference "exposing" my life & theology. Here's the video http://bit.ly/cHDiBJ (Online source)
"Haters"; rather strong language concerning those in the video we find as we follow that above link to Marin's blog Love is an Orientation and the post A Whole General Session Devoted to "Exposing" Me. Concerning the video (seen below) Marin tells us it's:
from a recent United Kingdom Anglican Conference that occurred last week. One of their main stage sessions was titled:

Evaluating the "Love is all you need" approach of Andrew Marin

Yep, that's right … they had a whole General Session on me, how I live my life, my book, and my theological and social understanding of culture, the Church and the gay community.

This conference was put on by Anglican Mainstream, who, needless to say, in the last few months have literally called me some pretty nasty names in print. In fact, in the last article they wrote about me, they said that I "was more dangerous to Christianity than Gene Robinson (the first ever appointed bishop who is gay)." (Online source, emphasis his)
Apparently Marin, who's a teacher in the public arena published by InterVarsity Press, is upset that the "Anglican Mainstream not once, not twice, but three times turned down my offer to dialogue with them in person, private or in public". But then again Michelle Strombeck of Moody Broadcasting Network says, "Marin speaks with a loving, clear voice about" homosexuality.
Seems to me Marin's already on record as to what he believes and teaches as his IVP bio informs us:
The Marin Foundation is quickly becoming a leading national organization in the Christian and mainstream cultures regarding religion and homosexuality. Specific to gays and lesbians, The Marin Foundation is focused on training and teaching churches around the country how to systemically build bridges with their local gay and lesbian community in order to make a significant impact for the kingdom. (Online source)
Frankly, though I'm certainly no fan of the apostatizing Anglican Church, I did find myself generally in agreement with what I heard from Dr. Vinay Samuel below. However, if Marin's so seemingly upset about being misrepresented then he could specifically state in his blog post what he actually believes the Bible teaches about the issue of same-sex sexual relations.
Now I don't for a second question Andrew Marin's sincerity; however when I consider his EC connections, and then I read things like the following, I become rather suspicious whether he personally holds the proper Biblical view that homosexual relations will always be outside of the marriage covenant of a man and a woman; and as such, will always be the sin of sexual immorality:
Andrew Marin is the President and Founder of The Marin Foundation (http://www.loveisanorientation.com/about-2/www.themarinfoundation.org), a non-profit organization that seeks to build bridges between the gay, lesbian, bisexual, transgender (GLBT) and religious communities through scientific research and biblical and social education. Their unique approach strategically partners with both religious and GLBT organizations striving to make a sustainable, structural difference for the Kingdom in today's socially driven secular and religious cultures.

The Marin Foundation is also conducting the largest national scientific research study ever done in the GLBT community regarding spirituality and religion. Andrew has appeared on various national radio and TV programs, and his sermon Homophobia and Bridging from within the Evangelical Church—given on Capitol Hill the night before the Inauguration of President Barack Obama in January 2009—is being archived in the Smithsonian Museum in Washington DC. (Online source, bold his)   
See also:
ANDREW MARIN AND PHYLLIS TICKLE
GROWING GAY AGENDA IN EVANGELICALISM
BUT DO EMERGENCE CHRISTIANITY AND BRIAN MCLAREN REALLY LOVE GAY PEOPLE?
DECONSTRUCTING ONE OF THE MOST ATTACKED CHRISTIANS
APPRISING MINISTRIES: SHOCKING NEW EVIDENCE JESUS CONDEMNED THE PRACTICE OF HOMOSEXUALITY