By Ken Silva pastor-teacher on Nov 16, 2009 in AM Missives, Current Issues, Emergence Christianity, Emergent Church, Features, Homosexuality/"Christian", Jay Bakker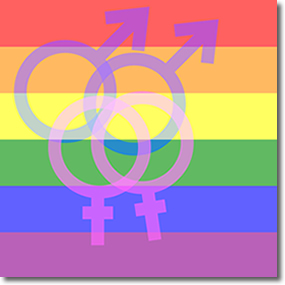 Some Pharisees came to Jesus, testing Him and asking, "Is it lawful for a man to divorce his wife for any reason at all?" And He answered and said, "Have you not read that He who created them from the beginning 'made them male and female', and said, 'For this reason a man shall leave his father and mother and be joined to his wife, and the two shall become one flesh'? So they are no longer two, but one flesh. What therefore God has joined together, let no man separate." (Matthew 19:3-6, NASB) 
No Such Thing As Same-Sex Marriage For The Christian
Apprising Ministries has long been covering an issue now—which also touches upon some others within it—that may well prove to be a defining one in our gelatinous generation should the Lord tarry. In articles like The Sin Of Homosexuality Is Different and Growing Gay Agenda In Evangelicalism I've been warning you that there's a very dark and threatening same-sex storm right now approaching hurricane force and which, is currently only slightly off the coast of your own local church. 
There is a very plain reason for this; with its open embrace of the egregiously ecumenical Emerging Church de-formation of the Christian faith aka Emergent Church—now morphing into Emergence Christianity (EC)—unless God sends revival, mainstream evangelicalism itself will soon stumble upon the same broad path followed by the now mortally wounded mainline denominations, who long ago cut loose their anchor of Sola Scriptura in favor of highly subjective Contemplative Spirituality/Mysticism. 
If you actually make the time, you'll see in Emerging Church To Transform Outlaw Preachers that the EC has now completely embraced a rather biblically illiterate, and largely gay affirming, bunch who've crowned themselves as Outlaw Preachers (OP). These OPs are rallying around gay marriage advocate "pastor" Jay Bakker, himself now fast friends with heretical EC spokesman Tony Jones, "theologian in residence" at the EC church of his quasi-universalist pastor Doug Pagitt.
But, as I previously pointed out in Outlaw Preachers Khad Young And Jay Bakker Don't Love Enough their "outlaw" message amounts to antinomianism, a no-law distortion of the grace of God. And what makes these spiritual adulters strange bedfellows is their common antichrist agenda to try and convince us that the deviant lifestyle of having sexual relations with another of the same sex, i.e homosexuality, is a viable one for the evangelical Christian. 
You can see a classic example of this in Andrew Marin And Phyllis Tickle where Marin, who is somewhere in between gay affirming EC OPers like "queer inclusive" ELCA "pastor" Nadia Bolz-Weber, and others around the EC taking a more "traditional" stance such as Dan Kimball. In that aforementioned piece Marin tells us Phyllis Tickle—the Empress of Emergence Christianity—"is leading the charge for the Emergent movement" and also introduces her "as a representative of the Church—capital C here".
Ignoring What The Bible Actually Says In Order To Serve The Self
Tickle then scratches itching EC/OP ears by rehashing long-ago debunked speculations originally posed by what cult expert Dr. Walter Martin (1928-1989) dubbed the Cult of Liberal Theology as she muses:
the church itself is gonna have to come to grips with the fact that, we have changed,…we have evolved—the Law. We now admit divorce, our Lord does not speak much about sexuality; but He's very clear about divorce. Ah, it's the only thing He's really clear about. And we've…managed to get around the divorce issue…

The same thing is going to happen with the gay issue; ah, it's in process…the issue really is—absolute Sola Scriptura; Scripture only, and only Scripture. Ah, did God put a period at the end of Revelation, or did He put a comma?
I happen to think Tickle is right when she says, "The same thing is going to happen with the gay issue…it's in process"; Tony Jones himself has said, This is the shift that's taking place in evangelicalism, people. Take a look at what's been happening just recently in mainline denominations who've already injested that kind of spiritual cyanide as Protestant Churches Shifting Toward Affirming Homosexuality, further evidenced by ELCA And Homosexuality and PCUSA Votes To Ordain Lesbian Lisa Larges.
But John MacArthur, one of those the EC considers anathema, was dead-on-target a few years ago when he said: 
One of the big issues is homosexuality in the emerging church; they don't want to take a position on homosexuality. The Bible is not vague, or obscure, or oblique about homosexuality–it couldn't be more clear. 

A homosexual will not inherit the Kingdom of God; that's pretty clear. Homosexuality in Romans, chapter one, is a perversion that is manifestly–when it happen in a culture–when it begins to dominate a culture, an evidence of Divine wrath and Divine judgment. So the Bible is clear… (Online source)
So in closing this first part, we look quickly at a ludicrous statement from Tickle: "our Lord does not speak much about sexuality." How pious, "our Lord"; for sure, Satan is very pious. But the opening text I used above flies in the face of those foolish enough to put self at the center; however, it is written in the last days — People will be lovers of themselves (2 Timothy 3:2). Notice carefully that, concerning church doctrine, Tickle takes the emphasis off what God said—"the Law…Scripture"—and instead elevates the fickle feelings of human beings—"we have changed,…we have evolved."
Again, Tickle is correct…but not the way she thinks. A sad result of the seeker sensitive Church Growth Movement is that evangelicalism has indeed changed; it has evolved…away from God's Word.
See also:
HOMOPRESSION IS AT LEAST AS BAD AS HOMOPHOBIA
ROB BELL, PETER ROLLINS, AND QUEERMERGENT'S ADELE SAKLER
KEN SILVA, JAY BAKKER AND HOMOSEXUALITY
EX-HOMOSEXUAL FRIEND OF APPRISING MINISTRIES 
BUT DO EMERGENCE CHRISTIANITY AND BRIAN MCLAREN REALLY LOVE GAY PEOPLE?