By Ken Silva pastor-teacher on Feb 2, 2010 in AM Missives, Contemplative Spirituality/Mysticism, Current Issues, Emergence Christianity, Emergent Church, Features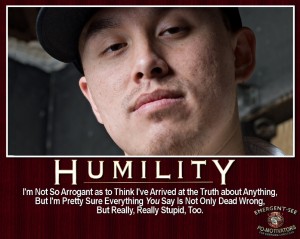 The answer, of course, is yes. Dr. John MacArthur was once asked why he didn't give his opinion concerning matters and only quoted Scripture when asked what he thought of a given issue. His answer was certain, and it was humble, as MacArthur said: "God's opinion is my opinion."
If you are studied up on the original Cult of Liberal Theology then you'll recognize why it is that the  the sinfully ecumenical Emerging Church aka Emergent Church—that morphed into Emergence Christianity (EC)—has been making this an issue all over again. You see, at its heart the EC rebellion against Sola Scriptura is a neo-liberalism i.e. a post (after) version of liberalism.
And as I showed you in Samir Selmanovic And Being Unable To Follow Jesus Without Islam those who are "progressive" in their theology, a form of Progressive Christianity they are now reimagining, just like their evil, yes evil, forebears this pseudo-Christianity is especially appealing to those who want a form of godliness without its power—the genuine Gospel of Jesus Christ.
Yesterday at Pyromaniacs Phil Johnson, as usual, in his post Can You Be Humble and Certain at the Same Time? cuts to the heart of the matter revealing some of the straw men advanced by self-loving (see—2 Timothy 3:2) EC interfaith/interspiritual advocates. I highly recommend you make some time to read Johnson's piece and prepare for the compromisers of confusion i.e. EC apostles of unbelief.
Men e.g. like  Tony Jones, heretical "theologian in residence" at the EC church of his equally heretical pastor Doug Pagitt, have been able to muddy the waters through their pushing corrupt Contemplative Spirituality/Mysticism (CSM), which is romanticized Roman Catholic mysticism into your evangelical Young Adult and Youth ministries for years now.
For CSM to flourish it must kick out the proper Christian spirituality, and certainty, of Sola Scriptura in favor of highly subjective i.e. existential experiences one "feels" are from God. But Phil Johnson is dead-on-target as he asks the critical question:
Who is more "arrogant"? Someone who refuses to compromise even when popular thinking shifts against him, or the guy who never really settles on any truth and yet constantly argues about everything anyway—not because he himself has stumbled on something he is certain about, but merely because his contempt for other people's strong convictions is the way he justifies his waffling in his own mind? (Online source)
You can read Johnson's post in its entirety right here. And, though he likely doesn't realize it, I can tell you that John MacArthur was speaking prophetically in his 1994 book Reckless Faith: When The Church Loses Its Will To Discern when he warned:
[Contemplative Spirituality aka] Mysticism is perfectly suited for religious existentialism; indeed, it is the inevitable consequence. The mystic disdains rational understanding and seeks truth instead through the feelings, the imagination, personal visions, inner voices, private illumination, of other purely subjective means. Objective truth becomes practically superfluous.
Mysticial experiences are therefore self-authenticating; that is, they are not subject to any form of objective verification. They are unique to the person who experiences them. Since they do not arise from or depend upon any rational process, they are invulnerable to any refutation by rational means… Mysticism is therefore antithetical to discernment. It is an extreme form of reckless faith. Mysticism is the great melting pot into which neo-orthodoxy, the charismatic movement, anti-intellectual evangelicals, and even some segments of Roman Catholicism have been synthesized.
See also:
NEO-ORTHODOX APPROACH TO THE BIBLE PERFECT FIT FOR EMERGENCE CHRISTIANITY
JOHN MACARTHUR: EXISTENTIAL NEO-ORTHODOXY DENIES SOLA SCRIPTURA
TONY JONES, THE EMERGING CHURCH AND PROGRESSIVE CHRISTIANITY
DOUG PAGITT AND ARROGANCE OF LIBERAL/PROGRESSIVE CHRISTIANS
PHYLLIS TICKLE AND THE EMERGING CHURCH: IT'S NOT IF SOLA SCRIPTURA ENDS BUT WHEN
DON'T BE FOOLED BY THOSE WHO ONLY SAY THEY LOVE SCRIPTURE