By Ken Silva pastor-teacher on Mar 8, 2010 in Current Issues, Emergence Christianity, Emergent Church, Features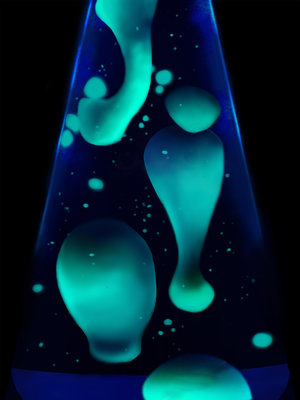 This persuasion did not come from Him who calls you. A little leaven leavens the whole lump of dough. (Galatians 5:8-9, NASB)
Samir Selmanovic And Lava Lamp Theology
Something that seems to be lost upon people today in the church visible is that Satan deals in counterfeits. And just the same as our troops wear camouflage in order to better blend into the terrain of physical warfare, so too, do enemy forces in this spiritual war. It would seem obvious then that, the closer they get to looking genuine, the better for their deception. A particularly good camouflage Satan is using today is with his various forms of self-righteous works-based religions; in fact a great example would be the man-made religion of Islam.
As this pertains to the visible Christian church, enemy forces have been able to gain a huge foothold within the mainstream evangelical community with the refried Roman Catholic mysticism of so-called Spiritual Formation, which in actuality is Contemplative Spirituality/Mysticism, a form pietism where practioners convince themselves they're closer to God through alleged "spiritual disciplines." Unfortunately, evangelicalism embraced Satan's counterfeit Emergent Church; and as a Trojan Horse, the Emerging Church then unloaded this spurious spirituality inside its walls. 
In posts like Samir Selmanovic And Being Unable To Follow Jesus Without Islam and  Christian Agnostic Adele Sakler And Samir Selmanovic Discuss Christian Atheism here at Apprising Ministries I've introduced you to Samir Selmanovic, a leader within Emergence Christianity who's known for his interspiritual work. Today at his personal blog Selmanovic gushes, "I love the emerging church." He shares his love for "its people, ideas, gatherings, and hopes." Selmanovic wants to make sure that we know he's "a fan, a member, a devotee."
He informs us that even after "ten years of networking" the EC still has no "organizational structure," no "systematic theology," and no "headquarters." The reason says Selmanovic is because, "Things are always changing, including the emerging church." This is true to a point; however, anyone familiar with the EC knows they all share a hatred for the biblical doctrines of the historic, orthodox, Christian faith, which is often confused in their minds with the fundamentalist movement. Don't kid yourself, the EC absolutely loves talking about systematic theology; e.g. the EC conference Theology After Google.
Consider carefully the following as Selmanovic continues:
Those of us in the emerging church have been asked, "What do you stand for, really?" Do we stand on shifting sand, without commitment, without convictions about right and wrong, without truths to defend and lies to attack, without anchors, or foundations, without a rudder or a spine? Without dogmas? I think not.

There is a hill on which we are willing to die, and it is called conversation. We don't think of conversation as a method of communication. Or as an agent of change, or even as a virtue. We see conversation as the teaching, the truth, the doctrine. We confess it. Conversation is deeply biblical, rooted in Christian history and theology, and, importantly, in the life and teachings of Jesus. Conversation involves incarnation, life, death, and resurrection, both God's and ours.

If you think of faith as something that can be lived outside of a continual experience of living and dying through conversation with the divine and human other, we emergents maintain that you are wrong, terribly wrong. We believe in a conversation with our God, scripture, strangers, friends, enemies, saints, heretics, committee chairpersons, evangelists, our own soul, brother sun and sister moon! (Online source)
Leaving panentheistic Francis of Assisi-isms aside, no argument here; you've likely seen a lava lamp, in which blobs of wax slowly rise within its liquid only to fall and then reshape to begin the process all over again. Well, so it is with the "conversation" Selmanovic talks about above. You see, the great thing about conversation is it never really has an end and everyone's welcome to share their views; in perfect postmodern Humpty Dumpty language everybody talks about "Christianity" as they see it, and that's thought of as "deeply biblical." Um, the inclusive dogma of…well, non-dogma.
Such is the wacky world of the Emerging Church where they're all free to live within their own synthetic world-views all the while cobbling together in their spiritual basements a Christianity which each of them likes. [1] Interestingly enough while talking with his friend, and liberal theologian, Harvey Cox on a recent Homebrewed Christianity EC podcast progressive/liberal EC theologian Philip Clayton told us something very important concerning the neo-liberal cult of the EC: 
The point of the Emergent Church movement is not to become a new denomination; separate, but to be like the leaven that—in this "age of the spirit"—is moving through the church. The wind that blows as it will.
The wise will realize this persuasion did not come from Jesus and purge this leaven from among them.
________________________________________________________________________________
Endnotes:

1. For more the interested reader is encouraged to listen to Bob DeWaay And Chris Rosebrough On The Emerging Church where they discuss attending recent Emerging Church conferences.  
See also:
SAMIR SELMANOVIC HAS LEFT THE BUILDING
SAMIR SELMANOVIC: GOD IS FATHER OF All RELIGION
SAMIR SELMANOVIC PREACHES AT JAY BAKKER'S CHURCH
OUTLAW PREACHERS JOHN HARRISON, JAY BAKKER, AND THE EMERGING CHURCH
THE NEW CHRISTIANITY OF BRIAN MCLAREN AND THE EMERGING CHURCH 
THE NEW CHRISTIANS WITH CHRISTIANITY WORTH BELIEVING—NO SOLA SCRIPTURA: YES, WOMEN PASTORS AND QUEER CHRISTIANS   
IF YOU TRULY LOVE "JESUS" THERE ARE NO BOUNDARIES FOR THE "CHRIST-FOLLOWERS"