By Ken Silva pastor-teacher on Mar 8, 2010 in Current Issues, Emergence Christianity, Emergent Church, Features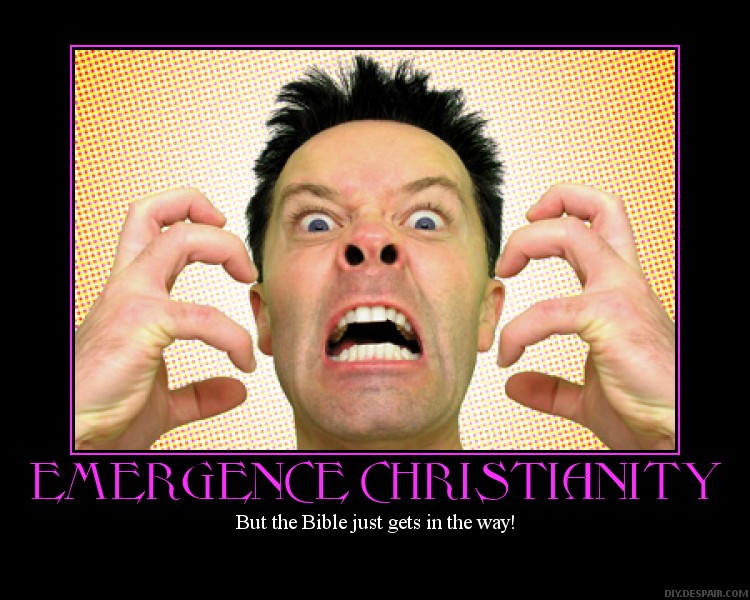 Earlier in the Apprising Ministries posts Encouragement Concerning The Emerging Church And Jay Bakker and Jay Bakker Is Going To Have To Grow Up I talked about the Emergent Church conference Theology After Google (TAG), which begins Wednesday, as well as the EC Pastors' Social Media Boot Camp in Dallas-Fort Worth this April 9. The latter "social media" event is scheduled as the first of a series of camps to be  run this year by JoPa Productions, the company formed by Tony Jones, "theologian in residence" at the Emergent Church (EC) of his pastor Doug Pagitt.
As I've told you the website for TAG informs us that along with the progressive process theology of Philip Clayton, because supposedly "Progressive Christian theologians have some vitally important things to say," TAG promoters are:   
also inviting a selection of senior theologians, and well as some of the younger theologians (call them "theobloggers") whose use of the new media (blogging, podcasts, YouTube posts) is already earning them large followings and high levels of influence. (Online source, emphasis mine)  
There's a couple of things that are important to realize here: 1) online apologetics and discernment labors in the Lord, such as this one, are having significant impact in being read by the very people we're trying reach; and 2) the EC is also realizing the importance of this growing Internet mission field of using "the new media." As an example, I pointed you to a tweet intended for gay affirming "pastor" Jay Bakker from John Harrison aka tragic_pizza, who incidentally, tells us he's a Commissioned Lay Pastor in the Presbytery of Sheppards and Lapsley.   
Harrison is considered by some "the bouncer" of what I call a rather rapscallion bunch, spiritually, who dubbed themselves Outlaw Preachers (OPs) and which have galvanized around Bakker. [1] And as I've pointed out previously, their ignorance of the historic, orthodox, biblical Christian faith is often demonstrated in tweets—short comments on Twitter—that one OP writes and then gets retweeted by other OPs. For example, in mocking proper Christian ethics Harrsion said:
@jaybakker I have come that they might have doctrine, and have it more abundantly. (Online source)
And Bakker would later retweet Harrison's comment, and then add the below, which clearly reveals their outright aversion to genuine Christian doctrine: 
@jaybakker Not, of course, 2 mention insisting that everyone else meet those standards or B condemned. Exclusion & hatred R not gd News. (Online source)     
We're sorry that they seem to have been hurt by legalistic churches in their past; however, no one I know is saying anything of the sort. As a pastor myself the "standards" I would refer to, for example, concerning preachers like Harrison are in line with — He must hold firm to the trustworthy word as taught, so that he may be able to give instruction in sound doctrine and also to rebuke those who contradict it (Titus 1:9). You see, what God the Holy Spirit just told us through His chosen vessel Paul presupposes that there is such a thing as sound doctrine i.e. a standard.   
That OPs like Bakker and Harrison may not like it, and/or are ignorant of it, doesn't change the fact that part of my job is to rebuke those who contradict it. What's important to keep in mind here is these OPs are joined with the neo-liberal cult of the Emergent Church, and right now, are injecting scores of young people with their spiritual poison. Any of us who have people monitoring the Intel along the Internet Front can tell you that the EC is currently attacking the doctrine of original sin while the OPs are turning the grace of God into an idol (e.g. see—Jude 4).   
Via the medium of the Internet ministries like this one have been given the opportunity to speak directly to thousands of people, whom we would never have had the chance to reach before without radio, TV, publishing deals, etc. I thank those of you who've stood by AM these past 5+ years because you've been enabling me to be among those who've been pioneering this mission field. And as I close this out for now, I'll give you an example of how, through using this medium, I'm able to help scores of people to see that The Tolerant Ones Really Aren't So Tolerant.   
The aforementioned John Harrison was just asked by someone who, from where I stand actually appeared to be sincere, "i'm still in the dark on the whole #outlawpreachers movement, what is it?… Where do you fit in the realm of Christendom though?" And then somehow I showed up in Harrison's answer:  
I guess we're sort of emergent. If you ask Ken Silva, we're Biblically illiterate. But he's a dumbass, so no one listens 2 him. (Online source)   
We learn a couple of things here which are important to understand. The Emerging Church, and Outlaw Preachers, just love posing before the world as being the true Christ-followers who're so loving and tolerant; that is, until you try and show them what it is the real Jesus taught. For more examples of their love and tolerance you can just click on my name Ken Silva; but the other thing you need to come to grips with is, OPs like John Harrison, and head OP Jay Bakker, are themselves living examples of the type of fruit created by the neo-liberal Emergence Christianity of men like Brian McLaren, Tony Jones, and Doug Pagitt. 
________________________________________________________________________________
Endnotes:

1. For more information see Emerging Church, Jay Bakker And Outlaw Preachers and Meet Outlaw Preachers.     
See also:
JAY BAKKER AND WESTBORO BAPTIST CHURCH SUFFER SAME SPIRITUAL DISEASE   
THE NEW CHRISTIANITY OF BRIAN MCLAREN AND THE EMERGING CHURCH 
TONY JONES, THE EMERGING CHURCH AND PROGRESSIVE CHRISTIANITY  
DOUG PAGITT AND JOHN SHELBY SPONG  
THE NEW CHRISTIANS WITH CHRISTIANITY WORTH BELIEVING—NO SOLA SCRIPTURA: YES, WOMEN PASTORS AND QUEER CHRISTIANS   
IF YOU TRULY LOVE "JESUS" THERE ARE NO BOUNDARIES FOR THE "CHRIST-FOLLOWERS"