By Ken Silva pastor-teacher on Feb 23, 2010 in AM Missives, Current Issues, Emergence Christianity, Emergent Church, Features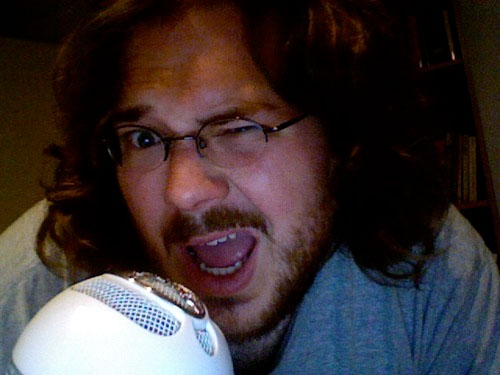 always learning and never able to come to the knowledge of the truth. (2 Timothy 3:7, NASB)
Reimagining A New Liberal Theology
Today Tripp Fuller tweets:
Will Ken Silva come to "Theology After Google?" He really loves to call it a 'Heresy-Fest." http://ow.ly/1acuo (Online source)
As we follow the above link we come to the Apprising Ministries post Emerging Church And Progressive Christian Theology. Therein I'm showing you that Progessive Christianity aka liberal theology will be showing up more and more around the circles of the sinfully ecumenical Emerging Church aka Emergent Church—that morphed into Emergence Christianity—(EC). It's a reimagined (post) form of it i.e. Liberalism 2.0 particularly in the mystic myths of  EC guru Brian McLaren, heretical EC pastor Doug Pagitt, and his equally heretical "theologian in residence" Tony Jones. 
I also pointed out that as the EC has gained more and more mainstream evangelical acceptance—its teachings having been used to indoctrinate your youth now for some 10 years—the fact is, they're not even trying to hide their "progressive Christian theology" anymore in EC circles. And as an example I took McLaren's new book A New Kind of Christianity (ANKoC) where he made the choice to finally come straight out with his rejection of the verbal plenary inspiration of Scripture in favor of destructive higher criticism of the Bible as well as his sympathies with Process Theology and Progressive Christianity in general.
So what's this to do with Tripp Fuller you may wonder; I'll show you. In the AM piece Fuller links to above I also told you that in the EC we're seeing a shift further towrad the direction of this still being reinterpreted version of liberal/progressive theology; and further, I said that a good indication of this is with the upcoming "heresy-fest" Theology After Google (TAG) conference. You may recall not long ago Tony Jones wrote a post called The Future of Progressive Theology and God's Future, which I first covered in Tony Jones, The Emerging Church And Progressive Christianity, where he mentions Philip Clayton.
Jones tells us he'd just "spent another few days" with Clayton and then informs us how, again, he was so "impressed with" the way Clayton "approaches progressive theology." Jones then continues:
Which, I imagine, is why the Ford Foundation gave him a grant to "transform theology for church and society" (read, make progressive theology popular and populist again).  I've been involved with him in that, particularly with Tripp "Sancho Panza" Fuller… (Online source)
Here Tony Jones tells us 1) the Ford Foundation is providing funding for Clayton's advance of a new form of Progressive Christianity i.e. liberal; 2) that Jones is "involved with [Clayton] in that, and 3) Jones is "particularly" doing so with Tripp Fuller. And as I said before, that Jones would be so taken with Philip Clayton and his Transforming Theology comes as no real surprise because he also did the foreword to Clayton's current book Transforming Christian Theology (TCT), where Tony Jones writes:
For just when the pundits are proclaiming the death of progressive Christianity, along comes Philip Clayton. Philip's an intellect par excellence, and he's got all of the letters after his name that gain him serious street cred in the liberal academy…what Philip and his intrepid Sancho Panza, Tripp Fuller, have found is that mainline [i.e. liberal] Christianity has abdicated the one thing it has going for it: theology.

So they're calling us all back to the one thing that can give rise to progressive Christianity's resurrection: theology, debate, Christology, doctrine. (vii, viii).
Lord willing, I'll have more on this new version of Progessive Christianity, a Liberalism 2.0, another time; here I'll just tell you that in his TCT Clayton informs us that it's "not a book," but it's actually "the tip of an iceberg" because:
Transforming Theology is a network of networks, a nationwide movement of people who are working to transform and renew the Christian church in and for the twenty-first century. Two Transforming Theology conferences are already scheduled for 2010, and we expect more to follow… What you are about to read is not just meant for solo study. It's meant to spawn group discussions in your congregation, small group, cohort, or ministry group. To this end, Tripp Fuller has composed a series of integrated questions for "Conversations Worth Having" in part 4… The work of many brilliant theologians and committed church leaders stands behind these pages.

Among many others, we thank: the Ford Foundation and Sheila Daveney, for their generous grant to support "rekindling theological imagination"; Marjorie Suchocki, my colleague and co-leader of the grant; the thirty theologians and the thirty denominational leaders who attended the Claremont consultations in 2009 and the wisdom that gave rise to this book; the 140 bloggers (and growing) of the Transforming Theology blogging network; authors and practitioners in "emerging" church who get the challenges; Kate Clayton and the many other pastors whose innovative "best practices" are my inspiration; my collaborator, Tripp Fuller, who has dramatically increased the impact of the Transforming Theology movement,… (ix,x)
Just a couple of things for now, the first of those Transforming Theology conferences is the aforementioned TAG conference next month; secondly TAG is designed to better enable such as these to use social media to spread this new progressive theology, and Tripp Fuller is intricately involved with all of this. Fuller, along with Chad Crawford, hosts the Homebrewed Christianity Podcast, which has featured as guests a who's who of EC royalty such as each of the "Emergent trinity" of McLaren, Pagitt and Jones, as well as Roman Catholic mystic Richard Rohr, and the Empress of Emergence Phyllis Tickle.
The about section of Homebrewed Christianity, whose name speaks volumes as to what we're truly dealing with here, gives us a little more background information in telling us that Tripp and his wife:
are both graduates of Campbell University (where they met), the Divinity School of Wake Forest University and ordained ministers.  He is working on his PhD in Philosophy of Religion and Theology at Claremont Graduate University. (Online source)
In closing this for now, I'll just point out that Claremont Graduate University (CGU) is where Philip Clayton, whose Masters is from Fuller Theological Seminary, is currently Professor of Philosophy of Religion and Theology. Clayton's CGU bio tells us that he's, "A panentheist, [who] defends a form of process theology that is hypothetical, dialogical and pluralistic." And his personal website Clayton's Emergings further informs us concerning Clayton that:
As a public intellectual he seeks to address the burning ethical and political issues at the intersection of science, ethics, religion, and spirituality (e.g., the stem cell debate, euthanasia, the environmental crisis, interreligious warfare). As a philosopher he works to show the compatibility of science with religious belief across the fields where the two may be integrated (emergence theory, evolution and religion, evolutionary psychology, neuroscience and consciousness). (Online source)
Fuller's also done us a service in proving my thesis that the Emerging Church isn't even trying to hide its universal Progressive Christianity today with his post What is wrong with 'Progressive Theology?' As I've said before,  this whole Emerging/ent/ence neo-liberal cult with its rebellion against the Word of God can easily be summed up as follows: I'll believe whatever I want to believe thank you very much!
See also:
BRIAN MCLAREN INVITES YOU ON HIS QUEST TO DESTROY CHRISTIANITY
MEET MENTORS AND METHODOLOGY OF BRIAN MCLAREN
BRIAN MCLAREN A NEW KIND OF CHRISTIAN?
NEO-ORTHODOX APPROACH TO THE BIBLE PERFECT FIT FOR EMERGENCE CHRISTIANITY
THE NEW CHRISTIANS WITH CHRISTIANITY WORTH BELIEVING—NO SOLA SCRIPTURA: YES, WOMEN PASTORS AND QUEER CHRISTIANS
DISSENTION GROWING AROUND THE EMERGING CHURCH
APPRISING MINISTRIES WITH A PEEK AT THE COMING SOTERIOLOGY OF EMERGENCE CHRISTIANITY