By Ken Silva pastor-teacher on May 10, 2008 in Contemplative Spirituality/Mysticism, Emergence Christianity, Emergent Church, Features, Spiritual Formation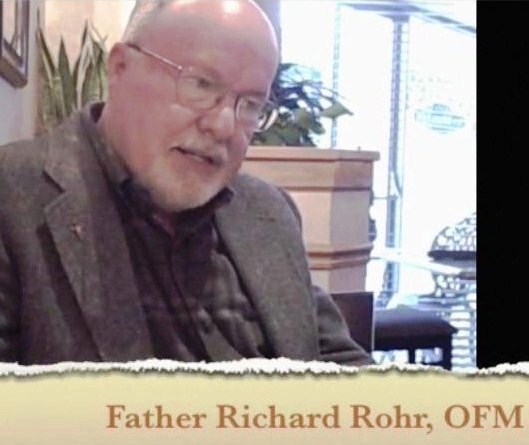 In a continuing series Apprising Ministries seeks to introduce the Body of Christ to various teachers of a counterfeit Christianity through their neo-pagan "spiritual disciplines" of Contemplative Spirituality/Mysticism (CSM), a corrupt spiritual blight which is currently spreading apostasy through the evangelical camp as quickly as an Oklahoma wildfire under the guise of Spiritual Formation.
Know this, the more the fools in the leadership of the American Christian Church embrace the postliberal theology of the Emergent Church—where this rebirth of Gnostic "wisdom" was a core doctrine from its inception—and The Cult of Guru Richard Foster the further this plague will infect the Body of Christ.
Here we introduce you to "Father" Richard Rohr, author of the book Everything Belongs: The Gift of Contemplative Prayer, and I already showed you in Rob Bell In A Nutshell: Contemplative Mysticism that Emerging Church icon and contemplative Rob Bell himself recommends this book.
But who is Richard Rohr? The website of the Center for Action and Contemplation (CAC) tells us under the section Our Founder that "Father Richard Rohr is a Franciscan of the New Mexico Province." This Roman Catholic priest also just happens to be another Living Spiritual Teacher along with Contemplative Guru and Quaker mystic Richard Foster.
Well, let me show you where the deception received through the practice of Contemplative/Centering Prayer has taken Swami Rohr. In January of 2008 Rohr was a "presenter" at Jesus and Buddha: Paths to Awakening—sponsored by his own CAC—where in true contemplative mystic theology completely consistent with The New Spirituality Roshi Rohr taught the equality of Buddha with Christ and the indwelling of God in all things:
The Four Noble Truths are the distilled essence of the Buddhist teaching. In this retreat, each of the Four Noble Truths will be introduced and explored, with emphasis given to the presence of each Noble Truth at the heart of Jesus' call to awaken to God's presence in every detail of our daily lives…
The teachings of both Jesus and Buddha call us to transformational honesty. They are both teaching us how to see, and how to see all the way through! They both knew that if you see God for yourself, you will see the Divine in all things. (Online source)
But in the Fall 2007 issue of the "Willow" magazine—which as you might imagine is published by Willow Creek Church—this kind of antichrist teaching doesn't stop Keri Wyatt Kent, "sought after spiritual formation retreat leader," from telling readers about:
Richard Rohr, a Franciscan priest has written several books on spiritual formation. He is the founder of the Center for Action and Contemplation, which, according to its Web site, is a "training/formation center that would serve as a place of discernment and growth for activists and those interested in social service ministries."
One of the center's core principles states: "We need a contemplative mind in order to do a compassionate work." In other words the "and" in his center's name is key — supporting the idea that if you are being formed into the image of Christ through contemplative practices, you will begin to live it out in the world.
(Online source, 12, emphasis mine)
That Wyatt would have such praise for Guru Rhor really isn't any big surprise because over at her blog Deep Breathing for the Soul we're informed Wyatt also "writes and speaks about the connection between contemplative faith and real life" (Online source). Contemplative peas in a corrupt spiritual pod. Note the concept of "the and" that I highlighted above because Wyatt is referencing the following poem of contemplative gibberish.
Doing his very best impression of deceased secular humanist John Lennon below Sensai Rohr imagines some "wisdom" rooted in classic Eastern a-logic:
And teaches us to say yes
And allows us to be both-and
And keeps us from either-or…
And insists that our action is also contemplative
And heals our racism, our sexism, heterosexism, and our classism
And keeps us from the false choice of liberal or conservative…
And is far beyond any one nation or political party…
And is far beyond my religion versus your religion
And allows us to be both distinct and yet united
And is the very Mystery of Trinity
And is why we are called the
Center for Action AND Contemplation (Online source)
You should also know that Carl McColman, "the author of several books including The Aspiring Mystic and 366 Celt, runs Anamchara: The Website of Unknowing which we're told "is devoted to Christian mysticism, interfaith spirituality, Celtic wisdom, emergent theology, and assorted other topics." There we also read the following endorsement:
• "Thanks, Carl, for your fine and much needed work."
— Richard Rohr, author of Everything Belongs: The Gift of Contemplative Prayer (Online source)
Lord willing we'll return to Anamchara another time, which is Celtic meaning "Soul Friend," but for now we leave you with just a few of the "Books of Unknowing" that Carl McColman, in his "fine and much needed work," thinks we seriously need to study. For example here in his category Christian Mysticism: Twenty-Five Essential Books:
Evelyn Underhill: Mysticism: The Nature and Development of Spiritual Conciousness
Meister Eckhart: Selected Writings
Thomas Merton: Contemplative Prayer
M. Basil Pennington: Centering Prayer: Renewing An Ancient Christian Prayer Form (Online source)
And as you listen to what Richard Rohr has to say in this video clip below keep in mind that it is written:
"From the least to the greatest, all are greedy for gain; prophets and priests alike, all practice deceit. They dress the wound of my people as though it were not serious. 'Peace, peace,' they say, when there is no peace."
"Are they ashamed of their loathsome conduct? No, they have no shame at all; they do not even know how to blush. So they will fall among the fallen; they will be brought down when I punish them," says the LORD. (Jeremiah 6:13-15)
See also:
RICHARD ROHR AMONG SEDUCING SPIRITS RE-INTERPRETING THE MESSAGE OF THE GENUINE CHRISTIAN FAITH
RICHARD ROHR: ROMAN CATHOLICISM AND CHRISTIAN UNIVERSALISM
RICHARD ROHR: FOUR PHASES OF EMERGENCE CHRISTIANTY
ROB BELL, PETER ROLLINS AND PHYLLIS TICKLE TOGETHER ADVANCING EMERGENCE CHRISTIANITY
APPRISING MINISTRIES WITH A PEEK AT THE COMING SOTERIOLOGY OF EMERGENCE CHRISTIANITY
RICHARD ROHR: CONVERSATIONS, CONVERGENCE AND EMERGENCE APOSTASY