By Ken Silva pastor-teacher on Mar 2, 2010 in AM Missives, Jay Bakker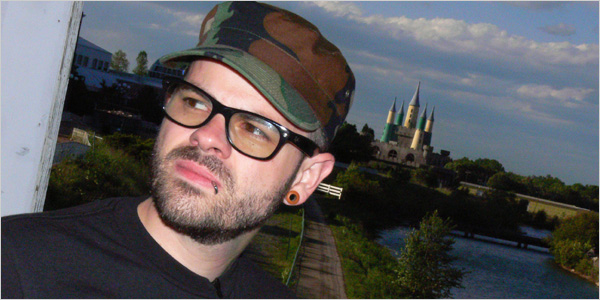 In Apprising Ministries articles like Homopressive As Jay Bakker and Emerging Church, Jay Bakker And Outlaw Preachers I've alerted you to a group of largely biblically illiterate, and I say a rather rapscallion bunch spiritually, who call themselves Outlaw Preachers (OPs) that have galvanized around gay affirming "pastor" Jay Bakker.
Then in pieces such as Emerging Church To TransFORM Outlaw Preachers I've showed you that the sinfully ecumenical Emerging Church de-formation of the Christian faith aka Emergent Church—that's now morphed into Emergence Christianity (EC)—has openly embraced Bakker and his partner in spiritual crime Khad Young.
Below you'll have the chance to see that the love's returned because Jay Bakker REALLY wants us to know that he's absolutely ecstatic about the reimagined ( i.e. post) form of Progressive Christianity, a postmodern form of liberal theology—Liberalism 2.0—of his friend Brian McLaren.
As you'll see in Brian McLaren Making Up A "God" The Emerging Church Likes McLaren, now a Living Spiritual Teacher alongside such as Deepak Chopra, the Dalai Lama, Thich Nhat Hanh, Eckhart Tolle, and Marianne Williamson, calls this "big tent" Christianity along with his process theologian friend Philip Clayton.
Yet again Bakker tweets encourages his followers to read McLaren's new book:
A New Kind of Christianity: Ten Questions That Are Transforming the Faith by Brian… http://amzn.com/0061853984 Read this book… pleas? (Online source)
As a matter of fact, Bakker's just tweeted reminding us of his recent sermon about McLaren:
IN DEFENSE OF BRIAN MCLAREN http://www.revolutionnyc.com/in-defense-of-brian-mclaren/ Sermon from Feb 7th @brianmclaren (Online source)
Still however, we don't see it as any real surprise when Bakker Re-tweets EC theologian Scot McKnight's review of McLaren's reimagined version of progressive/liberal theology, which he and process theologian Philip Clayton call "big tent" Christianity, that he's disagrees with this noted scholar:
Rt @scotmcknight McLaren's book http://blog.beliefnet.com/jesuscreed/2010/03/mcknight-on-mclarens-newest.html (I disagree with Scot.) (Online source)
Bakker notwithstanding, the truth is, McLaren may have over-played his hand because not everyone around EC circles is liking ringmaster McLaren's big tent circus of pseudo-Christianity.
That aside though, should spiritually obtuse evangelical leaders finally realize that this "new kind of Christianity" is a neo-liberalism rooted in a new form of Gnosticism maybe Brian McLaren can at least still preach his mystic mush god to Jay Bakker in the church you'll read about 'Catholic Outside, Buddhist Inside': New Gnostic Church Seeks Truth Within.
See also:
JAY BAKKER IS GOING TO HAVE TO GROW UP
BRIAN MCLAREN INVITES YOU ON HIS QUEST TO DESTROY CHRISTIANITY
MEET MENTORS AND METHODOLOGY OF BRIAN MCLAREN
TONY JONES, THE EMERGING CHURCH AND PROGRESSIVE CHRISTIANITY
DOUG PAGITT AND ARROGANCE OF LIBERAL/PROGRESSIVE CHRISTIANS