By Ken Silva pastor-teacher on Mar 2, 2010 in AM Missives, Brian McLaren, Current Issues, Emergence Christianity, Emergent Church, Features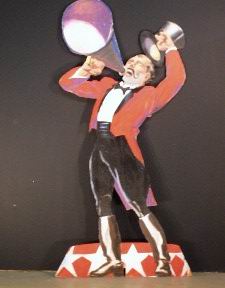 In the video below, emergent author Brian McLaren is interviewed by universalist Spencer Burke of  The Ooze.  In the interview, Burke is helping McLaren promote his latest book, A New Kind of Christianity, which is an open assault on the Word of God. To show how far McLaren's rebellion has gone, he is now listed ing the Living Spiritual Teachers Project alongside New Age leaders such as Deepak Chopra, the Dalai Lama, Eckhart Tolle and Marianne Willliamson.
All we're really talking about here is a postmodern form of Progressive Christianity, which is a Liberalism 2.0 that so many in the EC have actually adhered to all along. McLaren and his process theologian friend Philip Clayton call it a "big tent" Christianity. And now, with an assist from Burke, ringmaster McLaren masterfully sets up his straw men in order to try and make way for the god of this new pseudo-Christian sideshow trying to pass itself off as the faith once for all delivered to the saints. 
I can tell you this, McLaren's sure no brother of mine.
See also:
NEW KIND OF CHRISTIANITY OF BRIAN MCLAREN IS OLD AND FALSE
CHRISTIANITY TODAY REVIEW OF A NEW KIND OF CHRISTIANITY BY BRIAN MCLAREN
MEET MENTORS AND METHODOLOGY OF BRIAN MCLAREN
TIM CHALLIES: BRIAN MCLAREN HAS RADICALLY UNBIBLICAL VIEW OF JESUS
KEVIN DEYOUNG: MESSAGE OF MCLARENISM PRETTY SIMPLE
EMERGING CHURCH AND PROGRESSIVE CHRISTIAN THEOLOGY
TONY JONES, THE EMERGING CHURCH AND PROGRESSIVE CHRISTIANITY