By Ken Silva pastor-teacher on Feb 26, 2010 in AM Missives, Brian McLaren, Current Issues, Emergence Christianity, Emergent Church, Features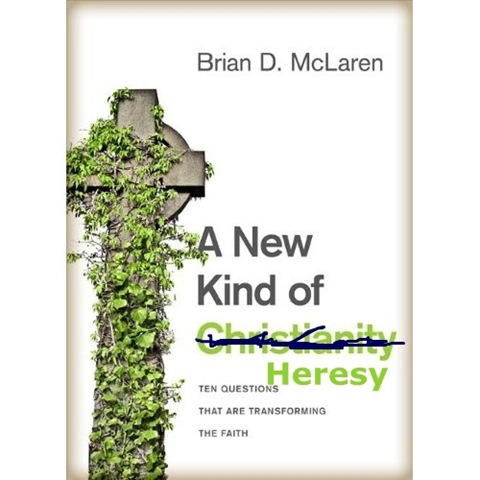 In recent posts such as  Brian McLaren Invites You On His Quest To Destroy Christianity and New Kind Of Christianity Of Brian McLaren Is Old And False recently Apprising Ministries has informed you of the latest book by Brian McLaren. As you know McLaren, in addtion to being a leading guru in the sinfully ecumenical Emerging Church de-formation of the Christian faith aka Emergent Church—that's now morphed into Emergence Christianity (EC)—is also one of the Living Spiritual Teachers alongside such as Deepak Chopra, the Dalai Lama, Thich Nhat Hanh, Eckhart Tolle, and Marianne Williamson.
What you may not be aware of is McLaren's not acting alone in pushing this new form of Progressive Christianity i.e. liberal theology in his A New Kind of Christianity (ANKoC). In posts like The Emerging Church And Progressive Christian Theology After Google will be showing up more and more around the circles of the EC. In fact, the upcoming EC "heresy-fest" Theology After Google (TAG) will feature process theologian Philip Clayton, who's a champion of this new form of progessive Christian theology.
Earlier in Brian McLaren Your Emerging Church Hypocrisy Is Showing I quoted the following part of a review of ANKoC by Dr. Mike Wittmer informs us that McLaren:
says that his new kind of Christianity is led by Doug Pagitt, who isn't sure that Jesus is God; Marcus Borg, who argues that Jesus is dead; and Harvey Cox, a Harvard Divinity professor who wants to blow the whole thing up and construct a new view of God that will connect with our secular age. (Online source)
The name I want you to note above is uber-liberal Christian Harvey Cox. In the current addtion of something called the nick & josh podcast, which boasts of interviews with a who's who of heretics, Philip Clayton discusses TAG. He also talks about a recent thing he did for his website Transforming Theology (see video below) and then informs us:
 
We had some pretty prestigious people, LeRon Shults is a very serious academic theologian; Serene Jones is the new president of Union Theological Seminary in New York, that bulwark of liberal theology. And those people stood up and responded to this call that Harvey Cox and I made together for a new form of theology, and a new form of Christian faith; or new forms of Christian faith. (10:49-11:18)
McLaren speaks highly of The Future Of Faith (TFoF), the latest book by Harvey Cox that Dr. Wittmer sums up above, in his ANKoC. In Curious Associations Ed Stetzer, Dan Kimball, And Tim Keller MissionSHIFT I told you that this book by Cox is an assault of biblical Christianity, but yet, is still supposedly about the rise and fall of belief and the coming age of the spirit. Now against this backdrop consider what McLaren writes of its back cover:
This important book has not only helped me understand the past. present, futre of this amazing phenomenon called Christianity . . . it has also motivated me to keep working to help make actual the possible future Cox envisions.
—Brian McLaren, author of A New Kind of Christian
As you can from McLaren himself, he's working along with Clayton and Cox to "help make actual the possible future" they're envisioning. The following endorsement from New Age guru Deepak Chopra, also on the back cover of TFoF, clarifies what kind of future we're talking about:
Harvey Cox has been a voice of both reason and faith in our cynical times. Now, he offers a fresh vision for the resurrection of a new global Christianity that will restore our faith both in ourselves and in the divine.
—Deepak Chopra, author of Jesus: A Story of Enlightenment
O very nice; now we're aiming to become so shifted in our "missional" faith that even a New Age mystic like Chopra can sign onto this resurrected new global Christianity. Considering the above, along with what you'll hear in the video below, this next endorsement of TFoF proves most interesting:
The Future of Faith is insightful, provocative, and inspiring I found myself uttering a hearty evangeical "Amen" at many points!
—Richard Mouw, president of Fuller Theological Seminary and author of Calvinism in the Las Vegas Airport
So with all of this in mind I point you now to the Christianity Today review, done by Emerging Church theologian Scot McKnight, concerning McLaren's ANKoC. And as you read, remember that now we know McLaren's ANKoC is really a synopsis of this new progressive Christian theology that will supposedly "help make actual the possible future" of a "new global Christianity" where "evangelicals" like Richard Mouw and New Age gurus like Deepak Chopra can worship God as a brotherhood. Welcome to Olympic-lever postmodern Humpty Dumpty language.
But alas, for McLaren and the rest of his re-tooled Fatherhood of God, Brotherhood of Man, and the neighborhood where you live, not all neo-evangelicals and Emerging Church folk are quite ready to sign on just yet. And here I agree with McKnight when he says of ANKoC:
Unfortunately, this book lacks the "generosity" of genuine orthodoxy and, frankly, I find little space in it for orthodoxy itself. Orthodoxy for too many today means little more than the absence of denying what's in the creeds. But a robust orthodoxy means that orthodoxy itself is the lens through which we see theology. One thing about this book is clear: Orthodoxy is not central.

Alas, A New Kind of Christianity shows us that Brian, though he is now thinking more systemically, has fallen for an old school of thought. I read this book carefully, and I found nothing new. It may be new for Brian, but it's a rehash of ideas that grew into fruition with Adolf von Harnack and now find iterations in folks like Harvey Cox and Marcus Borg. For me, Brian's new kind of Christianity is quite old. And the problem is that it's not old enough. (Online source)
See also:
BRIAN MCLAREN A NEW KIND OF CHRISTIAN?
MEET MENTORS AND METHODOLOGY OF BRIAN MCLAREN
PUTTING BRIAN MCLAREN IN HIS PLACE
EMERGING CHURCH AND PROGRESSIVE CHRISTIAN THEOLOGY
TONY JONES, THE EMERGING CHURCH AND PROGRESSIVE CHRISTIANITY
DOUG PAGITT AND ARROGANCE OF LIBERAL/PROGRESSIVE CHRISTIANS
WHO IS RESPONSIBLE FOR UNLEASHING THE EMERGING CHURCH VIRUS EMBED CODE?