By Ken Silva pastor-teacher on Feb 19, 2010 in AM Missives, Current Issues, Emergence Christianity, Emergent Church, Features, Southern Baptist Convention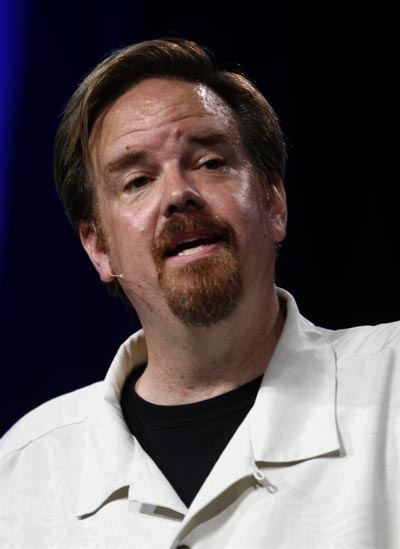 Ed Stetzer is "President of LifeWay Research and LifeWay's Missiologist in Residence." Also if you didn't know before, LifeWay operates as an agency of the Southern Baptist Convention, which is the largest allegedly Protestant denomination in the U.S.
Today Stetzer, who's also on the board of the Acts 29 Network of Mark Driscoll, tweets:
Kimball: church can call themselves missional… but I want to hear stories about how this is lived out. http://is.gd/8JinS (Online source)
This takes us to missionSHIFT: Introducing Dan Kimball over at Stetzer's The Lifeway Research Blog at Ed Stetzer.com where Stetzer tells us that Dan Kimball:
will be joining us in the Missional Manifesto conversation leading up to missionSHIFT this summer at Ridgecrest Conference Center in North Carolina on July 12-15. Dan's role is to serve as a "framer" to what we hope will be a helpful document in leading the church forward in missional ministry. (Online source)
Not long ago Kimball tweeted:
I am thrilled to be part of the MissionShift conference in July. Ed Stetzer posted an interview with me and about… http://fb.me/5CWlAke (Online source)
Apprising Ministries readers know that Dan Kimball has been intimately, and very deeply involved, with the sinfully ecumenical Emerging Church de-formation of the Christian faith aka Emergent Church—that's now morphed into Emergence Christianity (EC) from nearly its beginning. As one who's followed Kimball's work, and in fairness he would be at the more conservative end of the EC, I know I'm waiting to see if any EC leaders like Dan Kimball are going to publicly repudiate the neo-liberal progessive Christian theology fellow ECer guru Brian McLaren laid out in his new book A New Kind of Christianity.
In the meantime, it is a bit odd for the SBC's Ed Stetzer to be forming an association with the EC's Kimball for this Missional Manifesto in something called MissionSHIFT Conference. The website tells us us under manifesto:
During the months leading up to missionSHIFT, many of today's leading missiologists, theologians, and practitioners will begin to draft a document entitled "The Missional Manifesto."  The current list of framers is listed to the right and will be added to as more confirm their involvement.

The framers hope to construct a helpful statement on the use and application of the word missional. The intention of "The Missional Manifesto" is to allow the Scriptures to guide our understanding and involvement in the mission of God as it applies to the whole of life and doctrine. (Online source)
Here we find along with Stetzer and Kimball, among "The framers" the further curious association of Reformed pastor Dr. Tim Keller and Alan Hirsch, who's long been deeply involved with the Emerging/ent/ence Church rebellion against Sola Scriptura. In fact, Hirsch is the author of The Forgotten Ways (TFW) with its foreword by EC theologian Leonard Sweet which, besides Stetzer's carries the endorsements of EC luminaries like Andrew Jones (aka Tall Skinny Kiwi) as well as Sweet's good friend, and spiritual twin, Brian McLaren who says of the book:
Every chapter  has the kind of rich insight and inspiring challenge that we have copme to expect from Alan Hirsch
—Brian McLaren, author of A New Kind of Christian, A Generous Orthodoxy and The Story We Find Ourselves In
In Brian McLaren Invites You On His Quest To Destroy Christianity and Kevin DeYoung: Message Of McLarenism Pretty Simple you'll see that Brian McLaren's "missional" approach is quiet clearly the Liberalism 2.0 of a hybrid form of Progressive Christianity. We have more than enough reason to be concerned in the SBC with Stetzer's using LifeWay to promote this curious association when we look in chapter 7 organic structures in TFW. First Hirsch quotes uber-liberal Harvey Cox on the "main stimulous for the renewal of Christianity."
This supposed expert of Christian renewal would be the same Harvey Cox of whom we read below in this review of McLaren's ANKoC by Dr. Mike Wittmer, Associate Professor of Systematic and Historical Theology at Grand Rapids Theological Seminary:
So why doesn't Brian want me to know and believe the truth about Jesus?  He says that his new kind of Christianity is led by Doug Pagitt, who isn't sure that Jesus is God; Marcus Borg, who argues that Jesus is dead; and Harvey Cox, a Harvard Divinity professor who wants to blow the whole thing up and construct a new view of God that will connect with our secular age. (Online source)
Setting all that aside for now look below at what Brian McLaren,  now a Living Spiritual Teacher alongside such as Deepak Chopra, the Dalai Lama, Thich Nhat Hanh, Eckhart Tolle, and Marianne Williamson, says of The Future of Faith (TFoF), the latest book by Cox—which is really an assault of biblical Christianity—but is still supposedly about the rise and fall of belief and the coming age of the spirit:
This important book has not only helped me understand the past. present, futre of this amazing phenomenon called Christianity . . . it has also motivated me to keep working to help make actual the possible future Cox envisions.
—Brian McLaren, author of A New Kind of Christian
In the case of the EC the above would better stated: This phenomenon that is amazingly called Christianity. One other endorsement of TToF also proves to be quite *ahem* enlightening as it relates to curious associations:
Harvey Cox has been a voice of both reason and faith in our cynical times. Now, he offers a fresh vision for the resurrection of a new global Christianity that will restore our faith both in ourselves and in the divine.
—Deepak Chopra, author of Jesus: A Story of Enlightenment
Are we now aiming to become so shifted in our "missional" faith that even a New Age mystic like Deepak Chopra can sign onto this resurrected new global Christianity? A most curious association indeed.
See also:
EMERGENT CHURCH: A DISEASED TREE
EMERGENT CHURCH: DAN KIMBALL AND LECTIO DIVINA
TIM KELLER ALSO PROMOTING MYSTIC GURU PETER SCAZZERO?
DID BRIAN MCLAREN OVERPLAY HIS HAND?  
DOUG PAGITT AND ARROGANCE OF LIBERAL/PROGRESSIVE CHRISTIANS
THE NEW CHRISTIANS WITH CHRISTIANITY WORTH BELIEVING—NO SOLA SCRIPTURA: YES, WOMEN PASTORS AND QUEER CHRISTIANS 
TONY JONES, THE EMERGING CHURCH AND PROGRESSIVE CHRISTIANITY