By Ken Silva pastor-teacher on Nov 12, 2009 in Current Issues, Emergence Christianity, Emergent Church, Features, Homosexuality/"Christian"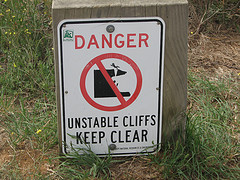 Apprising Ministries told you in Outlaw Preachers And The Emerging Church that this largely biblically illiterate bunch of self-described outlaw preachers now slithering up all around head Outlaw, gay affirming "pastor" Jay Bakker, has been fully embraced by the the egregiously ecumenical Emerging Church aka Emergent Church de-formation of the Christian faith—now morphing into Emergence Christianity (EC).
Further example is the following from TransFORM, which I pointed out in Emerging Church TransFORM is a social network created by "Kingdom Journalist" Steve Knight. Most of the familiar names in the EC existential rebellion against the final authority of the Bible are to be found e.g. Tony Jones, heretical "theologian in residence" at the EC church of his equally heretical quasi-universalist Doug Pagitt, and EC guru Brian McLaren.
You'll also find Bakker himself and his partner in spiritual crime Khad Young, as well as Christianity 21 "voices" and outlaw preachers such as PCUSA pastrix Nanette Sawyer, Makeesha Fisher, Julie Clawson, ELCA pastrix Nadia Bolz-Weber, Queermergent's Adele Sakler. As of this writing the outlaw preachers horde at TransFORM already has some 70 members; and as a matter of fact, the upcoming Outlaw Preachers Reunion being promoted below will held at Bolz-Weber's church:
Time: May 15, 2010 to May 18, 2010 Location: House for All Sinners and Saints City/Town: Denver, Colorado Website or Map: http://outlawpreachers.com/ (Online source)
More reason why you need to realize that the spiritual poison of such as these has been dripping into your Youth Groups and Young Adult classes for years now. And one of their pet doctrines is the attempt to convince us that the deviant lifestyle of having sexual relations with another of the same sex, i.e homosexuality, is a viable one for the evangelical Christian. This is why AM has been continuing to warn that there's a very dark and threatening same-sex storm right now approaching hurricane force which is currently only slightly off the coast of your own local church
So I highly recommend you make the time to listen to today's Crosstalk radio program. Over at the Crosstalk Blog Ingrid Schlueter tells us:
Chris Rosebrough of Fighting For the Faith will be the Crosstalk guest today. Are seeker churches with their refusal to faithfully teach from the Scriptures helping to facilitate the acceptance of homosexual relationships in evangelical churches? Do Christians have enough Scriptural knowledge to even argue effectively about the Bible's teachings on the matter?

Chris Rosebrough will walk listeners through Scriptural passages that clearly instruct us on the subject of homosexuality and warn about the consequences of pandering to unregenerate tastes in the name of "outreach."… (Online source)
You can listen to this program right here.
See also:
THE NIGHTMARE BEGINNING FOR MAINSTREAM EVANGELICALISM
THE SIN OF HOMOSEXUALITY IS DIFFERENT
JAY BAKKER FEATURED ON OOZE.TV OF EMERGING CHURCH
OUTLAW PREACHERS KHAD YOUNG AND JAY BAKKER DON'T LOVE ENOUGH
QUEERMERGENT AND NOW ADULTERMERGENT!?