By Ken Silva pastor-teacher on Jan 11, 2014 in AM Missives, Current Issues, Features, T.D. Jakes, Word Faith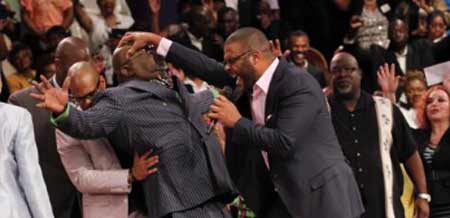 Since we came online at the end of August 2005 as one of the pioneers in the field of Internet apologetics and discernment work Apprising Ministries has been documenting The Falling Away Of The Evangelical Church. I've shown you that indicative of this growing apostasy is the increasing acceptance of Word Faith heretics as mainstream evangelicals, e.g.Cindy Trimm Receives Award From Billy Graham Evangelistic Association.
You may recall that months before the ill-fated ecumenical Elephant Room 2 I was warning you that ER2 co-hosts James MacDonald and Mark Driscoll would use it to mainstream Word Faith mogul T.D. Jakes. Sadly, while at ER2  Jakes was allowed to affirm both trinitarianism and modalism simultaneously. Then I pointed out that a couple of weeks later James MacDonald appeared on the February 6, 2012 edition of Chris Fabry Live.
There MacDonald seems to imply that in his private dialogues with T.D. Jakes that Jakes was now supposedly moving away from the Word Faith prosperity gospel as well. You can hear MacDonald's words for yourself below:


[mejsaudio src="https://www.apprising.org/wp-content/uploads/2012/07/Fabry-MacDonald1.mp3″]
I also pointed out to you, e.g. in Elephant Room 2′s T.D. Jakes Praising Paul And Jan Crouch On TBN 7-10-12, that MacDonald did say that if Jakes wants to be accepted as evangelical, as opposed to WF, then:
his ministry will have to bear that out.
Here we would agree with James MacDonald; since Jakes has very publicly been a leading promoter of WF heresy and mythology, then any repentance on his part will also have to be public. Here's where we jump the track. As we examine the work of T.D. Jakes since ER2, and James MacDonald's comments to Chris Fabry, the evidence has actually been quite the opposite. For example: Paula White: As Paul Is To Timothy, So T.D. Jakes Is To Me.
T.D. Jakes also featured a trio of WF pastrixes, Cindy Trimm, Sheryl Brady, whom Jakes installed as pastrix at his Potter's House of North Dallas, and  his spiritual daughter Paula White at Jakes' Women Thou Art Loosed:

(source)
I'd covered this previously in Elephant Room 2's T.D. Jakes, Pastrix Paula White & His Upcoming Women Thou Art Loosed Conference. Now here's yet another instance of Jakes involved with WF fables in the following tweet:

(source)
Jakes refers to the August 7, 2013 Praise the Lord program, which he hosted to hawk his Megafest apostasia-palooza featuring guru of new spirituality Oprah Winfrey and his good friend, and fellow WF heretic, Joel Osteen. ((http://bit.ly/KUvHId, accessed 1/11/14; and also see MEGACHURCH PASTORS JOEL OSTEEN AND T.D. JAKES UNITE AND WHY YOU SHOULD CARE))
This brings us to the tweet below from T.D. Jakes this past September:

(source)
What happened to T.D. Jakes is that hollywood producer Tyler Perry laid hands on Jakes, supposedly anointing him further with "the blood of Jesus." Christian Post informs us:
In a viral video that appeared on the Internet over the weekend, Hollywood producer Tyler Perry, known for his string of "Madea" movies, is seen laying hands on Bishop T.D. Jakes during a worship service at The Potter's House in Dallas, Texas…

After being escorted up to the stage by Jakes himself, Perry turned to the pastor and said, "You just caught me a little off guard, bishop."

Perry went on to relate that he had been in town to attend MegaFest and felt moved to write out a check for $113,000 after attending the "Woman Thou Art Loosed" conference where Pastor Paula White said that those in attendance who could, should write a check for $113 "for Psalm 113."

"My intention was to just leave the check and bless God," he said. "See, I love to give. I've been a giver all my life. You see, when people have given to you and sown into you and God has touched them and given you favor. When you have favor with…" (source)
Because these things have a way of disappearing, I've put the video in question right into this piece below:
[mejsvideo src="https://www.apprising.org/wp-content/uploads/2013/09/Perry-Jakes.mov" width=640 height=360]
However, you can see from the CP report this is more WF mythology involving pastrix Paula White. I've already clearly documented for you that White is a spiritual daughter of T.D. Jakes, which he readily acknowledges.
Obviously, Tyler Perry also accepts pastrix Paula as a genuine woman of God as well. Notice he obeyed White's "revelation" at the aforementioned WTAL conference that God wanted people to give a check "for $113 'for Psalm 113.'" However, you'll about to see now that White's god isn't very inventive.
Last year in T.D. Jakes' Spiritual Daughter Paula White's Latest Lie To Fleece Her Flock with the video below I showed you pastrix White preaching WF doctrine for her spiritual father T.D. Jakes right at his Potter's House:
[mejsvideo src="https://www.apprising.org/wp-content/uploads/2012/03/Pastrix-Paula-White-With-Word-Faith-Sow-Seed-Money-At-Potters-House.mp4″ width=640 height=360]
What she's teaching is a classic piece of warped WF mythology they refer to as "the law of sowing and reaping," i.e. giving money to them. You'll often hear WF preachers tell their flocks to "sow a seed" into their ministry. This is supposedly in order that God is then obligated, as a "blessing," to return to the giver more than they gave.
At :027 in the clip above White tells us, "When I was here for Women Thou Art Loosed" God spoke directly to her. Allegedly God gave her "a Word. Psalm 126; and the Lord spoke, 'Everyone was to give one hundred and twenty-six dollars.' " The WF god may not be inventive, but he certainly is greedy.
White then continues on twisting God's Word as she tells Jakes' flock:
That when you sow in tears, you're gonna reap in joy. And that those that bear  precious seed—that you bring precious seed—because when you're weeping—when you're in the recovery process—seed is sacrificial. [O]k?

Seed's sacrificial. And He said, "You'll come back, and you'll bring back"—I want you yo hear this—you're gonna bring back. And when you come back you'll bear sheaves; you'll bear your harvest.

The Lord spoke to me, and I say this humbly before the Lord…
One of the people from whom pastrix Paula White learned this WF mythology is her spiritual daddy T.D. Jakes. Jakes has always taught the same fable of sowing seed [money] in order to make God give you what you need. In the first clip below you'll hear Jakes with the classic WF misunderstanding of Matthew.
According to WF mythology, supposedly if we believe something together, God is then duly bound to answer that "prayer of faith" for these believers:
And as we believe together, I need you to help this ministry continue to help change the world with the love of Jesus Christ. This work must continue.
Very pious; but it isn't the mission of the Church to change the world. Our commission is to bring the Gospel to those who are lost and to make disciples of Jesus Christ. And who says the work of T.D. Jakes "must continue?" Looks to me like Jakes does. However, I can tell you that the work of T.D. Jakes is truly sowing division.
Next the announcer sets up that WF fable of sowing and reaping we saw from pastrix Paula White at Jakes' Potter's House. In other words, it's a spurious Word Faith spiritual lottery where supposedly the bigger the seed, then the bigger one's financial windfall.
This is what Jakes means when he says, "And God will bless you back" in the following video:
[mejsvideo src="https://www.apprising.org/wp-content/uploads/2012/02/TD-Jakes-Prosperity-Gospel-Sow-A-Seed-God-Will-Bless-You.mp4″ width=640 height=360]
However, the truth is, we really shouldn't be surprised by all of this because WF prosperity peddler T.D. Jakes has already told us long ago that Jesus is his product:
[mejsvideo src="https://www.apprising.org/wp-content/uploads/2012/11/JaProd.mov" width=640 height=360]
If somehow you still think that T.D. Jakes is repenting of Word faith heresy and mythology, the following is a clip from "Throw It Back," which was Jakes' 2013 New Year's Eve message to his Potter's House. Same 'ol T.D. Jakes heading into 2014:
[mejsvideo src="https://www.apprising.org/wp-content/uploads/2014/01/Jakes2014.mp4″ width=640 height=360]
So what is my point with all of this? I'll tell you. Once relegated to the shadows at the edge of the Christian community, you need to realize that T.D. Jakes is no longer out on the fringe of the Pentecostal and/or hyper-charismatic movements.
Jakes—one of the most notorious of WF prosperity preachers—is now widely considered a mainstream evangelical; i.e. what you've just seen from T.D. Jakes—as well as his spiritual progeny pastrix Paula White—is now becoming acceptable doctrine.
In closing this, for now, please understand that some of the most influential men in the heart of the visible church, such as Bill Hybels, Ed Young, Jr., and Steven Furtick—whose ministry has been personally blessed by Rick Warren—openly promote Jakes. ((See T.D. JAKES TO SPEAK FOR BILL HYBELS AT WILLOW CREEK and "BISHOP" T.D. JAKES BLESSING SOUTHERN BAPTISTS FOR ED YOUNG, JR and STEVEN FURTICK: T.D. JAKES IS MY FAVORITE PREACHER IN THE WORLD))
For example, just consider Steven Furtick Gushes "T.D. Jakes Is My Favorite Preacher In The World." Next there's Rev. Dr. Samuel Rodriguez, president of the National Hispanic Christian Leadership Conference (NHCLC), which comprises some 40,000 evangelical churches.
In Rev. Samuel Rodriguez Joins TD Jakes, Benny Hinn & others in discussing issues of Church including the Latino Church in America at Rodriguez' NHCLC website we see that Jakes was a featured speaker at this evangelical conclave:
he group listened to four panels of speakers that included Bishop T.D. Jakes, Argentinean pastor Claudio Freidzon, Jane Hansen of Aglow International and John Dawson, president of Youth With a Mission (YWAM). (source)
Sad indeed; they don't come any phonier than Benny Hinn. Christian Post reporter Katherine T. Phan informed us in her report Bishop TD Jakes Honored as 'Prophetic Voice' at 35th Anniversary Celebration that the:
National Hispanic Christian Leadership President Samuel Rodriguez, a prominent leader of the Hispanic Evangelical movement, honored Jakes as a "prophetic voice" whose message transcends race, reaching Blacks, Whites, and Hispanics alike. (source)
Or how about the below from Catalyst Conference (CC), a major annual evangelical event. The following lineup was among those at CC – The Tension Is Good 2010:

(source)
Here's what you need to contemplate. For years now, WF King T.D. Jakes has been set up to come preach to, and indoctrinate, mainstream evangelical pastors—maybe even your own. And this isn't merely some kind of conspiracy theory thinking; nor is it guilt-by-association. Tragically, this truly is a case of guilt-by-endorsement…
Further reading