By Ken Silva pastor-teacher on Mar 3, 2010 in AM Missives, Current Issues, Features, Southern Baptist Convention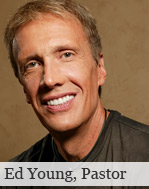 You may be aware that the online apologetics and discernment work Apprising Ministries extends from CRBC, the local church where I am pastor. It is aligned (for now) with the Southern Baptist Convention (SBC). This is one of the reasons I have watched with sadness the drift of SBC megapastor Ed Young, Jr; who happens to be the son of Ed Young, himself a two-time president of the SBC. A couple of years ago I did what I could to alert, then SBC president, Dr. Frank Page that Young, Jr needed some guidance.
Sadly, I would find out that in the SBC, the Idol of Autonomy is always there to hide behind when doctrinal issues arise. In my opinion, this is a main contributing factor why Young, Jr is currently being investigated concerning an alleged cover up of an ostentatious life style, as you can see in Radio Expose On Ed Young Jr And Luxury. More specific to doctrinal guidance concerning Oneness Pentecostal heretic and Word Faith mogal "Bishop" T.D. Jakes, in Ed Young, Jr U.B.U. And Promote Word Faith Preachers I told you that he had Jakes preach in his church…yet again.
The main problem with Jakes, leaving aside right now his warped Word Faith theology, is that he denies the triune nature of God; in other words, Jakes denies Who God actually is. I also wish you to know that I personally wrote to T.D. Jakes and offered him the chance to clear the air re. his doctrine on the nature of God. He chose not to even respond to my email; and so, I would then go on to write Keeping You Apprised Of: T.D. Jakes On The Trinity, where I gathered the main evidence of his Oneness Pentecostalism all into one source.
It's really beyond question that Jakes holds to the heresy known as Sabellianism, which is also called Modalism, and Monarchianism. The below will show you, in simple terms, we're dealing with a denial of the full Deity of Jesus Christ as well the belief in another god entirely:
All of the various early heresies resulted from individuals overemphasizing or underemphasizing various aspects of the Godhead…  It is the view that God existed in Jesus, just as God exists in all of us,… Jesus was God because God inhabited Him… Modalism teaches the God has simply revealed Himself in three different modes, and that He is not three Persons, as the Bible asserts. (Online source)
This is what you need to understand as you watch the pitiful display in the video below, which is disgusting on a number of levels. The Vimeo site of Ed Young, Jr's Fellowship Church tells us that this C3 2010 Recap video lets us, Learn from some of the most influential pastors and communicators leading in the Church today. Among the questions I have would be: When did the Body of Christ decide Sabellianism is no longer heresy? And who gave Ed Young, Jr the authority to definitely say that Oneness Pentecostals like T.D. Jakes are "in the Church"?
Despite the man-centered emphasis in the video on "unity," and a "big vision because we have a big God," the genuine Christian truly has no unity with people like Jakes who worship a god who doesn't exist. You should be asking, which Jesus Christ are these people being urged to "give their lives" to in the video below, which  has every look of a Praise The Lord program on the infamous Trinity Broadcasting Network. And in closing this for now, I bring to your attention that at 2:25 in you'll see T.D. Jakes being prominently featured, and it's without question he's a strong supporter of TBN.
You'll watch as Jakes speaks to those "who sense this is a destiny and a turning point"; and then Jakes tells them to "rush down" because he wants to "pray" for their "soul" and for their "life." But the crucial question remains: How can a god who doesn't even exist ever be of any help to anybody?
C3 2010 Recap from Fellowship Church on Vimeo.
See also:
ED YOUNG, JR PAYS HOMAGE TO JOEL OSTEEN
T.D. JAKES ANOTHER WORD FAITH HYPOCRITE
BUT SOUTHERN BAPTISTS SAY OK TO "BISHOP" T.D.JAKES
LETTER TO ED YOUNG, JR. REGARDING ONENESS PENTECOSTAL DR. T.D. JAKES SHARING THE PULPIT IN HIS SBC CHURCH
SOUTHERN BAPTIST PASTOR ED YOUNG, JR.: CHURCH LEADERSHIP CONFERENCE IS NOT ABOUT THEOLOGY
WORD FAITH MOGUL "BISHOP" T.D. JAKES – A SOUTHERN BAPTIST PREACHER?
SBC SECOND VICE PRESIDENT DR. WILEY DRAKE COMMENTS ON ED YOUNG, JR. SHARING HIS SBC PULPIT AGAIN WITH ONENESS PENTECOSTAL T.D. JAKES