By Ken Silva pastor-teacher on Mar 9, 2010 in AM Missives, Current Issues, Features, T.D. Jakes, Word Faith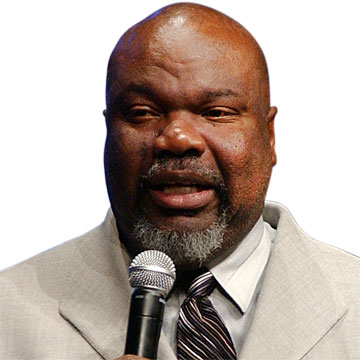 Oneness Pentecostal and Word Faith mogul "Bishop" T.D. Jakes, fresh off his stint preaching for Southern Baptist pastor Ed Young, Jr again, will also be a featured speaker for Bill Hybels and Willow Creek Church this summer.
Despite his denial of the Trinity, i.e. the very nature of God, there right alongside Hybels, Andy Stanley, and some others, T. D. Jakes is scheduled to speak at The Global Leadership Summit 2010 coming up this August 5-6.
And doctrinal differences continue to be erased as below is video of T.D. Jakes who'll also appear, along with Ed Young, Jr and Andy Stanley, for a second time at the Hillsong Conference 2010 in July.
See also:
T.D. JAKES: JESUS IS THE PRODUCT
KEEPING YOU APPRISED OF: T.D. JAKES ON THE TRINITY