By Ken Silva pastor-teacher on Mar 9, 2010 in AM Missives, Current Issues, Emergence Christianity, Emergent Church, Features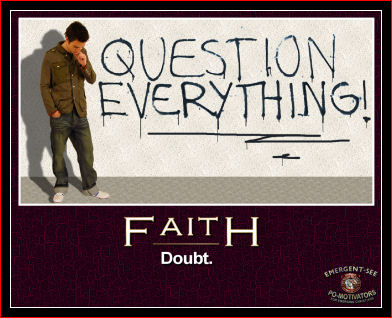 The following by Dr. Gary Gilley, pastor of Southern View Chapel, is adapted from his Think On These Things article The Kingdom of Emergent Theology – Part 1 and is published with permission:
Emergent Eschatology

Emergent and emerging leaders may differ over any number of issues but they present a united front when it comes to the kingdom of God—and the kingdom of God plays the pivotal role in their theology and purpose. At a recent conference in Baltimore – The Big Event 2007, Imagine a World…a New Vision for God's Kingdom on Earth – the PowerPoint presentation assures us "the kingdom of God is here now." [1]

The idea that the kingdom is here now is the one doctrinally unifying factor in emergent theology, yet some in the "conversation" have been honest enough to admit that even they are not always sure what is meant by the term. Mark Scandrette confesses,

A central and reoccurring theme of conversation has been a renewed fascination with the present availability of the kingdom of God… [Yet] the term kingdom of God has become so popular, and its usage so varied, that it is difficult to know if we are even talking about the same thing… There is a tendency to see the kingdom of God as whatever is progressive, exotic, foreign, and obscure (emphasis in the original). [2]

Nevertheless a consensus by both emerging and emergent leaders is expressed by Sherry and Geoff Maddock: "Our principle (sic) desire is to see God's kingdom come on earth as it is in heaven. We believe this happens when God's people are renewed around God's mission of love and justice in the world." [3] The conversation apparently views the kingdom as being on earth now but progressively becoming like the kingdom in heaven as Christians live missionally on earth.

Such an understanding of the kingdom of God is obviously at odds with premillennialism, yet the Maddocks' view is reflected by many in or on the fringes of the movement. Tony Campolo represents many emergent thinkers as he contrasts dispensationalism with emergent theology,

This is a theology that – with its implicit threat of being left behind, of time running out – is used by Dispensational preachers to great evangelistic effect. It has been a very effective goad to conversion… To the contrary, the history of the world is infused with the presence of God, who is guiding the world toward becoming the kind of world God willed for it to be when it was created. Human history is going somewhere wonderful. [4]

N. T. Wright, the primary link between the "New Perspective on Paul" (which claims we have misunderstood Paul and, in turn, the gospel, since the foundation of the church) and evangelicalism, has the same eschatological underpinnings, "[Paul] was to declare to the pagan world that YHWH, the God of Israel, was the one true God of the whole world, and that in Jesus of Nazareth he had overcome evil and was creating a new world in which justice and peace would reign supreme (emphasis mine)." [5]

Jim Henderson, co-author of Jim and Casper Go to Church, is also interested in bringing the kingdom of God to earth. "I want to make this world a better place. I want to see Jesus' prayer answered that his Kingdom would come on Earth as it is in heaven. I want to see kingdoms of this world become the kingdoms of our God and his Christ." [6]

To Brian McLaren, the most prolific emergent writer, the ultimate goal of Jesus (and God) is the kingdom of God, brought to earth. [7] Just how is the kingdom brought to earth? Through our good works. McLaren states, "I hope that they [his neighbors] and I will become better people, transformed by God's Spirit, more pleasing to God, more of a blessing to the world so that God's kingdom (which I seek, but cannot manipulate) comes on earth as in heaven (emphasis mine)." [8]

What does this kingdom that we are to bring through our good works look like? Rob Bell has some thoughts:

Salvation is the entire universe being brought back into harmony with its maker. This has huge implications for how people present the message of Jesus. Yes, Jesus can come into our hearts. But we can join a movement that is as wide and as big as the universe itself. Rocks and trees and birds and swamps and ecosystems. God's desire is to restore all of it. [9]

And

For Jesus, the question wasn't how do I get into Heaven? but how do I bring heaven here?… The goal isn't escaping this world but making this world the kind of place God can come to. And God is remaking us into the kind of people who can do this kind of work. [10]

Emergent theology sees the kingdom of God as present now with future culmination as we (the subjects of the kingdom) restore justice, eliminate poverty, clean up the ecosystem, tame global warming and the like. Of course the issue is not whether Christians ought to be involved in finding solutions to these earth-related concerns (we should be and have been and are), but whether this is the mission of the church and whether doing so will more quickly bring in the kingdom.

I do not believe Scripture teaches either, but Robert Webber, in his very influential book Ancient-Future Faith, differs, "[The] result of the cosmic work of Christ is that the kingdom of God, God's rule over all things, is now manifest." [11] By Christ's "cosmic work" Webber means, among other things, that "Christ has bound Satan and all demonic powers." [12] While Webber admits to a future in which a more complete binding of demonic forces will prevail, demons are limited enough at this time to allow for a "secular salvation" (that is the salvation of the planet and culture) within society. Webber is confident that due to the present binding of demonic forces, and God's kingdom rule now, believers can and should expedite massive social and cultural changes. As a matter of fact it is the mandate of the followers of Christ to be focused on this "secular salvation." He writes,

Faith in Jesus Christ, who is the ultimate ruler over all of life, can break the twisting of political, economic, social, and moral structures into secular salvation. Because those structures that promise secular salvation are disarmed, they can no longer exercise ultimate power in our lives. The powers have been dethroned by the power of the cross. [13]

The church, given this paradigm, becomes the change agent in society. "The church," writes Webber, "as a transforming presence in the world stands in the tradition of those Scripture passages that emphasize the power of the gospel to change not only the life of an individual but also the life of culture." [14]

It is thought within emergent circles that when the church operates as this type of change agent the world can't help but get better. Carla Barnhill, former editor of Christian Parenting Today magazine, assures us that emergent style parenting, a style in which it is more important to teach creativity than obedience, "is about celebrating the goodness of life with God, a life that looks more like the kingdom with every generation." [15] Prominent emergent leader Tony Jones, in the process of poking fun at the dispensational understanding of this age and the one to come, states, "But those of us represented in this book take the contrary view. God's promised future is good, and it awaits us, beckoning us forward." [16] To both Barnhill and Jones the world is becoming a better place to live as time goes by, and it is our job to hasten its rejuvenation.

If there is one thing the emergent conversation has closed ranks around it is that the kingdom of God is on earth now, but it will progressively resemble God's kingdom in heaven as Christians understand their true mission, which is to make this world a better place for all. The emerging movement sees itself as a wakeup call to those who would follow Jesus. It is our task to bring the kingdom of God on earth as it is in heaven by aggressively challenging injustice, fighting poverty, aiding the sick, working on ecological concerns and, in general, saving this planet and everything on it. Emergent leaders believe that people are catching on to this new vision of the kingdom, and as a result, are optimistic about the future. No doomsday tribulation period is on their radar screen nor is Jesus coming in judgment upon the wicked. The kingdom, while already here, will progressively become like heaven as we attend to the social ills and needs around us. Tomorrow looks bright and the day after that looks brighter still.

Here is Part Two and Part Three

________________________________________________________________________________
Endnotes:

1.  http://www.baltimorepresbytery.org/TheBigEvent2007ImagineaWorld….htm. 
2.  Mark Scandrette, "Growing Pains" in An Emergent Manifesto of Hope, ed. Doug Pagitt and Tony Jones ( Grand Rapids: Baker Books, 2007) pp. 26, 29.
3.  Sherry Maddock and Geoff Maddock, "An Ever-Renewed Adventure of Faith," An Emergent Manifesto of Hope, p. 80.
4.  Tony Campolo, in Brian McLaren and Tony Campolo, Adventures in Missing the Point ( El Cajon, Calif,: Youth Specialties, 2003), p. 59.
5.  N. T. Wright, What Saint Paul Really Said, (Grand Rapids: Wm. B. Eerdmans, 1997), p. 37.
6.  Jim Henderson and Matt Casper, Jim and Casper Go to Church (2007), p. 168.
7.  Brian McLaren, A Generous Orthodoxy,( Cajon, CA: Youth Specialties Books, 2004), p. 267.
8.   Ibid., p. 263.
9.   Rob Bell, Velvet Elvis ( Grand Rapids: Zondervan, 2005), pp.109-110.
10. Ibid., pp. 147,150.
11. Robert Webber, Ancient-Future Faith, ( Grand Rapids: Baker Books, 2004) p. 53.
12. Ibid., p. 49.
13. Ibid., p. 51.
14. Ibid., p. 169.
15. Carla Barnhill, "The Postmodern Parent," An Emergent Manifesto of Hope, p. 58.
16.  Tony Jones, "A Hopeful Faith," An Emergent Manifesto of Hope, p. 130.
 See also:
APPRISING MINISTRIES WITH A PEEK AT THE COMING SOTERIOLOGY OF EMERGENCE CHRISTIANITY
RADIO INTERVIEW WITH JEREMY BOUMA THE INSIDER WHO JUST LEFT THE EMERGING CHURCH
EMERGING CHURCH LEADER BRIAN MCLAREN REJECTS ORIGINAL SIN
FOR BRIAN MCLAREN AND MARCUS BORG BEING "BORN AGAIN" IS REACHING "ENLIGHTENMENT"?
MARCUS BORG AND CHRISTIANS WHO DON'T BELIEVE IN JESUS
MISSIONARY OR MISSIONAL: THE MISSION OF THE EMERGING CHURCH
THE NEW CHRISTIANS WITH CHRISTIANITY WORTH BELIEVING—NO SOLA SCRIPTURA: YES, WOMEN PASTORS AND QUEER CHRISTIANS