By Ken Silva pastor-teacher on Feb 5, 2010 in AM Missives, Current Issues, Features, Southern Baptist Convention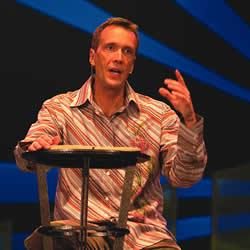 *UPDATE* The interested reader is encouraged to examine the additional information in RADIO EXPOSE ON ED YOUNG JR AND LUXURY.
More bad news for those of us still with the Southern Baptist Convention. In the video below we're told of an alleged cover up involving popular Southern Baptist pastor Ed Young Jr.
At his A Little Leaven website Christian Research Network contributor Chris Rosebrough adds in Ed Young Luxury Cover Up Uncovered **Updated**:
**Update February 5th at 1:44 PM EST**

I've contacted Fellowship Church and given them the opportunity to 'set the record straight' on my radio program. So far I cannot get straight answers to simple questions.

The questions I believe need to be answered are:

1. Does the church own an $8 million dollar private jet?

2. If the church owns and $8 million dollar private jet then why was it NOT public knowledge?

3. Has Young used the $8 million dollar private jet for personal trips to tropical resorts in the Bahamas and Mexico?

Fact: Until Ed Young answers those questions then there ARE secrets that he's keeping from his congregation despite his cliams to the opposite. (Online source)
See also:
BUT SOUTHERN BAPTISTS SAY OK TO "BISHOP" T.D.JAKES
LETTER TO ED YOUNG, JR. REGARDING ONENESS PENTECOSTAL DR. T.D. JAKES SHARING THE PULPIT IN HIS SBC CHURCH
SOUTHERN BAPTIST PASTOR ED YOUNG, JR.: CHURCH LEADERSHIP CONFERENCE IS NOT ABOUT THEOLOGY
WORD FAITH MOGUL "BISHOP" T.D. JAKES – A SOUTHERN BAPTIST PREACHER?
SBC SECOND VICE PRESIDENT DR. WILEY DRAKE COMMENTS ON ED YOUNG, JR. SHARING HIS SBC PULPIT AGAIN WITH ONENESS PENTECOSTAL T.D. JAKES
RESPONSE FROM GARY LEDBETTER OF "SOUTHERN BAPTIST TEXAN" CONCERNING DR. T.D. JAKES AT ED YOUNG, JR'S CREATIVE CHURCH CONFERENCE 2007