By Ken Silva pastor-teacher on Feb 5, 2010 in Current Issues, Emergence Christianity, Emergent Church, Features, Southern Baptist Convention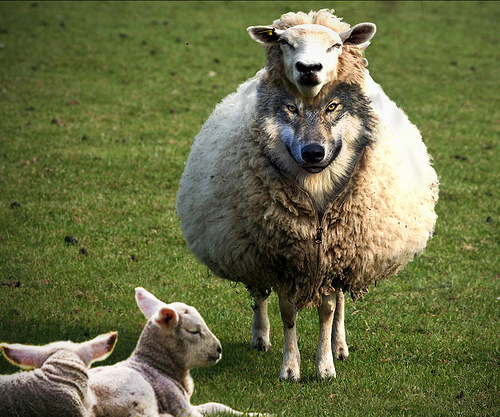 Apprising Ministries told you in Southern Baptist Convention Embracing The Emerging Church about a grievous mistake being made by the Baptist General Association Of Virginia (BGAV) aka the Virginia Baptist Mission Board. You may recall that the BGAV is one of the two Virgina state conventions aligned with the national Southern Baptist Convention; the other being the Southern Baptist Conservatives Of Virginia.
In that previous piece I pointed you to the April 2010 Parish Paper called What Can We Learn from the Emerging Church Movement? As I said before this foolish edition is woefully misinformed and not only promotes the heretical Phyllis Tickle, the Empress of the sinfully ecumenical Emerging Church aka Emergent Church—that morphed into Emergence Christianity (EC)—but it's also a full-on embrace of the EC.
You need to realize that this very decidedly anti-Protestant de-formation of the Christian faith is a cult of a postliberalism that's now firmly entrenched within the mainstream of pretending to be Protestant evangelicalism. Subsequent research shows that it's no real surprise why The Parish Paper: Ideas and Insights for Active Congregations (TPP) would wish to promote the EC. BGAV tells us concerning TPP:
The Virginia Baptist Mission Board is proud to provide copies of the Parish Paper free of charge to members of our constituency!

Co-edited by knowledge experts Herb Miller, Lyle Schaller, and Cynthia Woolever, monthly issues of The Parish Paper provide ideas, insights, research-findings, and practical methods that strengthen the effectiveness of congregations in accomplishing God's purposes through their various ministries. (Online source)
For those who don't know TPP is not produced by the BGAV; rather, TPP is written by the aforementioned "knowledge experts." As a matter of fact TPP is actually the brainchild of "America's foremost church consultant" one Dr. Lyle E. Schaller, who interestingly enough has been involved with Peter Drucker and Leadership Network:
The Parish Paper began in 1971, pioneered by Dr. Lyle E. Schaller, often called America's foremost church consultant, and the author of more than fifty books on church leadership during the last four decades, many of which were published by Abingdon Press, Nashville. During the 1990s, research by The Alban Institute identified The Parish Paper as the best-known publication of its type among leaders of American Protestant denominations.

Throughout those decades The Parish Paper has had clergy, lay, and middle-judicatory subscribers in more than twenty-eight denominations in the United States, Canada, Australia, and New Zealand. It has never been connected with a single denomination or publishing company or theological viewpoint. Thus, it is ecumenical in the broadest sense of that term. Due to their large memberships, the greatest numbers of Parish Paper readers are in seven denominations: Episcopal, United Church of Christ, Presbyterian, United Methodist, Christian Church (Disciples of Christ), American Baptist, and Lutheran (ELCA). (Online source)
TPP being "ecumenical in the broadest sense of that term," combined with its popularity in dying mainline denominations such as the Episcopal Church, United Methodist Church, and the ELCA, explains why knowledge expert Dr. Cynthia Woolever, who wrote the edition of TPP in question, would be so enamored with the EC. It's also telling when we know that Dr. Woolever:
directed the U.S. Congregational Life Survey. About 300,000 worshipers in more than 2,000 congregations in the United States completed a survey during worship services in April 2001. Worshipers in Australia, England, and New Zealand completed similar surveys. Together, the international effort included about 2 million worshipers and 17,000 congregations across three continents.

The survey included Jewish, Greek Orthodox, Roman Catholic, Buddhist, Unitarian and Protestant denominations. Its purpose was to develop resources to help congregations better understand themselves, identify their strengths, assess their ministries and relate more effectively with their communities. (Online source, emphasis mine)
As we read further we see Dr. Woolever herself has long been involved with the same kind of egregiously ecumenical interfaith/interspiritual "finding God in the Other" as the EC. We find out from Hartford Seminary President Heidi Hadsell that Dr. Woolever:
"has a deep commitment to the vitality of congregations, across denominational lines. She has worked extensively to help faith communities understand what it takes to remain, or become, organizationally vital,"… (Online source)
So it's really no wonder Dr. Woolever's musings about the EC in What Can We Learn from the Emerging Church Movement? are so superficial and enthusiastic when she says, "The emerging church movement poses no threat to Christianity. Rather, it enhances its spread and health" (2). The question now becomes: Why is the BGAV pushing this pro-EC propaganda and encouraging Southern Baptists in Virginia to read it?
See also:
SOUTHERN BAPTIST CONVENTION AND "INSIGHTFUL" EMERGING CHURCH HERETIC TONY JONES
IN THE EMERGING CHURCH OOZE CONVERSION IS OUT 
APPRISING MINISTRIES WITH A PEEK AT THE COMING SOTERIOLOGY OF EMERGENCE CHRISTIANITY
RADICAL APOSTATES, RICK WARREN AND PETER SCAZZERO
BOB ROBERTS, JR: CHRISTIAN, JEW AND MUSLIM "TRIALOGUE"
PASTOR KEN SILVA—THE HIJACKING OF EVANGELICAL CHRISTIANITY
"INWARD JOURNEY" ESPOUSED BY RICHARD FOSTER IS A FORM OF DIVINATION