By Ken Silva pastor-teacher on Jan 8, 2014 in AM Missives, Current Issues, Features, Steven Furtick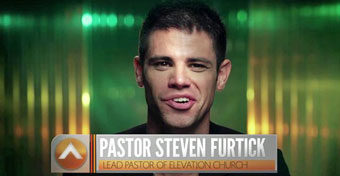 Just as long as our funding may allow, Apprising Ministries continues on among those pioneering the still-developing mission field of online apologetics and discernment ministry (OADM).
Sadly, this path has now led to having to write posts like James MacDonald Was A Bit Late In Mainstreaming T.D. Jakes and Perry Noble, Jack Graham, And Quasi-Word Faith Preachers.
Where once the labors of OADM works were largely focused upon non-Christian cults we now find ourselves having to warn of growing apostasy spreading throughout the visible church.
Ever since the ignominious Elephant Room (ER) of James MacDonald, and his partner in spiritual crime Mark Driscoll, we've seen the participants—and their various comrades—uniting.
So, for over a year now I've been discussing with you what sure appears to me to be a new Evangelical Ecumenical Magisterium (EEM) that's been growing up around that ER of MacDonald and Driscoll.
Let's first go back to April of 2010 and John Piper's curious decision to invite Purpose Driven pragmatist Rick Warren into his New Calvinist camp as keynote speaker at his Desiring God 2010 conference. ((http://bit.ly/12dTIOn (page loads slowly), accessed 1/8/14.))
That ill-fated event would bring Warren, along with his Church Growth Movement ideas, respectability within the young, restless, and reformed community. And Warren wasted no time in introducing them to his spiritual progeny. ((e.g. Rick Warren Brings Love On Record))
With this in mind then, let me now bring you around to the video below from leading EEM member Steven Furtick, prophet-leader of the highly influential multi-site megachurch known as Elevation Church.
You likely seen me talk about how those succumbing to charismania like Furtick end up becoming bent in upon themselves thinking their own thoughts are those of God; i.e. they fall in love with the self:
But understand this, that in the last days there will come times of difficulty. 2 For people will be lovers of self, lovers of money, proud, arrogant, abusive, disobedient to their parents, ungrateful, unholy, 3 heartless, unappeasable, slanderous, without self-control, brutal, not loving good, 4 treacherous, reckless, swollen with conceit, lovers of pleasure rather than lovers of God, 

5 having the appearance of godliness, but denying its power. Avoid such people. 6 For among them arethose who creep into households and capture weak women, burdened with sins and led astray by various passions, 7 always learning and never able to arrive at a knowledge of the truth. (2 Timothy 3:1-7)
Now we come to Elevation Creative: I Will Fight from the personal blog of Steven Furtick where we're told:
I Will Fight is an audio track recorded by Pastor Steven Furtick to help you get focused and to prepare you for the challenges ahead. Download the free track and build it into your daily rhythm. Whether you're getting ready to work out, to suit up for your next game, or you're in the car in need of a quick lift, you have an unstoppable God whose strength and power can help you push through and continue the fight – no matter what you're facing (source)
The audio track forms the basis of the video clip to follow. As you might expect from the above, Furtick's message is straight out of his hybrid evangelical/Word Faith mythology, which I outlined in Steven Furtick Bringin' On Word faith And The Pastrixes.
As you listen to it, I think you'll also discover that it sounds eerily similar to the Self Help/Word Faith fable that Furtick's favorite preacher T.D. Jakes always spins. It also reminds me of another of Steven Furtick's influences, Word Faith Heretic Rod Parsley.
It's interesting how the word "I" echoes throughout the video. Frankly, this all sounds a lot like who it is that Furtick and his fellow centered on the self megachurch prophet-pastors in the EEM are currently serving:
'I will ascend above the heights of the clouds; I will make myself like the Most High.' (Isaiah 14:14)
Well, if it's all the same to Steven Furtick and his EEM comrades, I think I'll leave the fight to Jesus, Who did all the fighting for us; and already has won the war. In commenting upon Matthew 23:37 Martin Luther gives us the proper view of the Christian when he says:
In this passage, Christ gives us a beautiful illustration of faith. The Lord says to the Israelites that he would gladly have been their mother hen if only they had been willing to be his chicks…

Our souls are the chicks, and the devil and evil spirits are the hawks in the air. Except, we aren't as clever as the chicks who flee under their mother hen. Also, demons are more skillful in attacking us than are the hawks in grabbing chicks…

I have said that faith, if it is genuine faith, doesn't rely on its own ability to believe but holds on to Christ and places itself under his righteousness. Just as chicks don't rely on themselves and their own quickness but simply flee under the hen's body and wings, so we must run to Christ and let him be our shield and protection. ((Martin Luther, Faith Alone [Grand Rapids: Zondervan, 2005], January 8.))
[mejsvideo src="https://www.apprising.org/wp-content/uploads/2014/01/FurFi.mp4″ width=640 height=360]
Further reading