By Ken Silva pastor-teacher on Aug 25, 2012 in Current Issues, Features, Rick Warren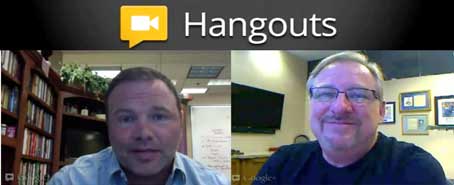 Apprising Ministries has been telling you that since the first Elephant Room there is a developing ecumenical magisterium. Now consider this Hang Out Online With Rick Warren And Me On Google+.
Mark Driscoll tells us:
This Wednesday August 22, I'll be hosting an hour-long Google+ Hangout at 1 p.m. PDT (GMT -7) with Pastor Rick Warren, and we'll be looking from some sharp questions from you to respond to—questions that can be about the Bible, politics, or society today.

You'll be able to join the Hangout and ask questions with Pastor Rick Warren and me here on our Google+ or Youtube accounts. (source)
What's going on here is that Mark Driscoll is doing Hangouts with the speakers the Acts 29 Resurgence R12 conference coming up October 9-10:

(source)
With a number of Seeker Driven stars, and Greg Laurie of rather anti-Calvinist Calvary Chapel, it seems an odd alignment of speakers for New Calvinist Acts 29 Church Planting Network.
As you'll hear, this interview happened while Driscoll was at Saddleback, where he would also be teaching at their staff meeting:

(source)


(source)


(source)
Here below is the Mark Driscoll and Rick Warren Hangout:
Further reading