By Ken Silva pastor-teacher on Jan 9, 2014 in AM Missives, Current Issues, Features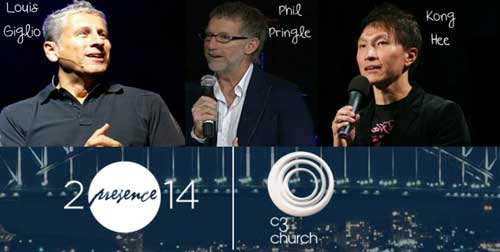 Apprising Ministries continues with our documenting for you The Falling Away Of The Evangelical Church. Even a few years ago who would have thought Word Faith Heretics Like Creflo Dollar Draw Nearer To Evangelical Acceptance. Yet the apostasy has continued to grow.
We've reached the point where we even see Francis Chan Has Endorsed New Apostolic Teacher Mike Bickle. Now I'll point out to you that Louis Giglio will be sharing the platform with blatant Word Faith preacher Phil Pringle of the C 3 Church (C3) movement in April.
As is typical of Word Faith (WF) organizations, Scripture is ignored and C3 is led by pastor Phil along with his wife pastrix Chris aka Mama Chris:

(source)
It would seem Louis Giglio doesn't have a problem with women acting as elders as he's had Beth Moore preach a Sunday morning service at his own church. ((http://bit.ly/1cD52sk, accessed 1/9/14.)) The fact is, Giglio is set to be one of the "voices" for Phil Pringle's C3 Church Presence Conference 2014 (C3 2014) this coming April 22-25.
As you can see, Louis Giglio is set to be on the platform at C3 2014 along with WF preachers like Pringle, Brian Houston, and Kong Hee:


(source)
However, we're really not surprised because this isn't the first time Giglio has shared the platform with WF preachers; he was already at Houston's infamous annual Hillsong Conference back in 2012:
Evangelist Louie Giglio, speaking during the last day of the Hillsong Conference in Sydney Friday, shared about how he was lifted by God's grace from a more than two-month struggle with the physical and emotional symptoms of stress and depression. (source)
Looks like that message would fit in just fine at a self help-style WF conference. Another time we'll look further at Brian Houston; however, for our purposes here, you should know that Houston is the ring leader of the nefarious WF Hillsong Church, Australia.
In fact, Houston's lead pastor along with his wife pastrix Bobbie; and two years ago we even saw Beth Moore To Speak For Hillsong Church. Houston's also growing in stature with the burgeoning Evangelical Ecumenical Magisterium (EEM) as well.
This is evidenced e.g. in this tweet from EEM leader Mark Driscoll back on May 5 of 2012:

(source)
You may also recall that EEM junior member Judah Smith regularly preaches for Brian Houston's HC conferences. And you need to know that now Houston's even got the kind of clout necessary within the apostatizing visible church to land two of the biggest names in Christendom for HC's 2013 conference.
Notice that Smith shared the podium with EEM godfather Rick Warren and Word Faith self help guru Joel Osteen as I previously showd you in Joel Osteen Moving One Step Closer To Mainstream Evangelicalism:

(source)
Rick Warren was there at HC as far back as 2006 and he returned the favor a couple of years ago with Word Faith Preacher Brian Houston Of Hillsong Australia Speaking At Saddleback Church. By the way HC Conference 2013 also featured Word Faith mogul T.D. Jakes. ((http://bit.ly/19VpNSs, accessed 1/9/14.))
Now consider that Phil Pringle has been able to land both Brian Houston and Louis Giglio; and so it seems that Pringle himself is now moving more into the mainstream. 2012 appears a busy one for this cross pollination of theology; and sure enough, Pringle's move would begin that year as well.
It happened when he brought in highly influential EEM prophet-pastor Steven Furtick to his C3 2012 conference:
[mejsvideo src="https://www.apprising.org/wp-content/uploads/2014/01/FurPringHee.mp4″ width=640 height=360]
What I am trying to do here is to help you see that there's a real convergence of evangelicalism with the biggest names in the Word Faith movement; Giglio standing with such as these will now serve to further align his Passion/268 Jesus Generation movement with their own WF movements.
We should also find it of interest to note that Hillsong United, which originated at Houston's HC, is slated to entertain the young at Giglio's upcoming Passion 2014; and in addition, former Hillsong pastrix Christine Caine will also once again share the podium with Louis Giglio there at Passion. ((http://268generation.com/passion2014/atl/who/, accessed 1/9/14.))
Are we really to think that all of this interbreeding is truly happening by some sheer coincidence? Finally, Giglio will be at Phil Pringle's C3 2014 with Kong Hee, an up and coming WF pastor. You may recall that name from Rising Word Faith Pastor Kong Hee Arrested For Alleged Misuse Of Church Funds.
Then there was the disturbing idolatry of CHC Youth Worship Of Kong Hee And His CHC? Therein I informed you that Hee is founder of the largest church in Singapore, City Harvest Church, where he is pastor along with his wife pastrix Ho Yeow Sun, also known in the pop music world as Sun Ho.
Below Kong Hee compares himself to Jesus Christ and shares some direct revelation where Hee claims God actually thanks him for going through his trial and even apologizes to Hee that, like Jesus, he has to bear it alone:
[mejsvideo src="https://www.apprising.org/wp-content/uploads/2014/01/Hee.mp4″ width=640 height=360]
Here's the bottom line: Louis Giglio has considerable credibility within evangelicalism, New Calvinism, and with the young, restless, and reformed. Yet it's this kind of spiritual lunacy in the Lord's Name that he decides to lend his credibility to; and now that I have dared to be critical of Phil Pringle, let me quickly close.
For you see, I guess I'd better be afraid…be very afraid,,,because apparently, according to Pringle, God might actually kill me for opposing his spiritually bankrupt WF fables. ((http://bit.ly/1lROAX8, accessed 1/9/14.)) But this is what the Lord says to Pringle et al:
2  false prophets also arose among the people, just as there will be false teachers among you, who will secretly bring in destructive heresies, even denying the Master who bought them, bringing upon themselves swift destruction. 

2 And many will follow their sensuality, and because of them the way of truth will be blasphemed. 3 And in their greed they will exploit you with false words. Their condemnation from long ago is not idle, and their destruction is not asleep. (2 Peter 2:1-3)
Further reading