By Ken Silva pastor-teacher on Aug 4, 2012 in Current Issues, Features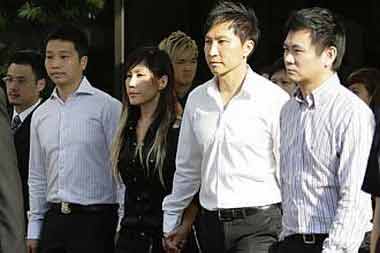 Apprising Ministries first covered Kong Hee, founder of the largest church in Singapore—City Harvest Church, in Rising Word Faith Pastor Kong Hee Arrested For Alleged Misuse Of Church Funds.
Hee is pastor of CHC along with his wife, pastrix Ho Yeow Sun, also known in the pop music world as Sun Ho. Here's Hee's current statement concerning the allegations:

(source)
Now my friends at C3 Church Watch brings us some disturbing news and some key questions concerning Kong Hee and his apparently cult-like CHC:
How can CHC be the greatest place or church when the youth are hero-worshiping Kong Hee? It's nice to have songs written about people.

But do you think that this song goes too far in exalting Kong Hee and CHC? Is CHC demonstrating signs of being a cult by revealing that their youth may be brainwashed to worshiping Kong Hee and CHC? (source)
As you can see, the lyrics concerning Hee himself are actually quite disturbing:
There is a man with a soul full of faith

With a soul full of love and one big heart

And as he stands with his arms stretched open wide

To every broken heart, they'll never be the same

Of all thing's his love is undeniable

His words impact the hearts of the world

He's a world changer and a history maker

The greatest man that I have ever known

The greatest man that I will ever know
You know, I almost hesitate to bring more attention to this because we could very well have the Elevators release another version for their own beloved prophet-leader Steven Furtick.
Well, here's the song in question so you can make up your own mind:
[mejsvideo src="https://www.apprising.org/wp-content/uploads/2012/08/HeeCHC.mov" width=640 height=360]
Further reading