By Ken Silva pastor-teacher on Aug 3, 2012 in Current Issues, Features
UPDATE: THERE DOES SEEM TO BE MORE TO THE RESIGNATION OF DINO RIZZO
UPDATE: HEALING PLACE PASTOR DINO RIZZO RESIGNS, SAYS GOD MOVING HIM "INTO A NEW SEASON"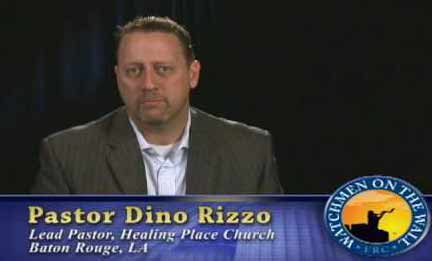 As bizarre as it might sound when you first hear it, Apprising Ministres has been drawing your attention to the bleeding together of the self-absorbed Seeker Driven camp with the spiritually whacked Word Faith movement.
For example, in the context of mainstream evangelicalism, who would have thought that we'd have to cover things like WF Heretic Rod Parsley Calls Steven Furtick "One Of Nation's Most Influential Young Leaders."
Or, thanks to James MacDonald and Mark Driscoll, Elephant Room's T.D. Jakes, Pastrix Paula White & His Upcoming Women Thou Art Loosed Conference. Lines are being erased like the back line of a batter's box.
A good example of kicking out these lines would be The Greater Things Compassion Conference this past February, which was hosted by Dino Rizzo, pastor of Healing Place Church along with his wife pastrix DeLynn:

(source)
As you can see below, the headliner was WF prosperity preacherette Joyce Meyer:
This conference was one where those aligned with the Seeker Driven camp like Mark Batterson and Resurgence 12 speaker Miles McPherson would share the platform with Meyer and Hillsong pastrix Christine Caine. ((http://greaterthingsarecoming.com/conference-info/speakers/, accessed 8/3/12.))
Rizzo himself is highly thought of in WF circles as evidenced by the following tweets back on July 12th, his birthday. Christine Caine:

(source)
Here's WF preacher Robert Morris, who's preached at a number of Seeker Driven churches, including the Saddleback Church of Rick Warren:

(source)
Then there's even this tweet from new ecumenical evangelical magisterium member Craig Groeschel, mentor for prophet-leader Steven Furtick:

(source)
Unfortunately, despite all the Word Faith positive confession a la Joyce Meyer, things are not well for Dino Rizzo right now as we can see in Megachurch Pastor Dino Rizzo Takes Sabbatical Citing a 'Spiritually Depleted State'.
Earlier this week we're told:
Dino Rizzo, the pastor of one of the largest churches in the Baton Rouge metro, is stepping away from the pulpit for a season. "I have not felt myself, spiritually, physically or emotionally for several months now," says Rizzo, senior pastor of Healing Place Church. "My physically exhausted, spiritually depleted state has affected my decision-making, my family life and my ability to lead effectively."…

"Healing is what Healing Place Church is all about. After 20 years of uninterrupted outreach to hurting people, lead pastor Dino Rizzo has found that he also needs a time of healing.

"It has been determined by the spirituality board of Healing Place Church that Pastor Rizzo is in need of a sabbatical rest for healing, reflection and restoration of spirit, soul and body. Pastor Rizzo has humbly and willingly embraced the board's plan, which does not include a predetermined period of time. That will depend upon the healing process. (source)
If this from Steven Furtick last Sunday concerns Rizzo, the situation's been serious. Let's be praying for healing and that the Lord grants Dino Rizzo repentance for his rebellion against the Word of God and his false doctrine:
[mejsvideo src="https://www.apprising.org/wp-content/uploads/2012/08/FurtickOnRizzo.mov" width=640 height=360]
Further reading