By Ken Silva pastor-teacher on Sep 17, 2012 in Current Issues, Features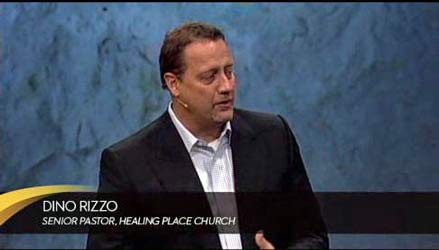 In Healing Place Pastor Dino Rizzo Resigns, Says God Moving Him "Into A New Season" here at Apprising Ministries I pointed you to Healing Place pastor resigns by Mark Hunter of The Advocate. 
Today he's reporting:
The Rev. Dino Rizzo, lead pastor of Healing Place Church, one of Baton Rouge's largest churches, announced Sunday morning that he and his wife and co-pastor, DeLynn Rizzo, are leaving the church they founded nearly 20 years ago.

"We feel it is best that we step down as pastors today," Dino Rizzo told several thousand church members gathered in the spacious arena sanctuary during the first of two Sunday morning services.

DeLynn Rizzo stood next to her husband while he addressed the church members.

"We feel God is moving us into a new season," he said without disclosing what future plans the couple might have. (source)
We're also told:
The Rizzos took a leave of absence in late July at the behest of the church's spirituality board because they needed "a sabbatical rest for healing, reflection and restoration of spirit, soul and body," according to a statement from the board… (source)
So, actually it would appear this "sabbatical rest" was something that "the church's spirituality board" imposed. I also find this next statement by Chris Hodges, "one of the Healing Place Church's overseers," a little curious:
"I know you want more than what's being said here today — but can you be OK that the seven of us (overseers) know?" Hodges asked. "We're going to take care of them and we're going to take care of you. Trust me." (source)
Especially after talking extensively today with Lisa Kerr, who yesterday posted Rizzo resigns as Healing Place pastor; Rumors of Affair Surface. She was kind enough to confirm what a source close to HPC had told me earlier.
In fact, she had already brought out that:
Dino is also quoted as saying he stepped down voluntarily, which contradicts reports that a newly established church board had asked him to step down… rumors have circulating since late July on Louisiana message boards that Rizzo was having an affair with a 25 year old church intern…

the church board allegedly paid the young woman to move back to her home state to cover the incident up,… (source)
Other sources have informed me this affair was apparently with Kaycee Morgan Smith, who it seems was Rizzo's wife's assistant. In any event, Smith was thankful for her leadership:

(source)
Smith has apparently since been moved to Oklahoma. She was originally listed here under Meet The HPC Staff as Kerr, who is the one who broke this story, also noted:

(source)
If you go there now you'll that Smith has been removed. You should also know that I've been told HPC leadership was under the impression Rizzo would make a statement about his alleged relationship with Smith on Sunday.
However, as you can see from Hunter's report I referenced above, it seems he did not. In fact, Lisa Kerr has been told the same thing. In her 2:06pm Update today she notes:
Local church leaders were informed on Sunday of the inappropriate relationship with a staff member. Leaders were informed that Dino would read a statement about the infidelity on Sunday, but he did not. (source)
In the comments section of her post Kerr also brings out another key point in what might appear to be a bit of a cover up to possibly protect Dino Rizzo's ministry career:
But what about the girl's future? What about her reputation and her heart? (source)
Closing this, for now, having heard this from numerous sources I do have real reason to believe that this alleged sin did occur. If so, Dino Rizzo is now disqualified from the pastorate pending repentance and church discipline.
His wife, being in open rebellion against the Word of God, isn't even a pastor in the first place. I would have to say that it seems to me what should be of real concern here is what we're told Dino Rizzo did say to HPC yesterday.
To my eye this looks like Rizzo and his pastrix wife are merely moving on to new ministry because:
"We feel God is moving us into a new season," he said without disclosing what future plans the couple might have…

He thanked his wife, calling her "my rock," adding, "To those I have disappointed, I want to say forgive me. I'm sorry if I've ever disappointed you as pastor."

"Two months ago," Rizzo said, "I let my spirit, soul and body get depleted and did not make good choices as a dad, as a husband, as a leader." He said they, as a couple with three children, are now on a road of "healing and hope."

"To keep our family as a priority and to continue keeping on with what Jesus wants us to do, we feel it's best to step down and resign as your pastors today," Rizzo said with emotion rising in his voice. "This is our choice — no one has asked us to do this." (source)
Let's remember that the Gospel of repentance and forgiveness of sins in Jesus Name offers hope to all involved.
Further reading