By Ken Silva pastor-teacher on Sep 17, 2012 in AM Missives, Current Issues, Features, Steven Furtick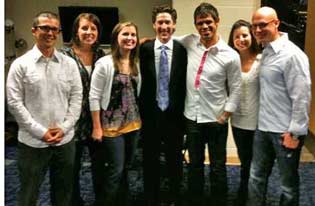 Apprising Ministries has been warning you of a real syncretism of Word Faith prosperity preaching going on within mainstream evangelicalism, e.g. Steven Furtick Thanks Word Faith Heretic Joel Osteen For Inspiration.
See it for yourself:
[mejsvideo src="https://www.apprising.org/wp-content/uploads/2012/09/FurtickOsteenIns.mov" width=640 height=360]
That's why I also showed you that Joel Osteen Has Influenced Steven Furtick Longer Than You May Know. On August 29th prophet-leader Steven Furtick got a chance to preach at Osteen's Lakewood Church.
Heretical Word Faith prosperity preacher Joel Osteen himself was in the house so Furtick thanked him for his inspiration and shared it was dream for him to preach at Osteen's church. A few minutes ago Furtick tweeted:

(source)
The exclamation point after Eastern Time indicates Steven Furtick's pretty excited to once again be featured of Trinity Broadcasting Network, which is a haven for Word Faith heretics. Likely it's a broadcast of August 29th.
Let me put this in perspective for you. The Elephant Room co-hosts James MacDonald and Mark Driscoll put on the air as if they are modeling the right way to handle differences within the Christian faith.
Well then: Are they really ok with the fact that since his two appearances in the ER, Steven Furtick has moved even further away from orthodox Christian doctrine and more toward Word Faith prosperity preaching?
Further reading