By Ken Silva pastor-teacher on Jun 28, 2012 in Current Issues, Features, Word Faith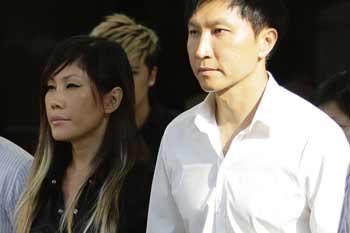 It really doesn't bring me any pleasure to have remind you that it's such a sad sign of our time that spiritual darkness continues to grow; and it seems that 1 Peter 4:17 judgments are being sent by Jesus to rain down upon the visible Christian church.
As apostasy increases Apprising Ministries functions with other soldiers against error in the mission field of online apologetics and discernment along the Internet Front of this Truth War. Sadly, stories like you're about to see are on the increase.
Under the category of Bizarre in Singapore Pastor Allegedly Used Church Funds to Finance Wife's Pop Music Career Catherine Traywick of Time News Feed informs us:
Kong Hee, the founding pastor of Singapore's largest church, was arrested this week on charges that he misused up to $18 million in church funds to finance his wife's career as a pop singer.An investigation by Singapore's Commission on Charities alleged that Kong had misappropriated millions of dollars from the City Harvest Church's charity fund, the Wall Street Journal reported. Four other church executives were arrested in connection with the crime.

Kong's wife, Ho Yeow Sun (whose pop name is Sun Ho) was not arrested, but has been removed from her executive position on the church's board. (source)
BBC News Asia then adds:
He [sic] faces a lengthy jail term if found guilty, local media reported. Four other executives of the City Harvest Church have also been charged, following a two-year investigation.

Mr Kong and church board member John Lam Leng Hung face three charges of criminal breach of trust. The other three church executives face charges of criminal breach of trust and falsifying accounts. They are due back in court on 25 July.

Mr Kong and his wife have always maintained that her pop music career is a way of reaching out to non-Christians. (source)
Well, we'll return to this *cough* "outreach" in a moment. First, it's important for you to realize that we're dealing here with a very lucrative megachurch and Hee's various business enterprises extending from it:
The church said on its website that it had more than 23,000 members as of December 2010, although reports estimate its congregation at more than 30,000.

It also has affiliate churches in Singapore, Malaysia, Indonesia, India, Taiwan, Brunei and Australia. Mr Kong appears on his own television programme, has business ventures and is also a motivational speaker. (source)
Traywick also offers:
Kong and Ho co-founded the non-denominational City Harvest Church—which professes "prosperity theology," a school of thought asserting that material blessings are God's will. Ho, a popular singer in both English and Mandarin, is considered a lay pastor by the church's 33,000 member congregation. (source)
So, we're really not all that surprised to see pastor Kong and pastrix Ho are rebels against the Word of God and spiritual shake oil salesmen patterning themselves after Word Faith moguls e.g. like T.D. Jakes and Joel Osteen.
Today Leonard Lim of The Straits Time reports:
It emerged on Wednesday that $26.6 million was allegedly used to cover up an initial $24 million which they had taken from the church's building fund and put into sham investments. These investments in turn were actually being used to finance the music career of Kong's wife Ho Yeow Sun.

Kong, 47, who showed up at the Subordinate Courts holding Ms Ho's hand and surrounded by a phalanx of supporters, faces three counts of committing criminal breach of trust as an agent. If found guilty, he could be jailed for life. (source)
Sara Grosse of Channelnewsasia.com also informs us that:
City Harvest Church (CHC) has said it stands by the five members of the church who have been charged with misuse of church funds… The church also stated that the Crossover Project is not about one person's singing career.

It views the project as an outreach effort using Sun Ho's songs and music to engage people and places that "would never otherwise hear the gospel". Meanwhile, many church members rallied around Pastor Kong Hee… Others like Brian Liu said that when news broke of the alleged misuse of funds, he was initially shocked, but felt he would wait for legal evidence to make a judgement.

The 30-year-old has been an active member of City Harvest Church for the past 12 years… In an email interview, another member, entrepreneur Elim Chew, said she will continue to give donations to City Harvest as it is an expression of her faith. (source)
If you've been curious about the apparent opulent lifestyles of pastor Hee and pasrix Ho and "what $18 million will buy an aspiring pop star these days" Traywick tells us:
Evidently, an album produced by Wyclef Jean, a no. 1 hit on the Billboard dance charts and a $20,000 a month Hollywood Hills mansion, according to the Straits Times. (By comparison, Grammy Award winner Alicia Keyes earned $10 million in 2011). (source)
You may wonder: Why even cover this; who's Kong Hee anyway? I'm glad you asked. As Erin Benziger, associate editor of the Christian Research Network brought out Hee was just recently:
a speaker at the Presence 2012 conference in Sydney, Australia, hosted by Phil Pringle of C3 Church… [along with] such men as Steven Furtick and John Bevere. In fact, it was at this conference that Steven Furtick claimed that he had received direct revelation from God.
The fact is, in this short clip numerous times you'll hear prophet-führer Steven Furtick claim that he's had extra-biblical revelations directly from God Himself:
[mejsvideo src="https://www.apprising.org/wp-content/uploads/2012/06/Furtick-Revelations.mp4″ width=640 height=360]
As it concerns Kong Hee himself, Benziger now continues:
Not long before Presence 2012 took place, Kong Hee also appeared alongside prominent Word Faith pastors Brian Houston and T.D. Jakes at the  Vision 2012 Spiritual Life Conference, hosted by pastor Casey and his wife, pastrix Wendy Treat of Christian Faith Center.It would seem, then, that Kong Hee tends to run with a prosperity gospel preaching crowd.

But then, little else may be expected of someone who has preached a message entitled, "Nine Reasons Why Jesus Was Not Poor." (source)
Trodding upon the well-worn road of Word Faith heretics like John Avanzini before him, below Kong Hee wrests the Scriptures to try and prove that Christ Jesus of Nazareth was rich; seemingly in order to justify the excessive lifestyles of these WF snakes:
[mejsvideo src="https://www.apprising.org/wp-content/uploads/2012/06/Kong-Hee-Jesus-Rich.mp4″ width=640 height=360]
Now, as far as that *ahem* Christian outreach mentioned above, I will leave you now with the song stylings of pastrix Ho Yeow Sun aka Sun Ho aka Geiasha. By the way, I heavily edited this clip to follow because the rest is simply too vulgar to view:
[mejsvideo src="https://www.apprising.org/wp-content/uploads/2012/06/Pastors-Wife.mp4″ width=640 height=360]
Further reading