By Ken Silva pastor-teacher on Jun 3, 2010 in Current Issues, Features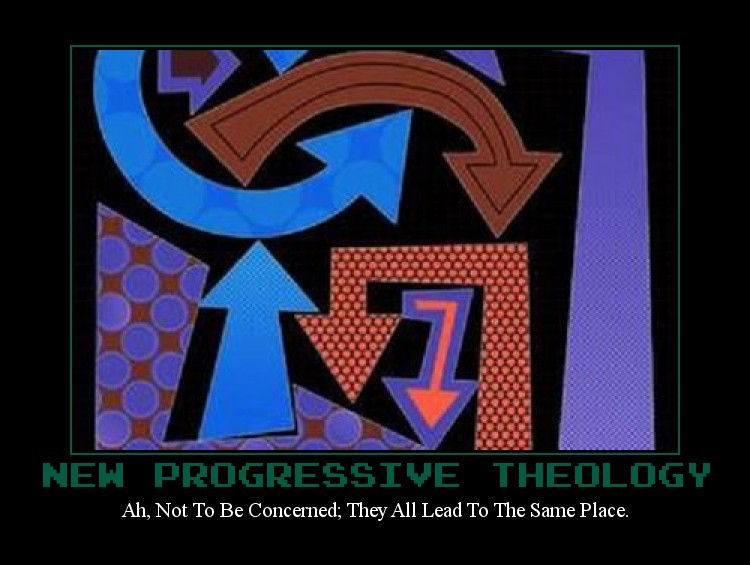 Apprising Ministries has long been covering the rise of the sinfully ecumenical Emerging Church; now a full blown cult operating within mainstream evangelicalism with its new form of postmodern liberal theology, a Liberalism 2.0 which Emergent Church guru Brian McLaren begins laying out in his latest book A New Kind of Christianity. You may recall that in The Emerging Church Transform East Coast Apostasia-Palooza I told you about the September EC conference Big Tent Christianity: Being and Becoming the Church (BTC).
BTC is being put on by the Transforming Theology network of Dr. Philip Clayton, which features such EC notables as EC guru McLaren, Red Letter Christian and Progressive Christian historian Diana Butler Bass, heretical progressive/liberal theologians Tony Jones and Harvey Cox, as well as the Empress of Emergence Phyllis Tickle.  In fact, the entire EC trinity will be on hand at BTC as in addition to Jones and McLaren, "Participants also include" heretical EC pastor and universalist Doug Pagitt as well as the universalist head of the EC Ooze Spencer Burke.
It's because of the fetid fruit of these rebels against the authority of God's Word that we would even have to deal with the self-described Outlaw Preachers (OPs) in the mainstream of the visible church. You may recall these insipid OPs are the rather rapscallion bunch of largely biblically illiterate folks who've been spawned by the ministry of gay-affirming "pastor" Jay Bakker of Revolution:NYC; the people I'm about to mention again are aligned with OPs through the EC Network TransFORM, to which they all belong.
What's critical for you to understand is that such of these are slithering deeper into the mainstream of squishy evanjellyfish through the popularity of the EC within Young Adult and Youth groups; and they are having a terrible impact upon your own youth. To this murky mix we also add in the critical thinking skills-numbing corrupt Contemplative Spirituality/Mysticism (CSM), such as that taught by Living Spiritual Teacher and Quaker mystic Richard Foster along with his spiritual twin and Southern Baptist minister Dallas Willard under the guise of so-called Spiritual Formation.
And then we end up deep within the Wonderland of Humpty Dumpty language and the mental off-roading that is postmodernism; words lose their fixed meanings and out goes the Law of non-contradiction: Simply, A cannot be non-A, in the same way, and at the same time. Here's an example of how postmoderns practice their non-thinking. You may recall Drew Tatusko from the earlier AM post Austin Presbyterian Theological Seminary Gives Grant For "Hardcore Xianity".
There I pointed that practicing lesbian "Christ-follower" Adele Sakler of the EC group Queermergent had tweeted:
New post @ #Existential Punk: Hardcore Christianity http://is.gd/86A03 #HCX (Online source)
It led us to Sakler's post where she announces:
Drew Tatusko, Meredith White-Zeager, Ryan Kemp-Pappan and i received a grant to do a podcast for 2 years from Austin Seminary in Austin, Texas! We hope to launch our first show in May 2010. We are really excited!! We hope you will stay tuned and join us as we embark on this incredible odyssey of giving voice to the outcast and apostate! (Online source, emphasis mine)
I reminded you that Austin Presbyterian Theological Seminary is allegedly a seminary in the Presbyterian-Reformed tradition, which would have originally been against giving podcasts to apostates. Following is an illustration of the kind of "voice" that's been given through the evil influence of the EC. Today I was informed that the liberal/progressive Drew Tatusko, who shares that he'll be teaching world religion courses with three universities this fall, tweets: 
@tragic_pizza eastern orthodox, roman catholic, mennonite, assemblies of god, etc. all have very different doctrines. so who is right? (Online source)
To which "Rev." Deborah Matthews, who's pastrix of St. Luke Presbyterian Church within the PCUSA, replies:
@dtatusko @tragic_pizza HINT: All of them! :D #yesimauniversalist (Online source)
A couple of quick notes: In the real world, doctrines that contradict each other cannot all be true; they can all be false, but they cannot all be true. In addition, even though in today's spiritually spineless visible church you won't often hear this, both the Eastern Orthodox Church and the Roman Catholic Church are apostate forms of Christianity. And apparently in the PCUSA one can be a pastor and a universalist; welcome to the very near future of mainstream evangelicalism.
I'm also told that Tatusko also informed us today that he's:
finally writing my post arguing that if mainline churches don't cooperate with each other, they will kill each other off. (Online source)
Indeed, let's hope that these spiritually bankrupt mainline churches do…kill each other off…and go back home to Hell.
See also:
LEONARD SWEET, FRANK VIOLA, AND MYSTIC MEISTER ECKHART
ROB BELL, CHRISTIANITY TODAY, TWITTER, AND THE GOSPEL?!
MARK DRISCOLL AND NEO-REFORMED NEW CALVINIST CONTEMPLATIVE SPIRITUALITY
POSTMODERNISM IS SINFUL AND NOT COMPATABLE WITH CHRISTIANITY
JOHN MACARTHUR: EXISTENTIAL NEO-ORTHODOXY DENIES SOLA SCRIPTURA
THE EMERGING CHURCH SOWING ITS NEO-ORTHODOX CONFUSION ON SCRIPTURE