By Ken Silva pastor-teacher on Sep 7, 2012 in Current Issues, Features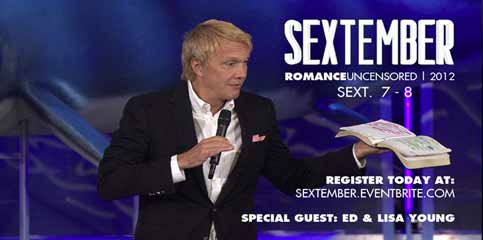 Apprising Ministries has made you aware of Young, Jr's recent exploits e.g. in Southern Baptist Megapastor Ed Young. Jr. Vehemently Attacks Calvinist and Get Down With Ed Young, Jr's "Shark Song."
I've also told you that the son of two-time former SBC president Dr. Ed Young is at least a Major General in the Seeker Driven attractional church-planting camp. My point is, he influences many evangelical pastors.
Before you too quickly dismiss Young, Jr. consider Southern Baptist Ed Young, Jr. Advancing Wicked Works Of Word Faith "Pastors" and this nauseating SBC Pastor Ed Young, Jr. Pays Homage To Joel Osteen.
As if all of that isn't bad enough, Ed Young, Jr.'s got a lot of sex on the brain as well. You might also recall his last bit of foolishness in that area Southern Baptist Pastor Ed Young, Jr. And His Silly 24 Hour Bed In.
Now we come to today's conference Sextember Romance Uncensored 2012, which Young, Jr tweets about below:

(source)
The conference itself is being put on by Shannon O'Dell, pastor of a gathering called Brand New Church who tweeted to Young, Jr:

(source)
At O'Dell's Twitter account he tells us a bit more about himself:

(source)
O'Dell's blogroll reveals his own infatuation with, and influence by, many in the emerging ecumenical evangelical magisterium as we find:
Craig Groeschel, Ed Young, Mark Driscoll, and Steven Furtick (source)
I'll leave you now with Ed Young, Jr's "promotional" video for Sextember. However, I believe I really must caution you, this is a 1:13 of your life that you'll never be able to get back:
[mejsvideo src="https://www.apprising.org/wp-content/uploads/2012/09/YoungSextember.mov" width=640 height=360]
HT: Discern The Time
Further reading