By Ken Silva pastor-teacher on Jun 28, 2012 in AM Missives, Current Issues, Features, Southern Baptist Convention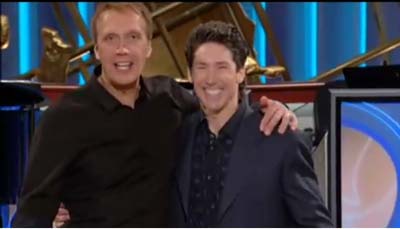 If you are at all familiar with my work here at Apprising Ministries then you'll know that I have been exposing Contemplative Spirituality/Mysticism and the deep penetration of the postliberal cult operating within the EmergingChurch aka the Emergent Church into the Southern Baptist Convention for years now.
A result of the spread of these forms of spiritual cancers within the body of Christendom is they've been eating away at the willingness to stand for proper Biblical doctrine. It's become as if that's not important  because God's dream now is to bring the various factions of professing Christianity together.
However, it is written:
Everyone who goes on ahead and does not abide in the teaching of Christ, does not have God. Whoever abides in the teaching has both the Father and the Son. If anyone comes to you and does not bring this teaching, do not receive him into your house or give him any greeting, for whoever greets him takes part in his wicked works. (2 John 1:9-11)
Can you see there; those teaching false doctrine are involved in wicked works. This means people who promote and help advance such as these take part in his wicked works. That's not merely my opinion, and it also isn't open to debate; this is what God Himself has instructed us in His Word.
My coverage of SBC pastor Ed Young, Jr. began when I found out that he was having heretical Word Faith mogul T.D. Jakes in for his Creative Church Conference 2007 aka C3 2007. That appearance by Jakes would happen a few months after Young, Jr. appeared with him on TBN below:
[mejsvideo src="https://www.apprising.org/wp-content/uploads/2012/06/Ed-Young-TD-Jakes-2006.mp4″ width=640 height=360]
Since this time Ed Young, Jr. has been progressively and aggressively promoting the wicked works of heretical Word Faith prosperity preachers as aptly demonstrated by what will follow. First, here Young, Jr. essentially kisses the ring of Joel Osteen, who like Jakes, is WF royalty:
[mejsvideo src="https://www.apprising.org/wp-content/uploads/2012/02/Ed-and-Joel.mp4″ width=640 height=360]
This next clip is nearly four and a half minutes of banality praising WF teachers for the annual apostasy-palooza at heretical Hillsong Church:
[mejsvideo src="https://www.apprising.org/wp-content/uploads/2012/06/Ed-Young-Jr.-Hillsong-2010-Con.mp4″ width=640 height=360]
Next is this piece of inane self-aggrandizement, which also praises WF apostates as well:
[mejsvideo src="https://www.apprising.org/wp-content/uploads/2012/06/Ed-Young-Jr.-U.B.U..mp4″ width=640 height=360]
Finally, here's the promo from C3 2012 featuring an assortment of Seeker Driven prophet-führers and quasi-Word Faith preachers for which Ed Young, Jr. provided a forum:
[mejsvideo src="https://www.apprising.org/wp-content/uploads/2012/06/C3-2012-Recapped-Revisited-Relived.mp4″ width=640 height=360]
Further reading