By Ken Silva pastor-teacher on Jan 9, 2012 in Current Issues, Features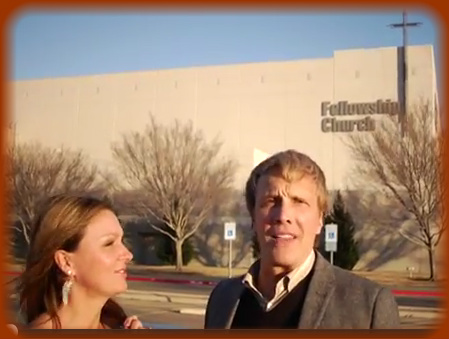 Spiritual darkness continues to grow and 1 Peter 4:17 judgments are being sent by Jesus to rain upon the visible Christian church.
As apostasy increases Apprising Ministries functions with other soldiers against error in the mission field of online apologetics and discernment along the Internet Front of this Truth War.
One major root of this expanding apostasy can be traced back to the Church Growth Movement vomited out of Fuller Theological Seminary circa late 60′s. As such, part of my labor is to expose and document the New Downgrade No-Controversy happening within evangelicalism.
Sadly, stories like this are on the increase. We turn here now to 'Sexperiment' Authors to Discuss Marriage at 24 Hour Bed-In on Church Roof by Gina Meeks. She begins:
While spending 24 hours in bed may sound restful to some couples, Ed and Lisa Young, founders of Texas-based Fellowship Church, will be doing just that on the roof of the church to promote their new book, Sexperiment. (Online source)
You may recall Я U Ready For The Sexperiment? There I told you SBC megapastor Ed Young and his wife Lisa have a Sexperiment website hawking their new book by that title. It seems that Young, Jr. doesn't want to be outdone in classlessness by Mark Driscoll who also has a book out on the same topic.
Meeks tells us that the ever sensationalist Young, Jr.'s dreamed up another promotion for the book:
During the "bed-in," the couple will discuss sex to encourage married couples to take part in the book's challenge and experience what a healthy sex life can do for a marriage. The event, happening on Friday and Saturday—just days after the book's Tuesday release—will be streamed live on the book's website.

Sexperiment: 7 Days to Lasting Intimacy with Your Spouse challenges couples to have sex for seven days straight, with the promise that amazing results will last far beyond the week.
(Online source)
You might remember Ed Young, Jr. first talked about this with his church back in 2008. Meeks continues:
Tragically, culture has kicked the bed out of church and God out of the bed," Ed Young says. "It's time to bring God back in the bed and put the bed back in the church. That's what this bed-in is all about." (Online source)
Not only is this a foolish assertion, it's not even true. Consider the following from Phil Johnson in Evangelical Exibitionists, his post concerning the sophomoric sexual preoccupation of Messrs Young, Jr. and Mark Driscoll:
he notion that evangelicals are naïve and squeamish about sex and don't discuss it openly enough is a myth. Evangelical sex manuals have been all the rage as long as I have been a believer, going back to the early 1970s. You had Marabel Morgan's The Total Woman in 1972, which generated tons of evangelical sex-talk.

(Marabel was known for—among other things—a kinky suggestion involving the use of Saran Wrap as a dressing gown.) You had Ed Wheat's book Intended for Pleasure: Sex Technique and Sexual Fulfillment just five years later. It has sold multiple millions of copies. Even Tim Lahaye wrote a surprisingly candid sex manual, The Act of Marriage in the mid-1970s.

Having sold more than two and a half million copies, that book is still in print. Yet evangelicals have been complaining for decades that we don't talk enough or hear enough teaching about sex. From the point of view of many non-evangelicals, sex is about the only thing evangelicals have demonstrated a serious and sustained interest in for the past 40 years. (Online source)
Returning to the Bed In of John and Yoko Ed and Lisa, Christian Post Contributor Anugrah Kumar adds:
Throughout the 24-hour period beginning at 6 a.m. Friday, Jan. 13, the Youngs will do live interviews in person as well as via Skype, answering relationship questions and highlighting their most popular teachings about sex and relationships live via Twitter and Facebook…

Young is also kicking off a "Sexperiment" sermon series this weekend to coincide with the book's release. The popular pastor is hoping to "change the way people see the connection between God and sex." (Online source)
I hate to tell you Ed but Rob Bell, former rock star pastor of the Emergent Church, beat you out of the gate.
See also:
ED YOUNG, JR PAYS HOMAGE TO JOEL OSTEEN
RADIO EXPOSE ON ED YOUNG JR AND LUXURY