By Ken Silva pastor-teacher on Aug 28, 2012 in AM Missives, Current Issues, Features
UPDATE: PERRY NOBLE'S NEWSPRING WORSHIP BAND ROCKS WITH KISS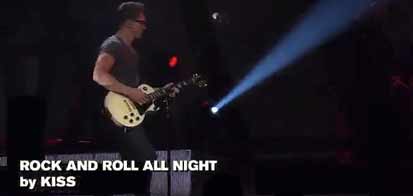 Here at Apprising Ministries you've likely heard me mention a new ecumenical evangelical magisterium that seems to be forming. This would then gain real traction with the Elephant Room of curator James MacDonald and cohost Mark Driscoll, both former Gospel Coalition members.
It really seems to have begun coalescing earlier than that though. I offer its genesis goes back to when New Calvinist mentor Dr. John Piper pronounced Seeker Driven pragmatist Rick Warren doctrinal and sound as he made the choice to open a forum for him within the Reformed camp at the Desiring God Conference 2010.
Later that year Rick Warren was asked to speak by Seeker Driven prophet-leader Perry Noble at his 2010 NewSpring Leadership Conference. Warren was originally scheduled for the Evening Session but had to bow out and was replaced by Andy Stanley:
Prior to the family matter which would force him out of the lineup Rick Warren would tweet his love for that gang:
So from this time on we begin to see many of these same names popping up together at each other's churches and conferences. Take for example the upcoming NewSpring Leadership Conference 2012:


(source)
Perry Noble is a veteran of ER 1 and captured his spot within this new ecumenical evangelical magisterium. For example, James MacDonald would tell us:
hear me, I LOVE PERRY NOBLE. He is a long-suffering servant of Christ, and I praise God for his passion to see people reached with the gospel. (source)
You can see below that ER cohost Mark Driscoll is just as impressed with his friend Perry Noble as he tells us in his endorsement for Noble's forthcoming book:


(source)
Well, in closing let me give you an example of this supposed "transforming power" that new ecumenical evangelical magisterium member Perry Noble makes "available" to us at his NewSpring Church. The below is the opening of Week 5 of Nobles' House Party sermon series this past Sunday called The Cross.
This is Perry Nobles' NewSpring Church worship band playing Rock And Roll All Night by the secular rock band Kiss. And if you're not familiar with this ode to hedonism, no need to worry, NewSpring Church even supplies the lyrics for your…*cough* entertainment…
[mejsvideo src="https://www.apprising.org/wp-content/uploads/2012/08/KissNewSpring.mov" width=640 height=360]
Further reading