By Ken Silva pastor-teacher on Aug 27, 2012 in Current Issues, Features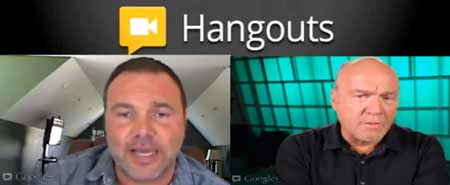 Apprising Ministries has been telling you that since the first Elephant Room there is a developing ecumenical magisterium. Now consider this Hang Out Online With Rick Warren And Me On Google+.
Greg Laurie is pastor of Harvest Christian Fellowship and is aligned with Calvary Chapel of the ailing Chuck Smith. Actually, there are many who do believe that Laurie is likely in line to take over from Smith.
You might recall that Laurie was part of that first Elephant Room. We turn now to Greg Laurie's Harvest America: Royal Route To Heaven, Rick Warren & The Message by Michael-Anthony Rene Chavez of Said Radio.
Chavez also shares some further concerns about the direction of Greg Laurie:
As saddening as it may come to some, we are strongly encouraging our audience of readers to not partake or invite your friends to Greg Laurie's "Harvest America". I have no problem acknowledging that I've heard him preach an unwatered Gospel message (dealing with sin, repentance, Christ crucified buried and rising again and His return.).

This might have many of you wondering than why discourage the participation. What may come as a surprise to some readers to note that Greg Laurie is planning on speaking at a conference with these guys:

A man like Greg Laurie who is well known (Harvest America boasts it will reach 5 million people)  is encouraging many people to tune in to hear the Gospel for "Harvest America" will in a month and a half than introduce some possible new believers and many of his already followers to the likes of these men to help them with spiritual growth…

We will chime in on the concerns with the Resurgence on a podcast prior to the event. Once again I strongly encourage you the reader to please be discerning and consider the side-effects / dangers of encouraging people to take part in "Harvest America" unfortunately in light of where Greg Laurie is headed. (source)
In The Royal Route To Heaven study series of Valor for Men's Bible Fellowship at Laurie's Harvest we find the following recommended in Inductive Lesson Eighteen:

(source)
With this in mind then, back on August 13th Mark Driscoll tells us:
Pastor Mark sits down with Greg Laurie to talk about evangelism, MMA, tribes, and ministry. Find out more about Greg Laurie here and don't miss our next Google+ Hangout on August 16 at 12:30 (PDT) where Pastor Mark will be chatting with Craig Groeschel. (source)
As I told you in New Calvinist Mark Driscoll Hangout With Seeker Driven Rick Warren, what's going on here is that Mark Driscoll is doing Hangouts with those aforementioned speakers the Acts 29 R12 conference.
With a number of Seeker Driven stars, and Greg Laurie of rather anti-Calvinist Calvary Chapel, it seems an odd alignment of speakers for the New Calvinist Acts 29 Church Planting Network.
That noted, ever since ER 1 these guys have certainly become quite friendly. I would imagine that Laurie's growing friendship with Driscoll unsettles Calvary Chapel pastors concerned with New Calvinism's effect on their youth:
Here below is the Mark Driscoll and Greg Laurie Hangout:
Further reading