By Ken Silva pastor-teacher on Aug 27, 2012 in Current Issues, Features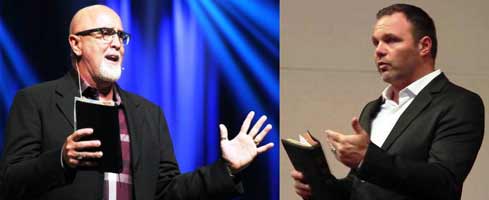 Apprising Ministries has been telling you that since the first Elephant Room of curator James MacDonald and cohost Mark Driscoll there appears to be a new ecumenical evangelical magisterium forming.
We've been seeing the same names showing up in, e.g. New Calvinist Mark Driscoll Hangout With Calvary Chapel's Greg Laurie and Prophet-Leader Craig Groeschel And An Evangelical Gangsta's Paradise.
Growing syncretism and odd associations forming of people once in the Gospel Coalition like MacDonald and Driscoll with Seeker Driven stars like prophet-leader Steven Furtick and his pastor Craig Groeschel.
One thing all of them do have in common is they are lead pastors of multi-site churches. So now I point you to Multi-Site Churches: Paving the Road to a "Cult of Personality" by Scott William Bryant.
This well researched post looks at this critical issue and asks some important questions:
the one unifying element that is present at every multi-site church every Sunday morning is the presence of the Senior (or Teaching) Pastor.  This, of course, raises the question as to why his (or her) presence is considered to be the essential ingredient.

If a congregation truly desired to worship as "one church on many campuses," would it not stand to reason that there should be one worship band, "beamed" to all the sites, so that the church could worship together as a corporate whole?  And what about one reading of Scripture common to all?  Or one breaking of the bread lead by the pastor standing before the entire body?

When it comes right down to it, if we are going to make an argument for "one church on many campuses," why is there only one element – the charismatic preacher – that is common to all the sites, while everything else involved in the practice of communal worship is passed off to be handled at the local level?  What is so vital about his (or her) contribution?

While the answer may not be pleasing to the ears of those that lead these churches, an argument could be made that as opposed to centering the practice of the church on the life, death and resurrection of the Christ and the proclamation of His Word, many of these churches have made a subtle shift towards centering the church on "the proclamation."

That is to say, an argument could be made that many of these churches are leaning more upon the rhetorical giftings of their Senior Pastors than they are upon the content of their message.  And when they begin to slide in this direction, they begin the slow, inevitable descent into what is commonly referred to as the "cult of personality." (source)
Further reading