By Ken Silva pastor-teacher on Dec 19, 2011 in Current Issues, Features, Rick Warren, Southern Baptist Convention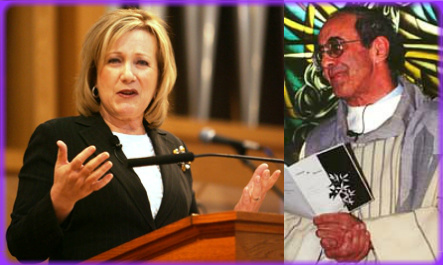 As long as the Lord chooses to sustain my funding, and though down it is slowly improving, Apprising Ministries will continue covering and documenting the damage caused by spiritually spineless evanjellyfish's sordid love affair with the divination of corrupt Contemplative Spirituality/Mysticism (CSM).
One of the biggest venues polluting the visible church with spurious CSM is the SBC flagship megachurch Saddleback Church of Protholic PDL Pope Rick Warren, which has become a real spiritual cesspool filled with this rank odiferous skubalon.
You can see plenty of evidence for yourself within such AM articles as Rick Warren Ministry Recommends Mantra Centering Prayer and Contemplative Spirituality/Mysticism Invades Evangelicalism With Rick Warren And Kay Warren Leading The Charge and The Daniel Plan Of Rick Warren Encourages "New Age Wacko-ism".
In fact, CSM has ushered in sinful ecumenicism as you'll see in James Robison And Rick Warren Working To Reverse The Protestant Reformation. Without a doubt one of the leading gurus of CSM, with it form of meditation in an altered state of consciousness commonly referred to by these neo-Gnostics as Contemplative/Centering Prayer (CCP), was Roman Catholic mystic Henri Nouwen (1932-1996).
Well, wouldn't you know it earlier today Kay Warren tweeted:
Sounds very pious, indeed. However, in the real world, Nouwen died a slave to apostate Roman Catholicism; and like all mystics eventually arrive, his ride into CCP would land him in the soteriology of universalism:
Today I personally believe that Jesus came to open the door to God's house, all human beings can walk through that door, whether they know about Jesus or not. Today I see it as my call to help every person claim his or her way to God.[1]
Those words were not written by a Christian because it is a slap in the face of Jesus Christ. It demeans His vicarious penal substitutionary atonement and denigrates God's Gospel. Jesus Himself told us He was the only way to God the Father. But we're not surprised to see Kay Warren tweet mythology of mystics as on the Saddleback Church website Saddleback Family, in their Spiritual Growth Center we find a Saddleback Staff Picks section.
Under Kay Warren—Acts of Mercy we come to the below:
(Online source)
How sad that one of the books "that shaped Kay's life" was by Roman Catholic universalist Henri Nouwen. Remind me again why, as a former Roman Catholic, I would want to follow the teaching—and practice the mysticism—whose fruit would lead Nouwen into universalism and cause him to die faithfully serving the Roman Catholic Church that has placed its—never changed—anathema upon the very Gospel of Jesus Christ itself. Consider Acts 15:1-2.
___________________________________________________________________________
End notes:
[1] Henri Nouwen, Sabbatical Journey[New York: The Crossroad Publishing Company], 51, emphasis mine.
See also:
RICK WARREN AND TEACHINGS OF DEMONS
RICK WARREN TWEETS A MESSAGE TO KEN SILVA?