By Ken Silva pastor-teacher on Aug 29, 2011 in AM Missives, Current Issues, Features, Rick Warren, Southern Baptist Convention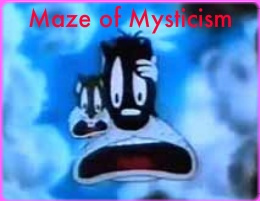 In previous pieces like  Rick Warren Wants Us To Learn From Henri Nouwen and Kay Warren, Henri Nouwen, And Contemplative Spirituality here at Apprising Ministries I continued on documenting the slide of the Protestant evangelical community back into the religious slavery of romanticized Roman Catholic mysticism.
Even being someone who is not formally educated, I can see that the warped theology—much of which was the result of their spiritually corrupt Contemplative Spirituality/Mysticism (CSM)—of those antibiblical monastic traditions would eventually end up causing the Reformation.
O, but it will be different this time. Seriously, if you believe that, you need to get your spiritual head examined, pronto. Yet today Kay Warren tweeted the below not long ago:
We're not surprised to see Kay Warren tweet mythology of mystics as on the Saddleback Church website Saddleback Family, in their Spiritual Growth Center we find a Saddleback Staff Picks section; under Kay Warren—Acts of Mercy we come to the below:
Sad that one of the books "that shaped Kay's life" was by the late Roman Catholic universalist Henri Nouwen, who taught a form of transcendental meditation in an altered state of consciousness known as Contemplative/Centering Prayer (CCP) aka "silence and solitude."
Nouwen died a slave to apostate Roman Catholicism; and like all mystics eventually arrive, his ride into CCP would land him in the soteriology of universalism:
Today I personally believe that Jesus came to open the door to God's house, all human beings can walk through that door, whether they know about Jesus or not. Today I see it as my call to help every person claim his or her way to God. [1]
Do you really think the Love Wins mythology of Rob Bell just recently came about by accident? In closing this out, for now, another one of these books shaping Kay Warren is:
Note also that it's even sold by Rick Warren's Saddleback as well. François de Salignac de la Mothe-Fénelon aka simply Fenelon was a mystic and New Avent, the online Roman Catholic encyclopedia, informs us he was a staunch Roman Catholic who was:
A celebrated French bishop… Fénelon was grounded not only in the practice of piety and priestly virtue, but above all in solid [Roman] Catholic doctrine,… In 1678 Harlay de Champvallon, Archbishop of Paris, entrusted Fénelon with the direction of the house of "Nouvelles-Catholiques", a community founded in 1634 by Archbishop Jean-François de Gondi for Protestant young women about to enter the Church or converts who needed to be strengthened in the [Roman Catholic] Faith.

It was a new and delicate form of apostolate which thus offered itself to Fénelon's zealand required all the resources of his theological knowledge, persuasive eloquence, and magnetic personality. Within late years his conduct has been severely criticized, and he has been even called intolerant but these charges are without serious foundation and have not been accepted even by the Protestant authors of the "Encyclopédie des Sciences Religieuses"; their verdict on Fénelon is that in justice to him it must be said that in making converts [to Roman Catholicism] he ever employed persuasion rather than severity".

When Louis XIV revoked the Edict of Nantes, by which Henry IV had granted freedom of public worship to the Protestants, missionaries were chosen from among the greatest orators of the day, e.g. Bourdaloue, Fléchier, and others, and were sent to those parts of France where heretics were most numerous, to labour for their conversion. At the suggestion of his friend Bossuet, Fénelon was sent with five companions to Santonge, where he manifested great zeal,… (Online source, emphasis mine)
As you can plainly see—from a Roman Catholic source—Fenelon obviously had much theological knowledge concerning apostate Roman Catholicism; and further, Fenelon was also greatly zealous in his labor for "the conversion" of those Protestant "heretics" back into the Roman Catholic Church.
Remind me again why, as a former Roman Catholic, I would want to follow the teaching—and practice the mysticism—whose fruit would cause Fenelon to die faithfully serving the Roman Catholic Church that has placed its—never changed—anathema upon the very Gospel of Jesus Christ itself. Consider Acts 15:1-2.
Don't you think that for someone to teach us a deeper walk with Christ he'd first have to know Him?
________________________________________________________________________________
Endnotes:
Back to note 1 — Henri Nouwen, Sabbatical Journey [New York: The Crossroad Publishing Company], 51, emphasis mine.
See also:
IS THIS DOCTRINAL AND SOUND DR. JOHN PIPER?
RICK WARREN, JOHN PIPER & CONTEMPLATIVE SPIRITUALITY/MYSTICISM