By Ken Silva pastor-teacher on Aug 6, 2011 in AM Missives, Contemplative Spirituality/Mysticism, Current Issues, Features, Rick Warren, Southern Baptist Convention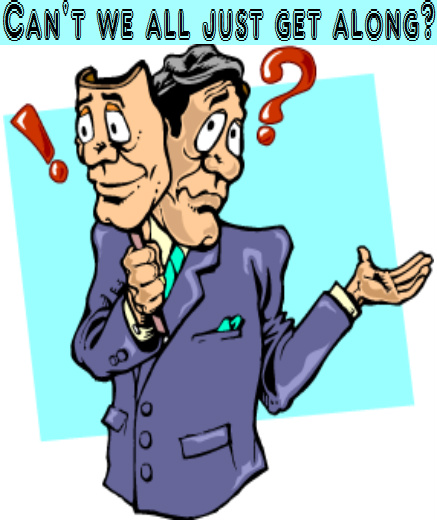 For God is not a God of confusion but of peace.
(1 Corinthians 14:33)
So Tell Me, Which Way Is The Wind Blowing?
For at least the past six years now online apologetics and discernment ministries like Herescope, as well as here at Apprising Ministries, have warning about the growing infestation within evangelicalism of critical thinking skills-numbing corrupt Contemplative Spirituality/Mysticism (CSM).
Beyond question the dubious duo of Living Spiritual Teacher and Quaker mystic Richard Foster and his spiritual twin, Southern Baptist minister Dallas Willard ,are most responsible for the spread of this spurious CSM.
You may also remember that none other than Living Spiritual Teacher and Emergent Church guru Brian McLaren [1] told you they were "key mentors" of the Emerging Church. [2] So what did you think these mentors were teaching the leaders within the sinfully ecumenical neo-liberal cult of the Emergent Church; apostates who have now gone on to develop a form of quasi-universalism in their new version of Progressive Christian theology under their spiritual circus "big tent" Emergence Christianity?
This same CSM can be seen to have ushered in the ecumenical movement within the now mortally wounded mainline denominations, who's own non-gospel of universalism is now being argued for inside the walls of mainstream evangelicalism e.g. by EC icon Rob Bell in his Love Wins mythology. This uber-inclusivism has led to increasing syncretism within the visible church and a weak-kneed Rodney King philosophy of can't we all just get along?
If you think I over-state; you'd better think again, and why don't you actually make the time to look at the evidence I've documented for you in pieces like Word Faith Heretic Cindy Trimm Receives Award From Billy Graham Evangelistic Association and Emerging Church Leader Samir Selmanovic Worships With Witches. If you think this isn't going to have an effect in your area, you are a dreamer. Like I said in Rob Bell Heretic if an Aruis arises you'll be worshipping with your Jehovah's Witness brothers and sisters.
Telling the truth comes with a price; I've nothing to lose as dwindling funding has now made my time short, and if I were you I'd take a good look at the fruit CSM produced in the Roman Catholic Church. No form of CSM was ever taught by Jesus or His Apostles, which is why you don't see it in the Bible. It comes from apostate monks and monketttes who left the Christan community and wandered into the desert of Egypt circa 4th century. Even the honest proponent of CSM has to admit this.
It was brought to the west by John Cassian around 350 AD, who goes on to develop semi-pelagianism; that ought to be your first clue of CSM's rotten fruit of ecumenicism and syncretism. More bluntly, it is to seek the middle-of-the-road, which is to stand for nothing and fall for anything. From the advent of what becomes the Roman Catholic Church around 590 AD, with the rise Pope Gregory, CSM festers within the antibiblical monastic traditions of the Church of Rome. It spreads throughout its theology for centuries.
CSM would have such an adverse effect that God raises up His Reformers and the Roman Catholic Church would end up condemning the very Gospel of Jesus Christ itself. If you don't believe that God hates that organization, which John MacArthur rightly calls "Satan's best front for the kingdom of God," then you may seriously wish to carefully examine 2 Corinthians 13:5. In apostate Roman Catholicism you already have the chance to test the fruit of CSM.
Now, do you really think the Protholic version of Foster-Willardism or the neo-Reformerging Acts 29 version of CSM is going to have a better result? Let me point you to the following from the inspired prophet Jeremiah:
The Lord said to me in the days of King Josiah: "Have you seen what she did, that faithless one, Israel, how she went up on every high hill and under every green tree, and there played the whore? And I thought, 'After she has done all this she will return to me,' but she did not return, and her treacherous sister Judah saw it."

 "She saw that for all the adulteries of that faithless one, Israel, I had sent her away with a decree of divorce. Yet her treacherous sister Judah did not fear, but she too went and played the whore. Because she took her whoredom lightly, she polluted the land, committing adultery with stone and tree."

 "Yet for all this her treacherous sister Judah did not return to me with her whole heart, but in pretense, declares the Lord." And the Lord said to me, "Faithless Israel has shown herself more righteous than treacherous Judah." (Jeremiah 3:6-11)
How sad; we have the example of Rome's own whoring with pagan spiritual practices and yet, there's What Has Wayne Grudem To Do With Todd Bentley?, Promoting Contemplative Spirituality/Mysticism Ok In Southern Baptist Convention, and the confusion now of John Piper, Rick Warren & Foster-Willardism.
Since my voice may not be here long, today I say it's time to start insisting on some real answers as to why the promotion of those who teach people to seek God outside His means of grace in semi-ascetic practices of pietism has become the norm for way too many high profile teachers within evangelicalism.
________________________________________________________________________________
End Notes:
Back to note 1 — Brian McLaren Admits Ken Silva Was Right and has declared himself a progessive i.e. neo-liberal Christian.
Back to note 2 — http://tiny.cc/dpm2s, accessed 8/6/11.
See also:
JOHN PIPER, RICK WARREN & FOSTER-WILLARDISM
SADDLEBACK CHURCH OF RICK WARREN USING ROB BELL TEACHINGS
TIM KELLER RECOMMENDING ROMAN CATHOLIC MYSTICISM
MARK DRISCOLL, ACTS 29 NETWORK, & THE EMERGING CHURCH
ALABAMA BAPTIST CONVENTION (SBC) ENCOURAGES YOU TO LEARN LECTIO DIVINA FROM APOSTATE TONY JONES
DONALD WHITNEY, MYSTICISM, AND SPIRITUALITY WITHOUT BOUNDARIES