By Ken Silva pastor-teacher on Aug 5, 2011 in AM Missives, Contemplative Spirituality/Mysticism, Current Issues, Features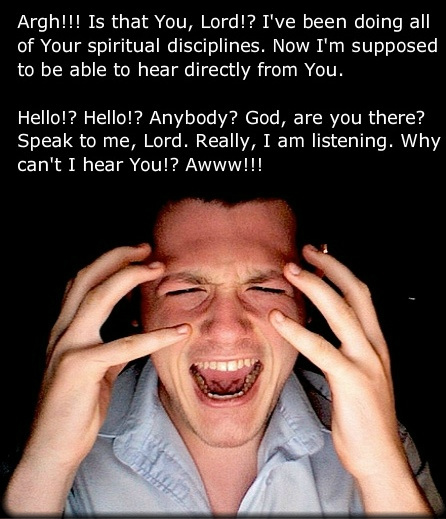 A good question asked by Phil Johnson, executive director for Grace to You and who blogs at Pyromaniacs,  today on Twitter as a way to point us to his post Should Type-R Charismatics Get A Free Pass? Here at Apprising Ministries I'm covering and documenting  The New Downgrade that's going on unopposed within the mainstream of the evangelical community.
One of the things I've brought to your attention is a growing infestation of critical thinking skills-killing Counter Reformation Contemplative Spirituality/Mysticism (CSM); [1 ] into the heart of the church visible, which has surreptitiously mounted a vicious attack upon the proper Christian spirituality of sola Scriptura.
This highly subjective CSM is particularly nefarious given the inherent relativism within postmodernism and as I recently pointed out in Lifeway Encouraging Southern Baptists To Practice Lectio Divina people are drifting into a highly subjective murky mysticism where one decides truth about God by what they "feel" He is saying.
As this infection progresses you will notice increasing dueling revelations caused by all of these private words allegedly being received from God. To give you an indication how far this CSM has spread consider articles like Mark Driscoll And Neo-Reformed New Calvinist Contemplative Spirituality. It appears we're seeing a postmodern version of Calvinism forming.
I also showed you CSM has been in that camp for years now as in Tim Keller Recommending Roman Catholic Mysticism you'll see the irrefutable evidence that Keller was teaching CSM to the leadership of his church as early as September of 1998. This isn't second-hand hearsay or guilt-by-association because I literally have the mp3's and have heard it myself.
Now you have a fuller picture of why Phil Johnson is to be commended for lovingly bringing attention to the charismatic movement within the Reformed sectors of the visible church. Combining charismatic practices with the CSM I mentioned above, which John Wimber's Vineyard movement did years ago, is laying trach for a spiritual trainwreck.
From a piece he tells us was originally posted in 2007 Johnson shares, "Part 2 of 2: Why I think Charismatic Doctrine Is to Blame for the Overabundance of Craziness in That Movement." He tells us:
A prodigious wacko fringehas always been one of the charismatic movement's most prominent features. In little more than a century, the Pentecostal and Charismatic movements have spun off so many bad doctrines and bizarre characters that I have a thick dictionary in myoffice just to help me keep track of them all.

Furthermore, I'm convinced it's not just some kind of fantastic cosmic coincidence that has loaded the movement with an unusually high number of charlatans and heretics. I've suggested on morethanoneoccasion that a major reason the charismatic movement has produced more than its fair share of aberrant behavior is because the distinctive doctrines of charismatic belief foster gullibility while constantly seeding the movement with all kinds of whimsy. Specifically, the charismatic belief that it's normative for Spirit-filled Christians to receive extrabiblical divine revelation through various mystical means has opened the door for all kinds of mischief.

I would not for a moment deny that there are some relatively sane and sensible charismatics who love Scripture and generally teach sound doctrine while avoiding most of their movement's worst errors.I think they represent a fairly small minority of the worldwide charismatic community, but they do exist…

Candor, and not a lack of charity, requires me to state this conviction plainly: The belief that extrabiblical revelation is normative does indeed "regularly and systematically breed willful gullibility, not discernment." Even the more sane and sober [Type-R] charismatics are not totally exempt from the tendency.

Remember that Paul Cain and the Kansas City Prophets found an amazing amount of support from "Reformed Charismatics" on both sides of the Atlantic, even after it was clear to more objective minds that the "prophets'" were regularly and systematically issuing false prophecies.

And that fact ought to have been clear very early. In 1989, the senior Kansas City prophet, Bob Jones, acknowledged that he could claim an accuracy rate of no higher than two-thirds. By 1991, Jones was utterly discredited because of his own sexual misconduct with women who came to him seeking prophetic counseling.

Shortly after that (in early 1992), John MacArthur, Lance Quinn, and I met with Paul Cain and Jack Deere in John MacArthur's office at Jack Deere's request. Deere wanted to try to convince John MacArthur that the charismatic movement—especially the Vineyard branch—was on a trajectory to make doctrinal soundness and biblical integrity the hallmarks of Third-Wave charismatic practice. He brought Cain along, ostensibly so that we could see for ourselves that Cain was a legitimate prophet with a profound gifting.

But Cain was virtually incoherent that day. Lance Quinn remarked to me immediately afterward that it seemed as if Cain had been drinking heavily. (In retrospect it seems a fair assumption that this may indeed have been the case.) Even Deere apologized for Cain's strange behavior that day, but Deere seemed to want us to assume it was because the Spirit was upon Cain in some unusual way. They both admitted to us that Cain's "prophecies" were wrong at least as often as they were right. When we cited that as sufficient reason not to accept any of their prophecies at face value, they cited Wayne Grudem's views on New Testament prophecy as justification for ignoring the errors of prophecies already proven false while giving credence to still more questionable pronouncements.

That meeting was extremely eye-opening for me. Deere was unable to answer basic questions about certain practices Lance and I had personally observed him participating in at the Anaheim Vineyard just a few weeks before that meeting. Specifically, we asked him about two "prophets" whose public words of knowledge in the morning service were flatly contradictory. (The dueling prophets were apparently using their "gifts" to air out a dispute over some decision the church's leaders had recently made.) Deere acknowledged that the prophecies that morning were contradictory…

I left that meeting amazed that anyone would give credence to such "prophets." But several of the best "Reformed Charismatic" leaders—all citing Grudem for authority—continued to give credence to Cain, the Kansas City Prophets, and others like them for a long, long time. Some of the Reformed Charismatics who lent Paul Cain undue credibility did not really renounce him as a prophet until about twelve years later, when his personal sins finally came to light.

(And it may be stretching things to say everyone concerned actually "renounced" Cain's supposed prophetic gifting even then. He has lately made something of a comeback. [Jack Deere's book still touts Cain as a super-prophet, and the book was recently released in Romania, where it has left a massive amount of confusion in its wake. Wayne Grudem's endorsement of the book remains unaltered. I recently wrote him to ask if Cain's moral failure would spur him to modify or remove his endorsement of Deere's paean to Cain, and Grudem wrote to asssure me that his endorsement of the book still stands.])

As long as Reformed charismatics justify the practice of encouraging people to proclaim "prophecies" that are unverified and unverifiable—and which frequently prove to be wrong—I'll stand by the concern I expressed: even the very best of charismatics sometimes foster unwarranted and unreasonable gullibility.

And gullibility about whether God has really spoken or not is seriously dangerous.
(Online source, emphasis his)
You will find this must-read post by Phil Johnson in its entirety right here.
________________________________________________________________________________
End Notes:
Back to note 1 — This neo-Gnostic CSM, a repackaged Roman Catholic mysticism, taught by the dubious duo of Living Spiritual Teacher and Quaker mystic Richard Foster, along with his spiritual twin Dallas Willard, often referred to as so-called Spiritual Formation.
CSM was a core doctrine from the inception of the sinfully ecumenical cult of the Emergent Church aka the Emerging Church circa 1997 and has contributed mightily to its theology and apostasy. Far from dead, the upgraded Emerging Church 2.0 has been busy forging together its new form of postmodern liberal theology, a Liberalism 2.0 of "big tent" Progressive Christianity many call Emergence Christianity, and which Living Spiritual Teacher and EC guru Brian McLaren began laying out in his latest book A New Kind of Christianity.
See also:
JOHN PIPER, RICK WARREN & FOSTER-WILLARDISM
PROMOTING CONTEMPLATIVE SPIRITUALITY/MYSTICISM OK IN SOUTHERN BAPTIST CONVENTION
SADDLEBACK CHURCH OF RICK WARREN USING ROB BELL TEACHINGS
RICK WARREN, SADDLEBACK CHURCH, AND SPIRITUAL DISCIPLINES
HOUSTON, WE HAVE A PROBLEM AT SECOND BAPTIST CHURCH OF DR. ED YOUNG
ALABAMA BAPTIST CONVENTION (SBC) ENCOURAGES YOU TO LEARN LECTIO DIVINA FROM APOSTATE TONY JONES
LIFEWAY ENCOURAGING SOUTHERN BAPTISTS TO PRACTICE LECTIO DIVINA