By Ken Silva pastor-teacher on Aug 20, 2011 in Current Issues, Features, Steven Furtick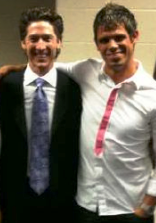 A while back Apprising Ministries brought out that today, sadly, there are so many in the apostatizing evangelical community who are burying their heads within the spiritual sand of whatever offshoot—rooted in the semi-pelagian Church Growth Movement—it is that is highjacking their particular brand of Christian sandbox.
So while apostasy sweeps through the landscape of the visible church they remain content to think everything is wonderfully progressing toward some utopian unity as they each follow their own personal Pied Pipers, whether it be PDL Pope Rick Warren or Rob Bell, the Elvis of the Emerging Church, or Joel Osteen for his brand of Word Faith-lite.
The sad fact is that mainstream evangelicalism in America today is nauseatingly lukewarm; and far too many evangelical leaders have been unwilling to take serious theological stands, which would require the Lord to back up His Word or else they would personally be destroyed. Yet to do so is not presumption, rather, it's actually true Biblical faith that pleases God.
Now we have the rise of the Seeker Driven/Purpose Driven church planting prophet-pastor ala Steven Furtick of Elevation Church. I told you in Steven Furtick And James MacDonald that he's even blessed by Church Growth gurus, Purpose Driven Pope Rick Warren and Bill Hybels. Then the other day I posted "The Steven Furtick Show" Played At Harvest Bible Chapel Of James MacDonald.
MacDonald is associated with the young, restless and reformed crowd so him turning his pulpit over to Furtick came as a bit of a shock. However, despite taking some criticism McDonald is now set as keynote speaker for Furtick at the upcoming  "2012 Code Orange Revival" conference being put on by this quasi-prosperity preacher this coming January:
With Acts 29 YRR preacher Matt Chandler also on the platform, it would appear MacDonald has—for whatever reason— opened the dor for Furtick to further invade that sector, not unlike John Piper has done for Rick Warren. As I'm attempting to alert you to, this is more example of a growing syncretism spreading throughout even the mainstream of evangelicalism. Here's a few examples of what to expect.
The other day in Steven Furtick Sends Ken Silva Message he decided to direct message me on Twitter but made sure I wasn't able to respond:

So I want Steven Furtick to know that God is having His way with me and this can be considered some more encouragement. If you think Furtick's changed from what you'll see in the videos below, think again. Imagine, a pastor actually telling people to stay home. Yet today, not long ago he tweeted:
Here Furtick shows us his deficient ecclesiology as he informs us that if somone knows Jesus, then his church just isn't for you:
Furtick says below that his goal each week is make people mad and criticize pot-bellied Pharisees who want to feed on God's Word:
Finally, Furtick demonstrates a faulty soteriology as he tells us so many of God's children are lost:
See also: 
STEVEN FURTICK CALLS JOEL OSTEEN GREAT MAN OF GOD
RICK WARREN BRINGS LOVE FOR STEVEN FURTICK ON RECORD
PURPOSE DRIVEN/SEEKER DRIVEN POPES OF THE CAROLINAS HAVE SPOKEN