By Ken Silva pastor-teacher on Feb 4, 2011 in AM Missives, Current Issues, Features, Rick Warren, Southern Baptist Convention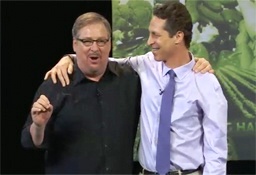 Apprising Ministries has been keeping you apprised as to the continued curious recommendations and sinfully ecumenical doctrine of pretending to be Protestant SBC pastor Rick Warren whom I refer to as The Purpose Driven Pope because of bullying tactics so often used in hostile Purpose Driven Church takeovers.[1]
I'm not so sure that Warren's goal isn't to be the universal bishop over the entire visible church, including the servant of the Antichrist in Rome; but that's for another time.
Unfortuately Dr. John Piper made an ill-advised decision to bring Warren into the Desiring God Conference 2010 as the keynote speaker; then it got even worse when Dr. Piper defended his decision:
At root I think [Rick Warren] is theological and doctrinal and sound.
(as cited Online source)
So Warrengate is still slowly simmering. Against this supposedly "theological and doctrinal and sound" backdrop I bring your attention once again to Rick Warren And His Daniel Plan. Columnist Marsha West told us at AM's sister site Christian Research Network in Rick Warren introduces "The Devil Plan" that:
Pastor Rick Warren continues to work at "fulfilling people's needs." His latest endeavor is "The Daniel Plan," a 52-week health and fitness program… "The church says all of its more than 5,000 small groups will go through "The Daniel Plan," which is part of Saddleback's "Decade of Destiny," a 10-year plan launching this month "to help individuals succeed and be who God designed them to be in every aspect in life." (Online source)
AM also carried Personal Report On Saddleback Church Health & Fitness Seminar where Jennifer Pekich of Ponderings From Patmos: Biblical Truth For Modern Day Exiles offered her eyewitness testimony concerning what's been going on with Warren's Daniel Plan. In fact, on her January 27th 2011 Crosstalk radio program Rick Warren, Dr. Oz, and the Dangers of the Daniel Plan host Ingrid Schlueter had Pekich as her guest:
Jennifer Pekich is a writer, researcher and stay at home mother… Warren's latest project is a 52 week health and fitness program known as "The Daniel Plan". But one must wonder what Pastor Warren is up to when in promoting the plan, he relies on individuals such as Daniel Amen, Mark Hyman and Mehmet Oz.

Why should these men cause "red flags" to come up for Christians? Jennifer attended the Daniel Plan kick-off gathering on January 15. From her notes she shares how from Kundalini Yoga to Transcendental Meditation, these men are steeped in Eastern mysticism and the occult. (Online source)
Yesterday at her Pondering website Pekich tells us some of what she saw for sale during her visit to the Daniel Plan at Saddleback Church:
The following are the books/CD's that Saddleback was selling on the patio after the seminar:

-You On a Diet ~ Dr. Oz & Dr. Roizen
-Six Weeks to an Ultramind ~ Mark Hyman
-The Ultramind Solution ~ Mark Hyman
-The Ultra Simple Diet ~ Mark Hyman
-Ultra Metabolism ~ Mark Hyman
-Ultra Metabolism Workbook ~ Mark Hyman
-Change Your Brain Change Your Body~ Daniel Amen
-Change Your Brain Change Your Body~ CD's
-Change Your Brain Change Your Body Cookbook ~ Daniel & Tana Amen (Online source)
In closing this, for now, here's a little section of Pastor Rick's News and Views, his 1/14/11 announcement of the Daniel Plan:
Leaving aside the legalistic warmed over humanism, "the reason we don't change the things we want to change," let me focus in on one of these "world medical authorities," Dr. Mark Hyman. Marsha West points out that:
Dr. Mark Hyman is editor-in-chief of Alternative Therapies in Health and Medicine which is said to be "the most prestigious journal in the field of integrative medicine, and the medical editor of Alternative Medicine, the Art and Science of Healthy Living."
Researcher Marcia Montenegro unpacks what is meant by "alternative" treatments when she tells us:
It is called alternative because the technique/ drug/ herb has not been or cannot be adequately tested, or has been found ineffective or dangerous. If it were a safe, tested treatment, it would not be in the alternative category. (Online source)
Don't you find it rather odd that arguably the most influential Christian pastor in the world would want to expose Christ's sheep to this kind of practice? And here's some of what Hyman recommends in his book The UltraMind Solution: Fix Your Broken Brain by Healing Your Body, steeped in the jargon of the human potential movement:

Yoga is "wonderful," and recommending meditation "developed by Buddhists"; when was this ever part of Protestant spirituality? Answer: It never has been. Now I realize Rick Warren is the spiritual equivalent of the Teflon Don, but even so, isn't it about time someone within the leadership of the SBC finally stops hiding behind its Idol of Autonomy and looks into what's going on at Saddleback Church, arguably it's most visible church? And I'll ask this question again of Dr. John Piper: Do you seriously think this Daniel Plan of neo-pagan humanism from Rick Warren is theological and doctrinal and sound?
________________________________________________________________________________
Endnotes:
[1] For more I refer you to Dan Southerland And Cult-Like Hostile Takeover Tactics Of Purpose-Driven/Seeker-Driven Church Transitioning.
[2] Mark Hyman, The UltraMind Solution: Fix Your Broken Brain by Healing Your Body First [New York: Scribner, 2009 ], 384.
See also:
RICK WARREN AND ROMAN CATHOLICS
SADDLEBACK CHURCH, RICK WARREN, AND SPIRITUAL DISCIPLINES
ECUMENICAL APOLOGETICS WEEKEND OF RICK WARREN
RICK WARREN PRESENTS US OUR DESTINY DOCTOR
RICK WARREN, DR. DESTINY LAVERNE ADAMS, AND "APOSTLE" CHUCK PIERCE