By Ken Silva pastor-teacher on Dec 1, 2010 in AM Missives, Current Issues, Emergence Christianity, Emergent Church, Features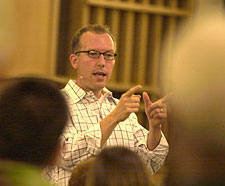 Online apologetics and discernment work Apprising Ministries points you to the following concerning Fuller Theological Seminary and Tony Jones of the sinfully ecumenical neo-liberal cult of the Emergent Church. You may know that Jones is one third of the unholy Emerging Church trinity of apostates along with Living Spiritual Teacher and EC guru Brian McLaren, as well as with universalist EC pastor Doug Pagitt of Solomon's Porch—where Jones is the progressive "theologian in residence."
All three of the aforementioned heretics profess to follow Big Tent Christianity (BTC), which is a new postmodern form of progressive liberalism—a Liberalism 2.0—sometimes referred to as Emergence Christianity; this is what McLaren began laying out in his latest book A New Kind of Christianity (ANKoC). I've already told you that Fuller Seminary Is Promoting Emerging Church Heretic Doug Pagitt and Heretical Emerging Church Progressive/Liberal Theologian Tony Jones Joins The Staff Of Fuller Seminary where Richard Mouw is president.
You need to know that among the theologians assembling the postmodern Liberalism 2.0 of BTC are Dr. Philip Clayton, with his Transforming Theology network, and a progressive/liberal theologian by the name of Harvey Cox of Harvard Divinity fame—whose latest book is called The Future Of Faith (TFoF). I think you may find it interesting to know that in ANKoC McLaren speaks highly of Cox; and, in fact, on the back cover of TFoF McLaren even gushes his praise:
This important book has not only helped me understand the past, present, future of this amazing phenomenon called Christianity . . . it has also motivated me to keep working to help make actual the possible future Cox envisions
—Brian McLaren, author of A New Kind of Christian
I've already shown you e.g. in Stranger And Stranger Global Bedfellows Emerging that the endorsements for Harvey Cox' spiritually vacuous vision are rather revealing as to where the postmodern Liberalism 2.0 of BTC is heading—straight into a Global religion:
The Future of Faith is a tour de force. As passionate and challenging as his classic, The Secular City, Cox's new book invites the faithful, the skeptical, and the fearful intp a spirit-filled version of Christianity that can renew a hurting world.
—Diana Butler Bass, author of A People's History of Christianity
Cox brings the eye of an historian and the heart of a theologian to explain where we've come from and where we're going. The Future of Faith is an essential guide to that future.
—Jim Wallis, president of Sojourners and author of The Great Awakening

Harvey Cox has been a voice of both reason and faith in our cynical times. Now, he offers a fresh vision for the resurrection of a new global Christianity that will restore our faith both in ourselves and in the divine.
—Deepak Chopra, author of Jesus: A Story of Enlightenment [1]
When a pantheist practitioner of the New Spirituality like Deepak Chopra signs onto BTC we have all the more reason to wonder why "evangelical" FTS president Richard Mouw also says on the back cover of Cox' TFoF:
The Future of Faith is insightful, provocative, and inspiring—I found myself uttering a hearty evangelical 'Amen' at many points!
—Richard Mouw, president of Fuller Theological Seminary and author of Calvinism in the Las Vegas Airport [2]
Evangelicalism is giving the appearance of being so full of Rodney King-like leaders trying so hard to get along with the world that it has made room for this new form of liberalism, tailor-made for the pouty postmodern set, just as the original liberalism was for the then modern mentality. It would certainly seem so, at least in the case of FTS, as we note its upcoming Christian Spirituality Cohort:
Now notice below that "The Doctor of Ministry cohort in Christian Spirituality with Tony Jones" at Fuller Theological Seminary will also feature Phyllis Tickle, the Empress of Emergence Christianity, and will be co-taught with Brian McLaren:
The gates of the evangelicalism have apparently swung even wider now for this postmodern liberalism.
________________________________________________________________________________
Endnotes:
[1] Harvey Cox, The Future Of Faith [New York: HarperOne, 2010], back cover.
[2] Ibid.
See also:
BRIAN MCLAREN SPEAKS AS A UNIVERSALIST
MENTAL OFF-ROADING RADIO WITH DOUG PAGITT AND MICHAEL DOWD
BIG TENT CHRISTIANITY IS A POSTMODERN PROGRESSIVE LIBERALISM
THE EMERGING CHURCH AND THE NEW PROGRESSIVE THEOLOGY ON OTHER RELIGIONS 
THE EMERGING CHURCH AND THE NEW PROGRESSIVE THEOLOGY ON CHRIST