By Ken Silva pastor-teacher on May 9, 2010 in Current Issues, Emergence Christianity, Emergent Church, Features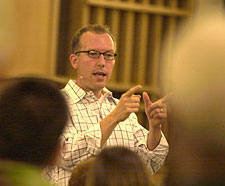 Self professed Emerging Church progessive theologian  Tony Jones, "theologian at residence" in the EC church of his universalist "pastor" Doug Pagitt, himself has announced:
I am a proud alumnus of Fuller and happy to be joining the faculty as an adjunct professor.  Honestly, it's unlike any seminary I know of because of its size and its wildly diverse faculty.  While yes, it is "evangelical," it is broadly so. (Online source)
And leading people onto the broad path of the sinfully ecumenical Emergent Church with its a new big tent form of Progressive Christianity they call Emergence Christianity is something Tony Jones, who's apostate (at best), knows much about.
See also:
TONY JONES AND WHY HE'S DIVISIVE
TONY JONES, THE EMERGING CHURCH AND PROGRESSIVE CHRISTIANITY
EMERGENT PAIN AND DISCORD IN THE EMERGING CHURCH
TONY JONES AND COURTNEY PERRY ET AL 
THROWN UNDER THE EMERGING CHURCH BUS  
LIBERALISM 2.0 THE NEW PROGRESSIVE CHRISTIAN THEOLOGY