By Ken Silva pastor-teacher on Sep 13, 2010 in AM Missives, Brian McLaren, Current Issues, Emergence Christianity, Emergent Church, Features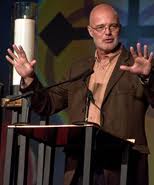 As we have said before, so now I say again: If anyone is preaching to you a gospel contrary to the one you received, let him be accursed. (Galatians 1:9)
How Is A Different Gospel Now Considered The Same Gospel?
Apprising Ministries has long been covering the sinfully ecumenical neo-liberal cult of the Emerging Church—a veritable Trojan Horse full of heresy—headed by, among others, the unholy Emergent Church trinity of apostates, Living Spiritual Teacher and EC guru Brian McLaren, universalist Emerging Church pastor Doug Pagitt, and his friend Tony Jones, the progressive "theologian in residence" at Solomon's Porch.
I also told you in Brian McLaren And His New Emerging Progressive Theology that with his lastest book A New Kind of Christianity guru McLaren has begun laying out the new postmodern form of "big tent" Progressive Christianity now preached by the Emerging Church—a Liberalism 2.0—sometimes referred to by these rebels against the final authority of God's Word as Emergence Christianity.
The other day in Big Tent Christianity Is A Postmodern Progressive Liberalism I showed you again that at its corrupt core this warped and toxic big tent Christianity is essentially the same theology as taught by someone like uber-progressive Dr. Bruce Epperly, who wants us to make sure we know that he's "a teacher, spiritual guide, writer, lecturer, retreat leader, and reiki teacher":
So, in the end, big tent Christianity ends up as simply a religious group hug. I cover this further in Toxic Theology Of Doug Pagitt so here I'll simply tell you that progressive Christianity teaches universalism; here is progressive Christian Hal Taussig, who is Visiting Professor of New Testament at the uber-liberal Union Theological Seminary and highly recommended by Dr. Philip Clayton, who tells us that progressive Christians are pleased to offer "their support of the complete validity of other religions."[1]
The Center For Progressive Christianity puts it this way when they announce that they are Christians who, "Recognize the faithfulness of other people who have other names for the way to God's realm, and acknowledge that their ways are true for them, as our ways are true for us."[2] This is not the Gospel the Apostles preached; it is, in very fact, a gospel contrary to the one you received.
Now you have the proper backdrop against which the following from guru McLaren shows itself to be the universalism we've long told you he believed. A bit ago The Other Journal, which "is an online theology and culture publication exploring the intersection of theology and culture," at Mars Hill Graduate tweeted:
The link takes us to Between Mixed Martial Arts and the "L" Word: An Interview with Brian McLaren where the Emerging Church guru speaks as a progressive Christian universalist:
I think we need a third option, an "above the line" option, so to speak. That option is a strong Christian identity that says something like this: "Because I follow Jesus, I see you as my neighbor and I love you, as I love myself, whatever your religion. Because I follow Jesus, I believe God loves you and accepts you just as you are. Because I follow Jesus, I believe that the Holy Spirit is active throughout the world and that the light of Christ has already shined on you and is at work in and around you.

Because I follow Jesus, I believe that God has a special concern for the marginalized and the weak, and so I refuse to use a position of privilege, especially as a member of the world's largest, richest, and most heavily armed religion, to harm you. In fact, I want to be your servant, your friend, and your neighbor—to love you as God in Christ has loved me." That, to me, is a very strong identity; it gives me a good reason to be a Christian, and it promises blessing to others, not a threat. (Online source, emphasis mine)
________________________________________________________________________________
Endnotes:
[1] http://tiny.cc/pizeg, accessed 9/13/10.
[2] http://tiny.cc/hpbh1, accessed 9/13/10.
See also:
RICHARD ROHR AND THE EMERGING CHURCH AS THE THIRD WAY
MEET MENTORS AND METHODOLOGY OF BRIAN MCLAREN
PHILIP CLAYTON AND THE EMERGING CHURCH 2.0
THE EMERGING CHURCH AND THE NEW PROGRESSIVE THEOLOGY ON OTHER RELIGIONS
THE EMERGING CHURCH AND THE NEW PROGRESSIVE THEOLOGY ON CHRIST
THE NON-GOSPEL OF THE EMERGING CHURCH 2.0