By Ken Silva pastor-teacher on Mar 15, 2010 in AM Missives, Current Issues, Emergence Christianity, Emergent Church, Features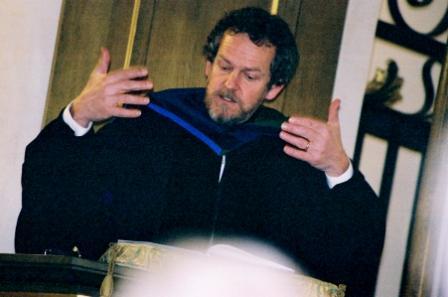 This online apologetics and discernment work Apprising Ministries told you some five years ago that Emerging Church leaders e.g. the Emergent trinity of Brian McLaren, Doug Pagitt, and Tony Jones, were advancing a neo-liberalism. Now with McLaren's latest book A New Kind of Christianity it may finally begin to be clearer to spiritually obtuse evangelical leaders, who should have known  better, that this Emergent Church (EC) with its Emergence Christianity is a newer postmodern form of Progressive Christianity.
In posts like Brian McLaren With A New Kind Of Liberal Theology, and yesterday's Ken Silva Answers Philip Clayton, I told you that the EC is not simply rehashing old liberal theology; no rather, we're dealing here with a new form of liberal/progressive theology—Liberalism 2.0—complete with an upgrade which allows more for the spiritual dimension than did the old modern form of liberal theology. Essentially this "big tent" Christianity incorporates emergence theory of evolutionary science because many in the EC believe that, right now, mankind is evolving upward into a higher state of consciousness.
McLaren's friend, progressive/process theologian Dr. Philip Clayton, is actively promoting this big tent (neo-liberal) version of Christianity as I explained in Philip Clayton With "Big Tent" Christianity In The Emerging Church; and one of the first conferences to begin networking ministers of this postmodern neo-liberal de-formation of the Christian faith was the recently concluded Theology After Google (TAG) conference, which was organized by Clayton. Today the L.A. Times has run 'Theology After Google' conference takes look at religion in Web era, a piece recapping TAG.
Mitchell Landsberg tells us the, "Eclectic Claremont School of Theology event analyzes future of American Christianity, which participants say must embrace technology to survive." Claremont is where Dr. Clayton is a professor; and further, Landsberg says those involved with this still-developing new upgrade of progressive Christian theology are "members of Church 2.0" which he also rightly calls "a new movement." And not surprisingly Doug Pagitt appears first:
Like many Americans, Doug Pagitt grew up outside the world of organized religion… Today, with his goatee, ear stud and funky clothes, he could easily pass for the sort of Gen X hipster who lives an entirely secular life… His church in Minneapolis, Solomon's Porch, is blazing a trail in a new movement that could be called Church 2.0. (Online source)
If you haven't seen it before, the video below will give you a real good up close and personal look at "Church 2.0″ at Solomon's Porch. In his report Landsberg tells us that this "was, in fact, one of the terms used" at TAG. Landsberg continues:
Pagitt was among about 150 ministers, laypeople and academics who gathered to discuss "Theology After Google." The consensus: It's a whole new world out there. Churches will ignore it at their peril.

"I think things like denomination and ordination are part of the old system of control and domination that has to go," Pagitt, 42, said as he relaxed after the conference's first day at the Theo Pub set-up for participants. Around him, beer flowed and conversation leaped from Twitter to evangelism to church formation to corn toss, a beanbag game popular in the Midwest and Appalachia that is gaining a toehold among the theologians in Claremont. (Online source)
According to Landsberg, "The premise of the conference had been laid out earlier in the evening by Philip Clayton" who:
talked about the role of Gutenberg's printing press in the 15th century. By making the Bible more widely available, he said, it democratized religion and led directly to the Protestant Reformation. "Ladies and gentlemen," Clayton said, "we are talking today about a transition equally as great."

The Claremont school was founded by the United Methodist Church and serves as a seminary for Methodists and three other Protestant denominations. Theologically and culturally, the conference attendees leaned toward the liberal end of the spectrum. One theme that emerged was how smart the Christian right has been about using new media, and how progressive churches need to catch up. (Online source)
But the concern is what these "progessive churches" will use the "new media" to teach:
Jon Irvine, a 30-year-old Web designer who works with the "emerging church" movement, said the church of the future will have to be less hierarchical and more freewheeling and ecumenical. Using the familiar formula for tracking software changes, he said: "Church 1.0 . . . was always about a big council of big brains getting together and telling you, 'Here, we've gone into a room and we've decreed that you need to believe.'

Church 2.0 is more bottom-up. Every man is capable of learning and providing feedback. Church 1.0 is all about creeds and doctrines, whereas Church 2.0 is kind of like a wiki-theology." (Online source)
Translation: We'll believe whatever we want to, and we'll still call it Christianity, thank you very much. The bottom line is this: Right now mainstream evangelicalism is being flooded with young people who are decidedly not evangelical at all; but rather, they adhere to a newer version of what was known as progressive aka liberal Christianity. And you'd best get ready to argue for the verbal plenary inspiration of Scripture, and even for the full Deity of Jesus Christ with Young Adult and Youth Groups within your own local church; because, for years, they've the target audience of the EC.
For as Landsberg tells us concerning the aforementioned Irvine, "In this new world, he said, 'You can be a free agent.'" And if you don't think this also includes cardinal doctrines of the historic, orthodox, Christian faith, then you just haven't been listening:
That might sound like heresy to some, for whom doctrine is immutable. But it fit well with the spirit of the conference, where nothing with the exception of the corn toss tournament trophy, was etched in anything solid.

Clayton, the organizer, said that what was happening at the conference and in emerging Christian movements reminded him of the Free Speech Movement of the 1960s. "It's raw, it's unrehearsed, but it's unapologetic, it knows its purpose and it's powerful," he said. (Online source)
But this Emerging Church 2.0 isn't Christianity; it's simply Liberalism 2.0
See also:
THE NEW CHRISTIANITY OF BRIAN MCLAREN AND THE EMERGING CHURCH 
BRIAN MCLAREN INVITES YOU ON HIS QUEST TO DESTROY CHRISTIANITY
PHILIP CLAYTON WITH "BIG TENT" CHRISTIANITY IN THE EMERGING CHURCH
THE EMERGING CHURCH AND PROGRESSIVE CHRISTIAN THEOLOGY AFTER GOOGLE
MARCUS BORG AND CHRISTIANS WHO DON'T BELIEVE IN JESUS
THE EMERGING CHURCH, A LAVA LAMP, AND LEAVEN
APPRISING MINISTRIES WITH A PEEK AT THE COMING SOTERIOLOGY OF EMERGENCE CHRISTIANITY