By Ken Silva pastor-teacher on Mar 12, 2010 in AM Missives, Brian McLaren, Current Issues, Emergence Christianity, Emergent Church, Features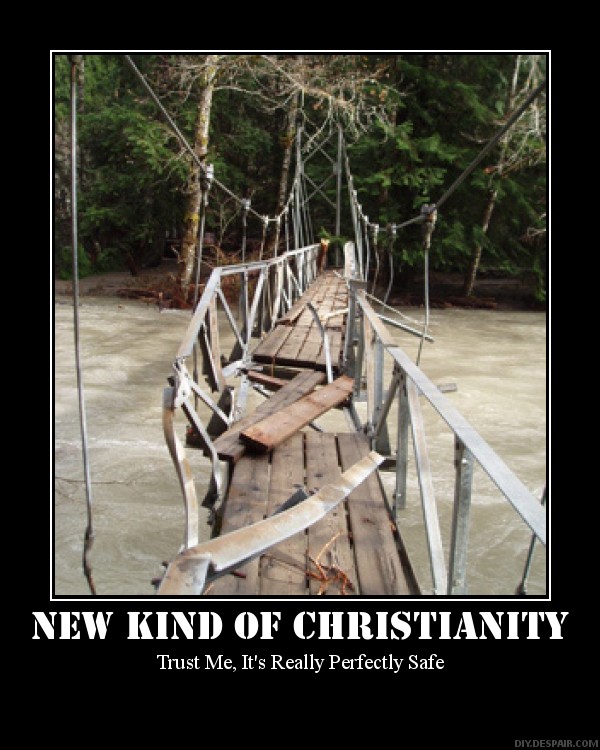 As a reader of Apprising Ministries it's old news that Brian McLaren is a leader in the neo-liberal cult of the Emergent Church with its Emergence Christianity. Back in November of 2005 I began pointing out that the Emerging Church (EC) had all the hallmarks of becoming a newer version of what cult expert Dr. Walter Martin had labeled the cult of liberalism some 20 years prior. Therein lies the key; the EC is not simply old liberal theology, no rather, it's a postmodern form of liberal/progressive theology—an upgraded Liberalism 2.0 which allows more for the spiritual than did old liberal theology.
However, just like it's predecessor, this postmodern upgrade of what's known as Progressive Christianity is also an ill-fated attempt to make what they think is the Christian faith palatable to this postmodern culture as well as with the latest supposed advances in scientific knowledge. In fact the term Emergence Christianity, which adherents such as Phyllis Tickle see as the new reformation, itself incorporates more than just a nod to emergence theory of evolutionary science; and many in the EC believe that, right now, mankind is evolving upward into a higher state of consciousness.
For such as these, their practice of neo-Gnostic Contemplative Spirituality/Mysticism is where they think that they'll actually be receiving this "transformation" from God; that's why, in their minds, the meditation in an altered state of consciousness known as Contemplative/Centering Prayer is so important. Now you may understand better where someone like Brian McLaren is coming from, and what it is he's trying to do, with his new book—which is essentially Brian McLaren Making Up A "God" The Emerging Church Likes because the one true and living God just won't do for the EC.
This is critical background information if you want to be able to see through the postmodern fog of the EC and to get past the Humpty Dumpty language surrounding McLaren's A New Kind of Christianity. Along with Doug Pagitt and Tony Jones—the others in the Emergent trinity—and with an assist from friends like progressive/process theologian Philip Clayton, men like McLaren are trying to raise up what they call a "big tent" Christianity. A version of Christianity where people like Marcus Borg, who don't actually believe in Jesus, can even be Christians too; no real doctrinal distinctives.
Everybody's coming in; well, save one one group. Bible-believing Christians—who're now the new lepers that the EC simply broad-brushes off as "fundamentalists"—aren't allowed under the Big Top of this Emergence Christianity. This is important to understand when you listen to McLaren talk about his latest book. You may have seen Mike Clawson of the EC with his recent series of questions, which Brian McLaren answered over at Clawson's blog. What's germane to our topic here would be Part II of Clawson's questions, where he sets up McLaren to be able to deny he's a liberal. 
Keeping the above in mind, notice how Clawson first tells McLaren, "Quite a few critics (both conservatives and liberals in fact) have accused you of simply rehashing classic liberal theology." By adding "classic" before liberal theology Clawson frames his question to McLaren in such a way that the EC leader can then go into full obfuscation mode all the while opining how, "It's so funny that some conservatives want to paint me as a liberal." While McLaren is as evangelical as I am emergent, he isn't a "classic liberal"; he is trying to find a ground where everyone can have their Christian cake and eat it too.
Of course this dream of a "Christian" utopia is absolutely ridiculous and impossible; but other than that, I guess it's a good idea. I've told you before that the EC is as a snake trying to swallow whole its prey; in this particular case, this would be the church visible. Men like McLaren, as new Gnostics, believe they are becoming "enlightened" aka transformed by God to understand that God has these increasing concentric circles of inclusiveness—as one EC pastrix puts it—where His dream for this world being a Global Family begins with the various forms of Christianity finally uniting.
After you understand that you'll be able to see past the classic liberalism, some of which is in McLaren's work, into the vortex of a new—bigger and more universal—form of progressive Christian theology that he's advancing. Remember, nothing in the EC is as simple as it seems; e.g. you will see a universalism, but it's a newer form of Christian universalism. Like I've pointed out previously those who adhere to this Emergence Christianity have gone into every area of church history and theology, which even remotely called itself Christian, grabbed it all and then threw it into a spiritual blender to puree it together.
Once you understand this you'll begin to see why such as these are attacking Sola Scriptura and relentlessly pushing forth propaganda trying to convince us that it ultimately doesn't matter what we believe as long as we have "faith" in Jesus. Lord willing, I talk more about that another time, but in closing this for now I will point you to McLaren's new book is merely a fresh take on an old lie SBTS panelists say from Towers, A New Service of The Southern Baptist Theological Seminary, where Dr. Al Mohler and a few others from SBTS weigh in on what Kevin DeYoung calls "McLarenism."
Jeff Robinson tells us among those with Mohler in "a panel discussion" yesterday were "professors Bruce Ware, Greg Wills, Stephen Wellum and Jim Hamilton." Now that you know what I've shared above you'll recognize that Ware is dead-on-target when Robinson informs us that the professor suggested "the book might be more accurately titled 'an old kind of apostasy,' because it rejects the God of the Bible." Robinson then goes on to tell us more of what Ware had to say about McLarenism:
"There is an audacity and an arrogance in this book that is breathtaking," Ware said. "To look God in the face, as McLaren does, and say, 'You are not God,'  is just stunning. Here is a man who sees the God of the Bible and despises that God. So what he does is create God in a whole different image, an image that fits his postmodern 'evangelicalism.' This will appeal to a person who knows little or nothing about the Bible, but who is steeped in the culture." (Online source)
In his report Robinson shares that Dr. Al Mohler "said many will find the arguments in McLaren's book compelling so long as they avoid God's Word." Again, a main reason the EC has attempted to kick out Sola Scriptura. And further said Mohler, "If you actually read the Bible, you are going to end up having to say that this is a dishonest attempt to make the Bible say what is does not say. His narrative subversion just does not work". Robinson also lets us know that professor Stephen Wellum explained:
"When you actually let the Bible speak for itself, there is no way that you could come to the conclusions that he reaches. Clearly, McLaren has an evolutionary worldview that is a process view of God. There is an evolutionary view of the Old Testament that comes from outside the text and is planted on the text. He is giving you the impression that he stands at the end of the line, though he wants to say that he is on a quest." (Online source, emphasis mine)
As one who's background involves studying non-Christian cults I can tell you that the highlighted above is a classic sign of cultic leaders. In order to establish a need for their services they always advance extra-biblical teachings, which they alone supposedly possess,  thereby indoctrinating their followers.
See also:
THE NEW CHRISTIANITY OF BRIAN MCLAREN AND THE EMERGING CHURCH 
BRIAN MCLAREN INVITES YOU ON HIS QUEST TO DESTROY CHRISTIANITY
PHILIP CLAYTON WITH "BIG TENT" CHRISTIANITY IN THE EMERGING CHURCH
THE EMERGING CHURCH AND PROGRESSIVE CHRISTIAN THEOLOGY AFTER GOOGLE
MARCUS BORG AND CHRISTIANS WHO DON'T BELIEVE IN JESUS
THE EMERGING CHURCH, A LAVA LAMP, AND LEAVEN
APPRISING MINISTRIES WITH A PEEK AT THE COMING SOTERIOLOGY OF EMERGENCE CHRISTIANITY