By Ken Silva pastor-teacher on Sep 9, 2010 in AM Missives, Current Issues, Emergence Christianity, Emergent Church, Features, Jay Bakker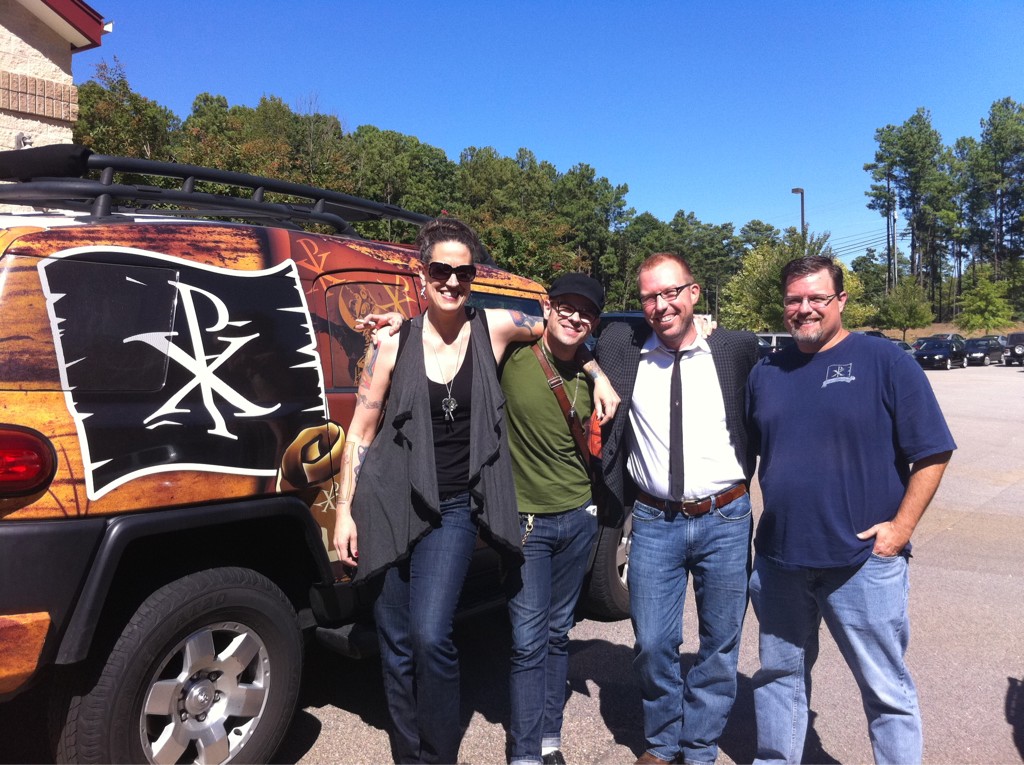 If anyone teaches a different doctrine and does not agree with the sound words of our Lord Jesus Christ and the teaching that accords with godliness, he is puffed up with conceit and understands nothing. He has an unhealthy craving for controversy and for quarrels about words, which produce envy, dissension, slander, evil suspicions, and constant friction among people who are depraved in mind and deprived of the truth, imagining that godliness is a means of gain. (1 Timothy 6:3-5)
Big Tent Christianity Is Different Doctrine
Apprising Ministries introduced you to progressive theologian Dr. Philip Clayton in Philip Clayton With "Big Tent" Christianity In The Emerging Church; and today the lastest apostasia-palooza of the sinfully ecumenical neo-liberal cult of the Emerging Church called Big Tent Christianity: Being and Becoming the Church (BTC), which was put on by Clayton's Transforming Theology network team, has come to a close.
In Big Tent Christianity Is A Postmodern Progressive Liberalism I told you that among those who were heading up BTC's who's how of heresy was the unholy Emergent Church trinity of apostates, Living Spiritual Teacher and EC guru Brian McLaren, universalist Emerging Church pastor Doug Pagitt, and his friend Tony Jones, the progressive "theologian in residence" at Pagitt's Emergent Solomon's Porch.
Just a bit ago Jones tweeted:
Following the link you come to the picture posted by Tony Jones, which is at the upper left of this piece. If you click on it to enlarge it you'll better be able to see, from left to right, self-professed "queer inclusive" ELCA pastrix Nadia Bolz-Weber, gay-affirming EC "pastor" Jay Bakker, who heads up a rather rapscallion, and largely Biblically illiterate, bunch crowning themselves Outlaw Preachers, heretical progressive theologian Tony Jones, and Christian apologist Chris Rosebrough, who as an LCMS Lutheran, is host of the Fighting for the Faith program on Pirate Christian Radio.
Now I've certainly never met Chris Rosebrough so I don't presume to speak for him; that said, from listening to FftF I can safely say that mythical wishful thinking of Tony Jones should read: Disagree? Sure, and we're here simply as friends. What we see in the photo is Chris Rosebrough, a Christian, reaching out to three people who desperately need to hear the Gospel of repentance and the forgiveness of their sins in Jesus' Name. Consider first Emerging Church ELCA Pastrix Nadia Bolz-Weber Bolder In Apostasy, she's already in violation of God's Word claiming to be an elder, and just preached a celebration of sin.
In that post I told you she had preached at a "rite of reception service" where supposedly, "Seven Bay Area gay and transgender pastors were reinstated into the national Lutheran church."[1] Amazingly, after that insipid service where people even prayed part of the Goddess Rosary, pastrix Bolz-Weber would write, "I had the honor of preaching at the rite of reception/re-installation of 7 GLBTQ Lutheran clergy in San Francisco."[2] A self-professed former "professional f**k-up" known for her foul mouth, today at BTC you'll see the pastrix delivered a theo-poem called Garrison Keillor can kiss my a**:
You may wish to skip this section as there's more foul language to follow in the Big Tent from this poem by pastrix Bolz-Weber; and by the way, it was Tony Jones and Doug Pagitt you have to thank that you've even heard of her:
Each of them, Nadia Bolz-Weber, Jay Bakker, and Tony Jones, is also in sin practicing homopression by withholding the Gospel from precious LGBT people, for whom Christ died, affirming them in their sin and telling them the lie that having sexual relations with another of the same sex, i.e homosexuality, is not sin. In addition, each of these three are adherents to this new postmodern form of "big tent" Progressive Christianity with its bad news message of Christian universalism; therefore, they are preaching another gospel, and God is clear as to His Gospel:
I am astonished that you are so quickly deserting him who called you in the grace of Christ and are turning to a different gospel—not that there is another one, but there are some who trouble you and want to distort the gospel of Christ. But even if we or an angel from heaven should preach to you a gospel contrary to the one we preached to you, let him be accursed. As we have said before, so now I say again: If anyone is preaching to you a gospel contrary to the one you received, let him be accursed. (Galatians 1:6-9)
During the Downgrade Controversy Charles Spurgeon was correct when he wrote in Attempts of the Impossible:
A desire for unity is commendable. Blessed are they who can promote it and preserve it! But there are other matters to be considered as well as unity, and sometimes these may even demand the first place. When union becomes a moral impossibility, it may almost drop out of calculation in arranging plans and methods of working. If it is clear as the sun at noonday that no real union can exist, it is idle to strive after the impossible, and it is wise to go about other and more practicable business…

At any rate, cost what it may, to separate ourselves from those who separate themselves from the truth of God is not alone our liberty, but our duty. I have raised my protest in the only complete way by coming forth, and I shall be content to abide alone until the day when the Lord shall judge the secrets of all hearts; but it will not seem to me a strange thing if others are found faithful, and if others judge that for them also there is no path but that which is painfully apart from the beaten track. (Online source)
You see, Nadia Bolz-Weber, Jay Bakker, and Tony Jones, at this point are apostate (at best) and they should be excluded from Christian fellowship until such time that they repent. Furthermore, as a pastor-teacher, I'm also serving notice to mark them out and:
I appeal to you, brothers, to watch out for those who cause divisions and create obstacles contrary to the doctrine that you have been taught; avoid them. For such persons do not serve our Lord Christ, but their own appetites, and by smooth talk and flattery they deceive the hearts of the naive. (Romans 16:17-18)
These rebels against the authority of the Word of God have been warned repeatedly; yet they choose to remain in wilful sin, and are clearly not at all in right standing with Jesus. As such, until the time comes and they repent, they really have no business being in a Christian fellowship period—let alone preaching and teaching in one. And a tip of the hat here to Chris Rosebrough for loving them enough to go out to their non-Christian service and share the genuine Gospel with them. May God richly reward Rosebrough for his obedience, and may He grant  Nadia Bolz-Weber, Jay Bakker, and Tony Jones, repentance.
_______________________________________________________________________
Endnotes:
[1] http://tiny.cc/73r3e, accessed 9/9/10.
[2] http://tiny.cc/90h9v, accessed 9/9/10.
See also:
THE NEW DOWNGRADE AND ITS APOSTLES OF UNBELIEF
DID NADIA BOLZ-WEBER JUST CALL JESUS "A SCHMUCK"?
CHRISTIANITY 21 AND ALLEGED INNOVATIVE VOICES IN THE FAITH: NADIA BOLZ-WEBER
JAY BAKKER REFLECTS THE SAD CONDITION OF THE VISIBLE CHURCH
TONY JONES AND WHY HE'S DIVISIVE