By Ken Silva pastor-teacher on Sep 9, 2010 in Current Issues, Emergence Christianity, Emergent Church, Features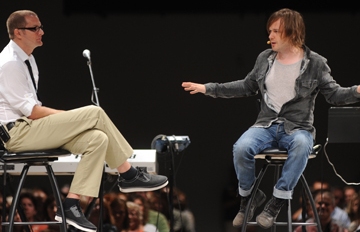 Oh how I love your law! It is my meditation all the day. Your commandment makes me wiser than my enemies, for it is ever with me. I have more understanding than all my teachers, for your testimonies are my meditation. I understand more than the aged, for I keep your precepts. I hold back my feet from every evil way, in order to keep your word. 
I do not turn aside from your rules, for you have taught me. How sweet are your words to my taste, sweeter than honey to my mouth! Through your precepts I get understanding; therefore I hate every false way. Your word is a lamp to my feet and a light to my path. (Psalm 119:97-105)
Emerging Church 2.0 Big Tent Christianity An Attack On The Authority Of God's Word
Apprising Ministries has been bringing to your attention the lastest apostasia-palooza of the sinfully ecumenical neo-liberal cult of the Emerging Church called Big Tent Christianity: Being and Becoming the Church (BTC), thrown by the Transforming Theology network team of Dr. Philip Clayton, whom I've introduced you to e.g. in Philip Clayton With "Big Tent" Christianity In The Emerging Church. I also told you that heading up BTC's who's who of heresy is the unholy Emergent Church trinity of apostates, Living Spiritual Teacher and EC guru Brian McLaren, universalist Emerging Church pastor Doug Pagitt, and his friend Tony Jones, the progressive "theologian in residence" at Pagitt's Emergent Solomon's Porch.
In Big Tent Christianity Is A Postmodern Progressive Liberalism I explained in much detail the importance of the presence of uber-liberal theologian Harvey Cox among this spiritually motley crew; the fact is, he's very instrumental in assisting progressive Christian theologian Philip Clayton while they continue cobbling together their new postmodern form of "big tent" Progressive Christianity—a Liberalism 2.0—sometimes referred to by these rebels against the final authority of God's Word as Emergence Christianity. One suprise speaker at BTC, who hadn't been advertised, was philosopher/theologian Peter Rollins. 
Last night a "Rev." Laura Barclay, who "was ordained" in violation of God's Word by "proudly progressive" Wake Forest Baptist Church "in 2008," tweets:
Now you might remember from Rob Bell, Peter Rollins, And Queermergent's Adele Sakler I told you that such lofty EC royalty as Brian McLaren and Phyllis Tickle are huge fans of Rollins themselves, as is rock star Emerging Church pastor Rob Bell who's gushed Rollins is one of the freshest voices I've heard. As a matter of fact, Rollins is fresh off his Interview with Rob Bell at Mars Hill last Sunday. As he introduces his friend, Rob Bell tells us:
We have another , ah, distinguished guest with us, um, with us. I've been looking forward to this morning, for so long. Several years ago, one of our elders gave me a book by an Irish writer, named Peter Rollins—it was his first book—it was called how not to speak ofgod. (Rollins interrupts) Um, one of our elders said, she had read this over and over again, and it was one of the most significant theological works, um, that had spoken to her in all sorts of ways. So I read the book and I said, "I must meet this mysterious, illusive, Peter Rollins"…

And so, the summer of 2008 , I went to Northern Ireland, um, and Peter picked me up at the train station—and I think we talked for two days straight. Um, and since then, um, I've come to value his frendship and perspectives. (1:57-2:33; 2:51-3:03)
So, exactly what does "this mysterious, illusive" Rollins tell us is part of that "fully embodied faith"; well, it sure doesn't seem to include respect for Holy Scripture as he postulates progressive drivel like: "The Bible is a crazy mess." And wouldn't you know it, gay-affirming EC "pastor" Jay Bakker, who heads up a rather rapscallion, and largely Biblically illiterate, bunch crowning themselves Outlaw Preachers, wanted to make sure we knew he agreed so he retweeted:

It turns out Rollins said a bit more as evidenced by the following tweeted last night from BTC by John Chisham, pastor of River of Life Alliance Church in Marshall, Minnesota:
Hmm, God's Word "kind of doesn't make sense" to Peter Rollins and his friend Jay Bakker; you know, it seems to me that I remember reading somewhere that:
The natural person does not accept the things of the Spirit of God, for they are folly to him, and he is not able to understand them because they are spiritually discerned.
(1 Corinthians 2:14)
See also:
PRETENDING THAT BIG TENT CHRISTIANITY IS THE CHURCH
PETER ROLLINS DARLING OF EMERGENCE CHRISTIANITY
PETER ROLLINS NEXT TO JOIN ROB BELL?
ROB BELL IS DEFINITELY NOT LIKE JESUS
*UPDATE* DID JAY BAKKER SAY JESUS SINNED?
JAY BAKKER REFLECTS THE SAD CONDITION OF THE VISIBLE CHURCH