By Ken Silva pastor-teacher on Jun 26, 2010 in AM Missives, Current Issues, Emergence Christianity, Emergent Church, Features, Rob Bell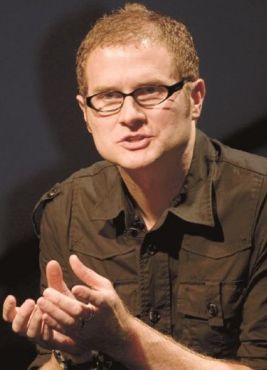 Apprising Ministries continues to sound the warning concerning the false teachings of Rob Bell, who's without a doubt the rock star pastor of the sinfully ecumenical Emerging Church. A year ago in Through Rob Bell "The Great Enlightened Ones" Tell Us Man Has Divine Greatness I brought to your attention that Bell had finally come right out of his mystic closet in his sermon I will say it again, and again, and again. 
In that sermon Bell opined:
It's interesting how many traditions (pause) When you read the great enlightened ones; meditation, centering prayer, reflection—in every tradition you can find the mystics—and what's always at the heart of the spiritual lives, the everyday lives of the great ones was always a period of time.

Whether it's prayers, chanting, meditation, reflection, study—whatever you call it—what is it essentially; it's taking time to breathe. Because when you've been breathing, (slight pause) in a proper sort of way, you're far better equipped to handle what life throws your way. (5:41-6:23)
Not a real surprise that Rob Bell would be among those who believe that the mystics, in whatever religion mind you, are to be considered "the great enlightened ones"; after-all, Bell's long been a disciple of apostate (at best) Roman Catholic mystic Richard Rohr. You need to understand what's going on here; we're witnessing a new form of Gnosticism where the truly "initiated" and "enlightened" ones are those superior Christians who practice a form of meditation in an altered state of consciousness known as Contemplative/Centering Prayer.
In other words, we're being told that these mystics have "more" understanding of God through their meditation in altered states of consciousness than we mere second class citizens do with only our Scriptures. Which now brings us around to the following segment below from the Fighting for the Faith program of Christian apologist Chris Rosebrough on Pirate Christian Radio. Among other things you'll hear Rob Bell talking about his Christology; and as he does he reveals his own sinful ecumenicism and mysticism:
Over the years, spending time at the Dominican center, here in town; and reading Richard Rohr and Ronald Rolheiser…and finding in the Catholic Jesus a sacramental imagination…[a profound respect of the Eucharist] and what it is that brings us together—an integration—of my soul, and my heart, and my body, and nature, a-and a Jesus who brought it all together; instead of constantly dividing it apart.

Not a Jesus of components and pieces; but a Jesus who wove it all together and was fine [a holistic Jesus]…was fine, [he] could take all of me; was fine, I met the mystic Jesus.
(15:52-15:59; 17:03-17:08; 17:-48-18:10; 18:18-18:22)
Also of interest is earlier at 13:24 in Bell will tell us that he met "the Jewish Jesus"; he goes on to say:
This Jesus rescued me from the Clairol, Miss America, sash, white bathrobe Jesus, who floats; and he's the fifth member of the Bee Gees… The Jewish Jesus; this Jewish Jesus had, like, flesh and blood, he was accused of partying too hard—I immediately liked him—this Jesus was earthy; He had opinions. There were discussions of the day and He took sides. (14:07-14:15; 14:26-14:43)
Indeed Jesus did, which is very unlike Rob Bell; for example, where is Bell's opinion concerning the issue of homosexuality? This is without a doubt one of the most important "discussions of the day." The hard-partying, earthy, flesh and blood "Jewish Jesus" took sides; but yet Rob Bell, this nearly larger than life postmodern rock star Emerging Church pastor does not. You may recall in Where Does Rob Bell Stand Regarding The Practice Of Homosexuality? I told you that Jim Luppachino of Watcher's Lamp, who's also a correspondent for Apprising Ministries, had written me to share an email he had sent to Mars Hill Bible Church.
Per my request Luppachino had written MHBC asking a very straightforward question:
Where does your teaching pastor Rob Bell stand concerning the following question — Can someone who is unrepentant in their practicing of a homosexual lifestyle also become a Christian?
But unfortunately an honest question to Rob Bell and MHBC on such a crucial issue of our time was met with a mere form letter from a "michelle." The opening line of the letter is a hope that one will feel this non-response will be "helpful"; even in spite of the fact that it "might not answer all your questions or concerns." Now certainly we fully expect that MHBC and Rob Bell, like any large conglomeration and/or any very busy person, would receive mail at such a "volume" that undoubtedly it often proves "difficult" to be too precise "in each instance." 
However, those pushing this deviant and sinful lifestyle of having sexual relations with another of the same sex i.e homosexuality, and affirming its a viable lifestyle for the regenerated Christian, are already ripping apart mainline denominations. In addition it's important you understand that the EC is already making full acceptance into Christian fellowship for those who are openly, and unrepentantly, practicing this sin of sexual immorality into an hot-button issue within mainstream evangelicalism. And yet all we get in answer to our question concerning Rob Bell's opinion is a form letter from michelle of "Mars Hill Communications":
We care deeply how Scripture is interpreted and how to discern living the way of Jesus, and in encountering differing viewpoints it is our aim to agree or disagree in love, keeping central a shared desire to know God and serve Jesus Christ. Regarding your comments or questions, we'd like to direct you to our mission http://www.marshill.org/mission, Narrative Theology http://www.marshill.org/believe, 

Directions http://www.marshill.org/believe/directions [shared values], and serving focus http://www.marshill.org/serving, available at marshill.org. You might also find our recent audio teachings http://www.marshill.org/teaching/podcast.php and archived series http://www.marshill.org/teaching/other.php as well as Rob Bell's recommended reading list http://www.marshill.org/about/rob/recommendedReadingList.php to be beneficial.
His silence actually speaks quite loudly; and those of us following the neo-liberal cult of the Emerging Church, as well as its superstar pastor Rob Bell, already know it's highly likely that it's just a matter of time until Bell rings out in favor of same-sex sexual relations for monogamous couples.
See also:
ROB BELL, CHRISTIANITY TODAY, TWITTER, AND THE GOSPEL?!
ROB BELL IN A NUTSHELL: THE BIBLE
RANK HERESY BEING PREACHED AT MHBC OF ROB BELL
DID ROB BELL FORGET THE CROSS?
ROB BELL ABSOLUTELY WRONG ABOUT SCRIPTURE
MARCUS BORG AND ROB BELL: THE BIBLE IS NOT A DIVINE PRODUCT WITH DIVINE FINAL AUTHORITY?