By Ken Silva pastor-teacher on Oct 20, 2009 in Current Issues, Emergence Christianity, Emergent Church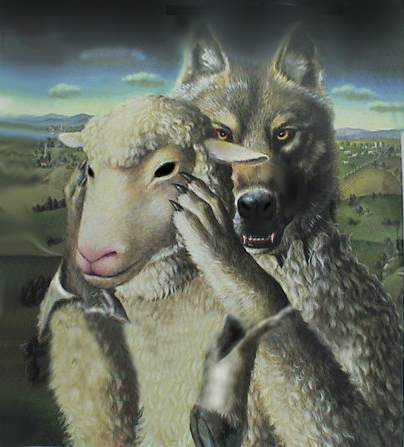 Now faith is being sure of what we hope for and certain of what we do not see. This is what the ancients were commended for. (Hebrews 11:1-2)
Apostles Of Unbelief As Peas In A Corrupt Pod
Well, maybe not, but with Shane Hipps Accepting A Teaching Pastor Job With Rob Bell two thirds of Bell's Poets Prophets Preachers are now on staff at Mars Hill Bible Church. If popular emerging church philosopher Peter Rollins were to also join the fold then we'd have heretical trifecta.
For those who don't know, like Shane Hipps, Rollins is a friend of Rob Bell and in the piece referenced below my friend Cecil Andrews of Take Heed Ministries in Northern Ireland tells us that Rollins himself is relocating to the United States from Ireland:
Back in June 2007 I posted an article to our web site that highlighted a local Northern Ireland expression of 'The Emerging Church' – this group is known as IKON and was led by Peter Rollins… Since then Peter Rollins has developed strong connections with 'emergent church' figures in America such as Rob Bell, who 'pastors' a 'church' in Michigan and Brian McLaren, who would fall into the 'itinerant evangelist' category.

On Sunday morning, 11th October 2009 Peter Rollins was interviewed on the local BBC Radio Ulster programme, Sunday Sequence, about his upcoming [Friday 16th October] move to live in America [close to New York]. In this article I want to firstly let you hear that interview and would ask you to note in particular how Peter Rollins emphasises the supposed 'complexity' and 'ambiguity' that should be 'celebrated' in his subverted form of emerging Christianity… (Online source, bold his)
Andrews is dead-on-target concerning the heavy connections Rollins has with EC luminaries ala guru Brian McLaren. As I pointed out previously in Peter Rollins Darling Of Emergence Christianity McLaren quite literally gushes concerning this EC apostle of unbelief. From the Foreword of How (Not) To Speak Of God, a very aptly titled book by Rollins:
I am a raving fan of the book you are holding. I loved reading it. I have already begun widely recommending it. In the last two days I have recommended it to three rabbis, and in recent weeks, to many Christian leaders… It helped me understand my own spiritual journey more clearly, and it gave me a sense of context for the work I'm involved in…
Even Empress of Emergence Phyllis Tickle says of How (Not) To Speak of God: 
Here in pregnant bud is the rose, the emerging new configuration, of a Christianity that is neither Roman nor Protestant, neither Eastern nor monastic; but rather is the re-formation of all of them. Here, in pregnant bud, is third-millennium Christendom.
Make no mistake; Peter Rollins is fast becoming a major player within the cancerous cult of Emergence Christianity; a postliberalism that's now metastasizing throughout mainstream evangelicalism itself. It's actually a Liberalism 2.0 that comes complete with the virus of corrupt Contemplative Spirituality/Mysticism which then goes to work shorting out one's critical reasoning skills.
You can read Andrews article in its entirety right here.
See also:
THE EMERGENCE OF POSTMODERN APOSTLES OF UNBELIEF
SHANE HIPPS AND ROB BELL TEACHING HERESY
NOT THE GOSPEL OF JESUS ROB BELL; IT'S NOT ANYWHERE NEAR IT
ROB BELL, PETER ROLLINS, AND QUEERMERGENT'S ADELE SAKLER
ROB BELL, PETER ROLLINS AND PHYLLIS TICKLE TOGETHER ADVANCING EMERGENCE CHRISTIANITY