By Ken Silva pastor-teacher on Oct 20, 2009 in AM Missives, Current Issues, Devotions, Features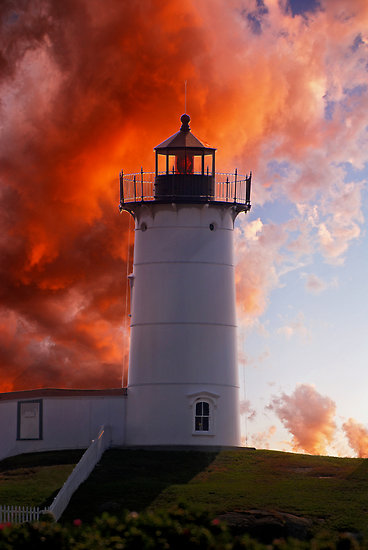 The Pharisees also with the Sadducees came, and tempting desired [Jesus] that He would show them a sign from heaven. He answered and said unto them, When it is evening, ye say, It will be fair weather: for the sky is red. And in the morning, It will be foul weather today: for the sky is red and lowering. O ye hypocrites, ye can discern the face of the sky; but can ye not discern the signs of the times? (Matthew 16:1-3, KJV)
Each Morning The Sky Grows A Darker Red
Beloved of God, no doubt as this apostasy accelerates within the very heart of the evangelical community, those with eyes that see can see the dark red sky above us each morning. We also recall that our Lord Jesus has said:
"The watchman opens the gate for him, and the sheep listen to his voice. He calls his own sheep by name and leads them out. When he has brought out all his own, he goes on ahead of them, and his sheep follow him because they know his voice. But they will never follow a stranger; in fact, they will run away from him because they do not recognize a stranger's voice." (John 10:3-6)
Now in it's immediate context our Master is speaking to us. He's talking to the remnant of His people that He is currently calling out of a rapidly decaying evangelical Christianity, mortally wounded as it is by the poison of the Church Growth Movement (CGM) vomited out of Fuller Theological Cesspool; essentially good ol' ruggedly individualistic [read: proud] American business savvy repackaged as a centered on the self spiritually. I offer the following as an exhortation not to be surprised if "suddenly" you find yourself looking at your local church through a new set of eyes almost overnight.
Perhaps you may not have stopped and thought about something else concerning the above instruction from God re. hearing His Voice; this spiritual principle is also true in reverse. In other words, the children of their father Satan will also follow him because, well, they know his voice. Can you see this means that God is a stranger to them; and it's also why they cannot hear what we are telling them. Have you wondered why the leaders within The Ecumenical Church of Deceit (ECoD), duplicious daughter of apostate Roman Catholicism simply cannot rightly divide the Word of Truth?
It is as the Master has just told us — "A stranger they will not follow, but they will flee from him, for they do not know the voice of strangers." Keep in mind that if we are teaching people from the Bible, and they respond in anger or fear, you now know the reason why. And no, we will not know for sure whether they are saved or not; but because of this backward time in which we are now living my brothers and sisters, we are going to have to turn away from prevailing views of "love" and instead — "judge righteous judgment" (John 7:24, KJV).
I write also to encourage you dear Christian that you need not fear these "voices" that have been recently raised against you as a resounding gong and a clanging symbol (see—1 Corinthians 13:1), nor should you become discouraged that so few are responding to our teaching. Remember Jesus exhorts us:
"Blessed are those who are persecuted for righteousness' sake, for theirs is the kingdom of heaven. Blessed are you when others revile you and persecute you and utter all kinds of evil against you falsely on my account. Rejoice and be glad, for your reward is great in heaven, for so they persecuted the prophets who were before you." (Matthew 5:10-12)
May We Begin To Earnestly Pray To Be Given Power From God The Holy Spirit
And further the Master tells us — "If the world hates you, keep in mind that it hated me first. If you belonged to the world, it would love you as its own. As it is, you do not belong to the world, but I have chosen you out of the world. That is why the world hates you" (John 15:18-19, ESV). However, at the same time, so many Christian "leaders" today in what's become an anti-Reformational ECoD like Purpose Driven Pope Rick Warren, Emerging Church icon Rob Bell, and/or Robert Schuller knock-off Joel Osteen have the ear of the world because they speak their language (see—1 John 4:5).
Dear children, more than ever as we near the end of this Age we need to realize, and to fully believe, that these are not just mere words; but instead, they have even more pronounced meaning in our day. And I'm not talking about some escapist theology. As you know from Holy Scripture, God never does anything without first dealing with His remnant at any given time in history. This truth is all throughout the Bible; it seems that our Lord patiently endures the sin, that is inevitably produced by a corrupt and degenerate mankind in this fallen world, while He gathers in His lambs.
However, when our Lord's Own people start to be dragged down by corruption and then wander too far off our narrow path, then God will begin His inevitable judgments with His children first. This is most pointedly spelled out by the inspired Apostle Peter when God the Holy Spirit guided him to write — "For it is time for judgment to begin with the family of God; and if it begins with us, what will the outcome be for those who do not obey the gospel of God? And, "If it is hard for the righteous to be saved, what will become of the ungodly and the sinner?" (1 Peter 4:17-18)
And those who truly belong to Christ are now feeling a sense of "urgency"; a quickening, a longing for us to be given the ability to boldly preach His Gospel in the power of the Spirit:
grant that Your bond-servants may speak Your word with all confidence, while You extend Your hand to heal, and signs and wonders take place through the name of Your holy servant Jesus. And when they had prayed, the place where they had gathered together was shaken, and they were all filled with the Holy Spirit and began to speak the word of God with boldness. (Acts 4:29-31, NASB)
In closing this for now, I remind you of Henry Martyn, who was motivated to become a missionary to India and Persia after reading the biography of David Brainerd, and who was himself a great missionary to the Indians in America. Martyn would write, "The Spirit of Christ is the spirit of missions, and the nearer we get to Him the more intensely missionary we must become." But sadly, despite all their blather about being "missional," these CGM Pied Pipers of pragmatism in the ECoD are really those who are saying — "for we have made lies our refuge, and in falsehood we have taken shelter" (Isaiah 28:15, ESV).
See also:
THERE IS NO SPIRITUAL SWITZERLAND
READ THE BIBLE, PRAY, AND DO WHAT IT SAYS
JOHN MACARTHUR: SEEKER-FRIENDLY MOVEMENT IS THE NEW LIBERALISM
DON'T BE FOOLED BY THOSE WHO ONLY SAY THEY LOVE SCRIPTURE
RECLAIMING THE BIBLE AS THE WORD OF GOD