By Ken Silva pastor-teacher on Aug 16, 2010 in AM Missives, Current Issues, Emergence Christianity, Emergent Church, Features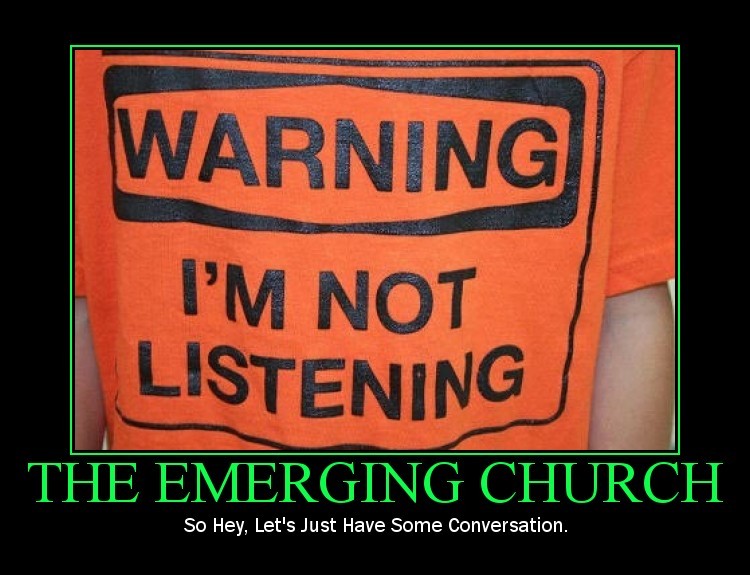 The online apologetics and discernement work Apprising Ministries has long been covering the foolish embrace by mainstream evangelicalism of the sinfully ecumenial Emerging Church aka Emergent Church—which has grown into a full-blown neo-liberal cult operating within its walls.
This is because what we're now dealing with is an upgraded Emerging Church 2.0 complete with its new version of Progressive Christian theology that they're referring to as "big tent" Emergence Christianity; and it's not as if they're even hiding it because this Liberalism 2.0 is the theology EC guru Brian McLaren has begun to lay out in his latest book A New Kind of Christianity.
Sadly, for a good fifteen years now evangelical churches have used their Young Adult and Youth ministries as spiritual guinea pigs in "alternative" worship services using the warped and toxic teachings of EC leaders to feed them.
Against this backdrop I now point you to A Statement on the Emergent Church from the Official Site of the International Church of the Nazarene, which reads in part:
As a denomination of 2 million members in 156 world areas, there are conversations on a variety of topics taking place within the Church of the Nazarene.

One discussion centers on "emergent" or "emerging" churches. This subject creates confusion and conflict in some circles. There are several issues related to "the emergent church." Some are helpful and positive; others are problematic and troubling…

Some of our pastors, superintendents and lay members believe that there is a certain segment within the Church of the Nazarene who is embracing a new "movement" filled with risks to our theological coherence as a denomination. They fear this direction will only serve to undermine the Church of the Nazarene with heresy…

There are others within our denomination, including pastors, superintendents and scholars, who view the concept of an "emerging" church as a positive and hopeful expression of what it means to be the Church…

The Board of General Superintendents neither endorses nor affirms "emergent churches" or leaders who are not orthodox in their theology. "We Believe," the statement issued by the BGS, clearly articulates the position of the Board regarding the Articles of Faith, the values, and the mission stated in the Manual of the Church of the Nazarene, encouraging Nazarenes everywhere to join them in embracing these vital truths… (Online source)
You can read this statement by the Church of the Nazarene of the Emerging Church aka Emergent Church in its entirety right here.
See also:
THE "DEATH" OF THE EMERGING CHURCH AND BIG TENT CHRISTIANITY
MEET MENTORS AND METHODOLOGY OF BRIAN MCLAREN
PHILIP CLAYTON AND THE EMERGING CHURCH 2.0
THE NON-GOSPEL OF THE EMERGING CHURCH 2.0 
LIBERALISM 2.0 THE NEW PROGRESSIVE CHRISTIAN THEOLOGY  
THE EMERGING CHURCH AND THE NEW PROGRESSIVE THEOLOGY ON OTHER RELIGIONS  
THE EMERGING CHURCH AND THE NEW PROGRESSIVE THEOLOGY ON CHRIST